Judge Dredd Publisher Incensed Over Brexit Price of Importing Horses
Jason Kingsley OBE is the co-founder and co-owner of games and comic book publisher, Rebellion, and owners of Judge Dredd. He also has a bit of a sideline in medieval reenactments and it may be that the jousting sie of this is causing him problems.
Today, Jason Kingsley posted to Facebook "I know it's a luxury thing and a first world problem to complain about but, due to Brexit rules changes, importing a decent horse from Spain now costs 400% more, yes quadruple the cost, and that's just transport fees, vat on those fee plus vat on the price of the horse. In effect, it's gone from circa 1K to circa 4K instantly."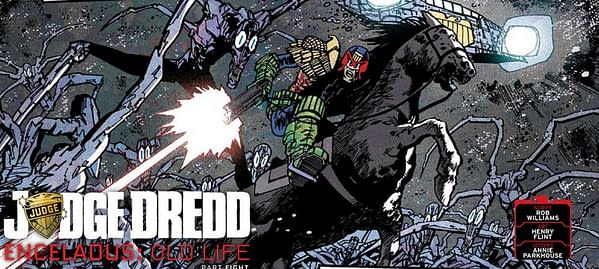 It's like the Cursed Earth out there! Where mutant Spanish ponies lurch from radioactive dune, to radioactive dune, and only one man – one Judge – can bring economic justice to the land, by restricting Brexit-inspired red tape, bureaucracy and excess charges by shooting the injustice in the head. It's not too far from Jason's other plans as he added "I did have a plan to one day ride to Rome on pilgrimage, but that's become even more unlikely now." Rebellion, of course, has had big issues regarding Brexit, over printing and publishing, over subscriptions and distribution, across Europe.
Or you can watch Jason Kingsley's medieval history YouTube channel called Modern History TV and even get to see Jason on his horse. Maybe one day we will get a new comic book celebrating such times of pageantry called 1300AD?
2000AD Prog 2223 and Judge Dredd Megazine #430 were published by Rebellion, yesterday.
JUDGE DREDD MEGAZINE #430
REBELLION / 2000AD
JAN211504
(W) Various (A) Various
More action and adventure in the future-shocked world of Judge Dredd! Competitive ageing takes a deadly twist in "Only the Good Die Young" by Rory McConville and Karl Richardson; the vigilante closes in in "Megatropolis," by Ken Niemand and Dave Taylor; the Dark Judges undergo a revamp in "Deliverance" by David Hine and Nick Percival; Devlin Waugh returns and is having demonic trust issues, courtesy of Ales Kot and Mike Dowling; and there's the explosive finale to The Returners: "Heartswood" by Si Spencer and Nicolo Assirelli! Plus, in the bagged mini-trade, it's the latest installment of the 2000 AD Encyclopedia!I
SRP: $10.99