Judge Makes Recommendations in Case Between Richard Meyer and Mark Waid Over Claims of Tortious Interference and Defamation
We've been looking into recent moves concerning the legal case between Richard Meyer and Mark Waid, a story broken by Bleeding Cool in which Meyer is suing Waid on the charges of tortious interference and of defamation, regarding the planned publication of Meyer's graphic novel Jawbreakers, from Texas comic book publisher Antarctic Press. Initially, Waid's defence has been to try and get the court to throw out the charges based on a lack of jurisdiction of the Texas courts. And Waid has been partially successful – and partially unsuccessful.
I am not a lawyer and I do not play one on the internet. But I have been reading recent paperwork.
In June, United States Magistrate Judge Mark Lane was asked to make his recommendations to the court after studying the filings from respective parties.
The judge makes the recommendation to the court that Mark Waid's attempt to dismiss the case based on whether the court has jurisdictional authority over the case be denied. Judge Lane states that the cases used as evidence don't apply and that the contact established in the case, citing the precedent of a single phone call, is enough to establish that Waid is liable under Texas federal law regarding the accusation of tortious interference. This doesn't speak to the validity of the case, just that it can continue to be heard in the Texas courts.
However it was recommended that Texas had no jurisdiction over the claim of defamation, as the judge stated that Meyer did not make the case regarding statements alleged to have been made by Waid in Texas at a comic convention in Houston, instead concentrating on comments made on social media, which were not specifically directed towards Texas. Again, this does n not speak to the validity of the claim, merely the state jurisdiction of the matter in hand.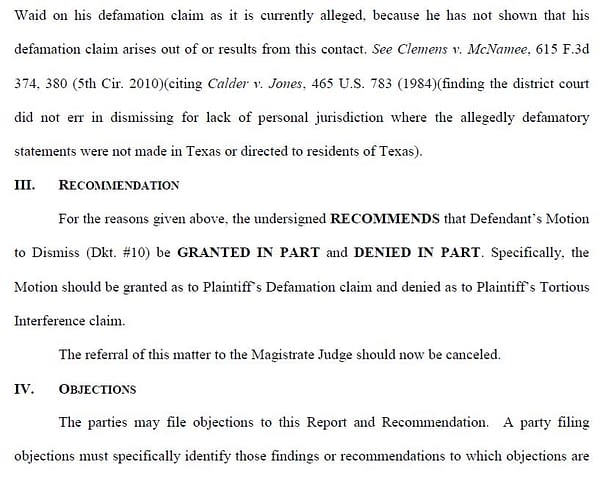 Waid's team has appealed the ruling regarding tortious interference, stating
Before personal jurisdiction can exist in the intentional-tort context, Fifth Circuit precedent requires a showing that the defendant knew the plaintiff would suffer the brunt of the harm in the forum state. Given Defendant undisputedly lacked knowledge that Plaintiff was even located in Texas, therefore, controlling precedent compels dismissal of Plaintiff's entire lawsuit.
Meyer's team has filed an objection to that appeal, and has also filed to amend their original complaint to take into account the judge's recommendation. Waid's team objected to this amendment, stating amongst other things that at this stage such an amended claim would not survive a statute of limitations defence. They also point out that any statements made at any convention occurred after Antarctic Press decided not to publish Jawbreakers, and that Meyer had stated that at its heart this was a tortious interference case.
However, the Texas court decided to allow Meyer to submit an amended complaint, which was filed last week. The new language separates the evidence of defamation from that of tortious interference. The previous statement…
In the meantime, Waid has described the events of May 11 in interviews and on comic convention panels. Waid has falsely stated that Meyer published a list of comic book stores, with the first and last name of the comic book stores' employees, in response to the stores' decision to not carry JAWBREAKERS. In doing so, Waid suggested that Meyer was encouraging his followers to harass or threaten the comic book stores' employees.1 By repeating this false allegation, Waid further alienated Meyer from comic book stores and fans at large in the industry.
Now reads
In the meantime, Waid has described the events of May 11 in interviews and on comic convention panels. Without limitation, Waid participated in a question-and-answer session with a panel of comic book creators in Houston, Texas. There, Waid was asked about Meyer and AP. Waid spoke for approximately five minutes recounting his version of the events leading to AP's decision to drop JAWBREAKERS. After confirming that he was talking about Meyer and his artist collaborator, Waid made the following statements:
Uh these guys created the, you know, they did their comic, great, awesome. . . . there was, there was a bunch of stores that decided they weren't going to carry the comic, so these guys made a list of those stores . . . and their phone numbers and the names, first and last of all their employees.". . . And with the idea that, 'oh no, don't call them and harass them, we're not telling you to do that at all!' But here's their phone numbers and their first and last names of all their employees. Well, c'mon."1
. . .
So, there was a publisher here in Texas, who was going to publish their comic, for, after it had been kickstarted they were gonna, like publish it for comic stores.

These guys are, these are indefensible human beings.. . . they harass women, they harass minorities, they harass LGBTQ people, um, they're full of hate. What are you doing?

By making such statements in Houston, Texas and elsewhere, Waid defamed Meyer and caused him damages.
And in conclusion, regarding defamation, now beginning with the following:
Including his statements described above in Houston, Texas,
Again, no decision on the validity of either parties' claims or defence regarding this, has been made. Indeed, we are no closer to a decision. But on whether or not the case can be heard in a Texas court, Meyer's side currently appears to have the upper hand. But there is a long way to go.
The case continues.