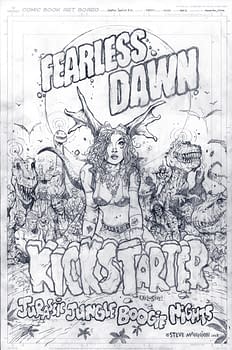 Steve Mannion's fighting mad bad girl Fearless Dawn will be making a return to comics and he is using Kickstarter, the popular crowdfunding resource, to get it published through Asylum Press.
Steve Mannion's unique art and storytelling have been rocking the underground comic book industry for years. His talents have bled into the mainstream as well, on such titles as Batman: Black and White, The Bomb, Detective Comics, Fear Agent, Warlash and Captain America SOL just to name a few.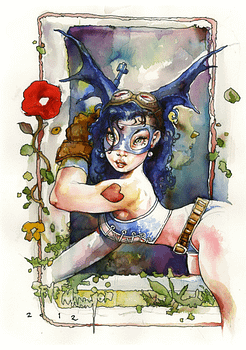 The Fearless Dawn "Jurassic Jungle Boogie Nights" Kickstarter sketch edition is one of the premium's available for those who contribute. Rewards also include original art, Steve Mannion 2012 sketchbooks, Fearless Dawn signed packs, original sketches and more.
From the press release:
It's World War Two and the Nazis are threatening  world domination. A new hero rises to fight the Axis… It's a New Dawn!… FEARLESS DAWN! With her trusty Retro-Rocket and Sidekick Betty, there's plenty of ACTION afoot. Enter the evil Helga Von Krause, Fearless Dawn's arch nemesis and the sparks really begin to fly! Helga's cooking up a plot to invade with an army of genetically-modified Dinosaur warriors that threaten to smash everything in the free world unless she is stopped! Can FEARLESS DAWN save the Day?!?

Drawn in an appealing retro style and loaded with fun, Fearless Dawn will surely entertain anyone who enjoys a great action adventure. Imagine Indiana Jones crossed with Mad Magazine and you'll get a pretty good idea of what we're delivering here.
Enjoyed this article? Share it!