Eight years ago Mad Event Management started up the Long Beach Comic Con. They had a good idea that it would work because they had done it before, with Wizard World. A group of East Coasters started a successful show on the West Coast. They've grown that into a second show in New Jersey that will be happening Nov 19th & 20th (Tomorrow). I chatted with Martha Donato, president of MEM, about the show, what they've learned over the years and how to keep comics in comic con.
DAN WICKLINE: We are a day away from the New Jersey Comic Expo. What are some of the things folks will find when they show up at the New Jersey Expo Center on November 19th and 20th that they won't find at other shows?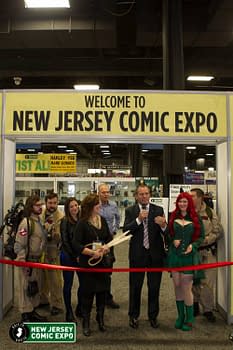 MARTHA DONATO: First of all, our programming team has put together another incredible slate of nearly 80 different panels. One standout from this year's schedule is that the Kubert School has chosen us to host the official 40th anniversary panel. It's an honor to pay tribute to one of the most important institutions in the comics industry based right here in New Jersey! We will both Adam and Andy Kubert in attendance, as well multiple Kubert School alumni to discuss this important legacy.
Among other highlights will be the second annual costume contest, which will be hosted by the 501st Legion, and featuring celebrity judges Ashley Chantilly, Ivy Doomkitty, Lua Suicide, and Yuffie Bunny. Our Long Beach cosplay contest has grown into one of the highlights of the show, and we hope to grow that same cosplay community here in New Jersey.
DW: This is your second time in New Jersey, plus you've been running the Long Beach, CA shows for a while now. What have you learned over the years that you've been able to implement to make your shows better as they've gone along?
MD: We consistently get great feedback from attendees and guests about the overall experience and organization of our shows, which is always encouraging. We have a team of seasoned professionals, some of whom have been on both sides of the convention circuit, as both organizers or exhibitors. What remains our core mission as our shows grow is to keep comics at the center of everything. That keeps our shows authentic and different from some of the larger conventions which have moved more toward other things.
DW: Part of the draw for convention now are the television and movie stars that fans can meet and have photographs with. Without naming any names, what are some of the interesting or funny things you've had to do to appease talent over the years? How do you go about deciding which stars to bring to your convention?
MD: We have been very lucky that the celebrities we have worked with have all been very easygoing, and haven't had any outlandish requests. As for deciding who to bring, we look both at what may be exciting to our attendees as to what is exciting to us. We're thrilled to have cast members from the Walking Dead at this year's show, as it continues to be a high watermark for television, and also to have cast from Stranger Things which has already taken the world by storm is a great addition to our second year.
DW: One of the things coming up on the convention circuit is the sale of prints at conventions. There are the artists that make prints of other people's art and claim it as their own and there are artists who are selling prints they've drawn but of characters they don't have permission to sell. How does your convention address these two issues?
MD: We work to ensure we are policing this at all of our shows, and deal with any issues as they come up.
DW: Another thing that has been growing over the last few years has been the cosplay scene at conventions. The cosplayers are moving from the aisles to behind the tables and there have been both a positive and negative reaction to it. I noticed in Long Beach, you guys put the cosplayers in their own separate area. Has that alleviated some of the traffic caused by all the stopping for photos that normally happens? What are some of the things you've done to deal with the possible harassment issues that have come up at other shows?
MD: Cosplay has been a cornerstone of our shows since our very first Long Beach Comic Con. Cosplayers always add a great atmosphere, and it is thrilling to see cosplay getting wider recognition as a form of artistic expression beyond the convention floor We work hard to bring in notable cosplay guests to all of our shows, many of whom have followed us to both sides of the country. The Cosplay Corner is all about creating a safe space for photos both for traffic control, as well as avoiding harassment issues. Additionally, we work to ensure many of the issues addressing cosplayers are addressed in our programming. At this year's show we have panels to both mentor aspiring cosplayers, as well as confront harassment issues.
DW: Most comic conventions have expanded into more pop culture events, which is good for bringing in more attendees. But the word "comic" still appears in the title of the show. What does your show do specifically to help promote the comic industry during the weekend?
MD: As mentioned above, we start with comics at the center of our shows and build out around publishers and creators from there. We started as a comic convention in Long Beach eight years ago, and believe one of the reasons that show has continued to grow at such a steady rate is that we have never lost sight of that core mission. As we add exciting new aspects to our shows, we have to ask ourselves "is this still a great show for comic book fans?" That keeps our shows unique.
DW: You are having a live drawing sessions all weekend with the finished pieces going up for auction to raise money for the Hero Initiative. How does that work? Can fans see some of their favorite creators drawing the pieces that are going to be for sale? Which artists are participating in the event?
MD: We will have artists hosting live drawing sessions throughout the day on Saturday, leading up to our live art auction that afternoon. Among the artists participating are Jeff Shulz, Andy Smith, Rick Leonardi, Travis Hanson, Tony Harris, Whilce Portacio, Jose Luis Garcia Lopez, and Colleen Doran. 100% of the proceeds will go towards the Hero Initiative, and attendees will need to bring CASH! Any unsold art will be auctioned off online after the Expo closes.
DW: And now the important question. If I'm an attendee walking in on the morning of November 19th… which convention exclusives should I race to get first?
MD: Believe it or not, one of the fastest sellouts in Long Beach this year was our official show t-shirt! We have another great one for New Jersey.
Enjoyed this article? Share it!