King Kirby, The Jack Kirby Play – Now Released As Podcast
Husband and wife team, Fred Van Lente and Crystal Skillman are launching a four-episode mini-series audio drama King Kirby based on their play of the same name, telling the story of Jack Kirby.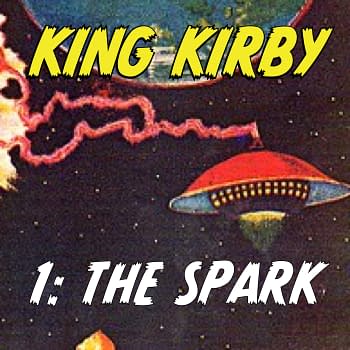 Featuring original music composed by award-winning Bobby Cronin, the podcast premiered yesterday from the Broadway Podcast Network.
Heroes aren't born, they're made. Born in the Lower East Side slums, a veteran of the battlefields of France, Jack Kirby co-created Captain America, The Avengers, The X-Men, Iron Man, Thor, and many other legendary characters. But Kirby had his biggest fight after his comic books became an international sensation: He had to fight for his name, and the recognition he was denied. From the Jewish ghetto of New York's Lower East Side to the battlefields of France to the Senate hearings of the 1950s, King Kirby is the heartbreaking yet inspirational story about a man who pours his quintessentially Twentieth Century life into his comics, only to make the fateful mistake that sends him into obscurity while his creations become known to every person on Earth. This is a story for comics fans of the man they never knew behind their favorite superheroes, and for those who have been waiting for Jack Kirby's story to get its due. A modern-day American Amadeus, King Kirby asks what happens when an artist doesn't own his own legacy? Can he ever get it back?
King Kirby stars Steven Rattazzi as Jack Kirby, Amy Lee Pearsall as his wife Roz, Joseph Mathers as his business partner Joe Simon, Timothy McCown Reynolds as Martin Goodman, and Nat Cassidy as Stan Lee.
Fred Va Lente is a well known comic book writer as well, including Marvel Zombies, Incredible Hercules, Odd Is On Our Side, Action Philosophers, Comic Book Story of Basketball: A Fast Break History of Hoops, Cowboys & Aliens, The Comic Book History of Comics, Taskmaster, Archer & Armstrong, Amazing Spider-Man and GI Joe.
Crystal Skillman's previous plays include Geek, Open, Rain And Zoe Save the World, Mary And Max, as well as comic books The Secret Loves Of Geek Girls and Adventure Time. Together they also created the Eat Fighter comic for Webtoon, now to be an animated series. You can listen to the first episode of the King Kirby podcast below.
: