LBCC 2015: Indie Creators Talk Shop With Jody Houser, Josh Trujillo, Jacon Semahn, Gavin Hignight & Bryant Dillon
By Michele Brittany, West Coast Correspondent
"It is one-hundred percent possible to self-publish," said Fanboy Comics Managing Editor and Co-Founder Barbra Dillon as she opened the hour-long panel "Indie Creators, Unite! How to Make Self-Publishing a Reality" at last weekend's Long Beach Comic Con. As moderator, she introduced the panelists: Jody Houser (Orphan Black, Cupcake POW!), Josh Trujillo (Love Machines), Jacob Semahn (Goners from Image), Gavin Hignight (Nickelodeon's TMNT, The Concrete World), and Bryant Dillon (Identify Thief, Something Animal), before leading them in a round of exploratory questions to better understand the world of self-publishing. Barbra Dillon asked the panelists, "Why is self-publishing important?" Houser started ten years ago because she was looking for a way to get her material out there for people to see and read. She figured she could have found a publisher, but she decided that by self-publishing she could invest herself. Trujillo stated there wasn't a clear home for his story, so as he navigated the world of self-publishing, it became a crash course on making comics, which actually provided him the opportunity to learn the business side of the industry. Semahn agreed with Houser and Trujillo, adding that it was important to create comics that you are passionate about. He said that self-publishing brought opportunities to collaborate with others.
Hignight stated that he was tired of having his ideas just sit in a folder on his computer. He decided it was art by any means necessary. He was doing short films and figured instead of spending money on the films, he would invest in comics where he felt he could make something decent. He was always confident in his stories, but he just needed to put them out there. Bryant Dillon felt that for the creator looking to put their story out there, then self-publishing was the best way to go.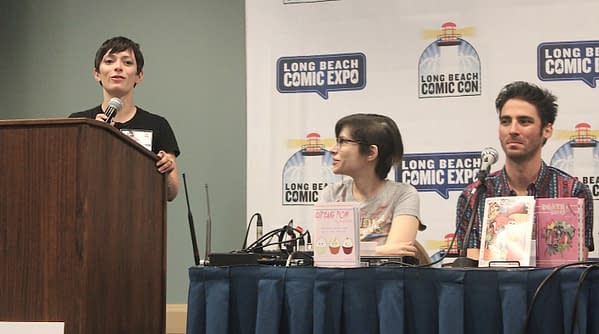 With a story ready, it was time to add the visual. Barbra Dillon asked each expert how they handled securing an artist for their project. Hignight said he met an artist that helped him on Motorcity, however she burned out. He revealed it took a year to find an artist who could emulate their predecessor's style. He asked the audience who were writers and artists because they were the best positioned because they didn't have to collaborate with anyone. Semahn stated he has been collaborating with an artist in Venezuela and they get along well, which is important with a writer-artist partnership. Houser used networking to find an artist. She stressed how crucial it was for artists to put their art up on the Internet so writers can find them. She also said to make sure to have current contact information listed too.
In self-publishing, the creator has a choice: print, digital or distribution via a larger publishing company. Bryant Dillon expressed the importance of knowing the ultimate goal of the project. If it was to distribute to the mainstream, then it would be advantageous to reach out to a larger company, however if you were looking to keep control over your project, then self-publishing is a good way to go in order to learn the publishing process. Hignight said he chose print media because he really wanted to having something in his hand. That said he made The Concrete World into a digital format because he wanted to incorporate color. Houser went the way of web comics and then to Comixology, which utilizes Guided View. She also did a limited print run of 100, each numbered, that she could sell at a con earlier this year. Semahn worked with Image. They took care of the printing and getting Goners listed in Previews, but promoting the books fell squarely on Semahn's shoulders. He said it was like a second job.
Barbra Dillon followed on Semahn's comment and asked the panelists methods for marking and promoting their projects. Bryant Dillon said that because Fanboy Comics promotes through reviews, podcasts and other means, they have made a number of contacts that help with promoting their books. He added how important it was to make sure to get all of the information for your project together – make it concise so you make the reviewer's job easier. Houser said to contact your professional friends and associates, asking them to spread the word by providing them with promo copies. Hit up artist alley if you are a writer and talk with the artists you think you might work well with said Highnight. He also revealed if you are going to advertise in Previews, then your book has to have the ISBN and UPC numbers – they are required by Diamond Distributors. Highnight said the convention circuit is great too, but do not try to do it at SDCC – it and you will probably get lost. Semahn said that he cold called 800 comic book stores, offering them digital copies of his book prior to it coming out, so they might copies for their stores. He added that creators need to realize that comic book stores are not likely to take risks on independent projects.
Barbra Dillon asked Trujillo about marketing and promoting his project because he used Kickstarter. He suggested that creators that go this route keep a folder of blogs and website addresses because he can do press blasts to them. However, he said it is imperative that you only connect with those on your list that you think would be interested in the project. Do not canvas those individuals who would have no interest – it's a quick way for them to ignore you when you have something they might be interested in.
Barbra Dillon then asked the panelists where were the best areas to spend money and the worst places to waste money in a project? Without a pause, Houser said to spend some money on a letterer. Hignight said he letters his own projects and added that if you are a writer, it behooves you to learn. He said that one unforeseen cost he ran into was shipping costs from the printer, such as print overage charges, and what he was sending out. He and Trujillo sold their books at Amazon where printing is done on-demand, so it is possible to control printing costs – very important when starting out. It is money saved that can be put towards marketing and promoting.
As the hour drew to close, she asked the panelists to address any areas that had not already been covered. Bryant Dillon brought up convention table etiquette. He advised to engage people as they walk past your table. Make eye contact, say hello. Have confidence in yourself and your project. While a potential customer is looking at your book, establish a connection – ask them about their time at the con for instance – and engage them in conversation. Houser said to make it easy for people to find you by keeping them updated by using Facebook or Twitter if you are going to be away from your table for awhile. And Trujillo added, be nice to your table neighbors and the organizers of the con, so you'll be invited back.
All photos courtesy of Michele Brittany.
Michele Brittany is an independent popular culture scholar and semi-professional photographer and editor of James Bond and Popular Culture: Essays on the Influence of the Fictional Superspy (McFarland & Company) as well as the forthcoming book Essays on Space Horror in Films, 1950s – 2000s. Read her reviews and analysis on the spy/espionage and space horror genres via her blogs at Spyfi & Superspies and Space Horror Films. Follow Michele on Twitter: @mcbrittany2014.