Once upon a time, Jake Elphick entered a Millarworld competition to draw Hit-Girl. He won a spot in the Millarworld Annual 2017. Since then he has done a little WWE for Boom, as well as some Twisted Dark for TPub, but now he is the co-creator of a new series Backtrack from Lion Forge with Brian Joines of Krampus and IMAGINE Agents).
Backtrack, just announced at WonderCon is described asone part Fast and Furious, one part Back to the Future, with a healthy dash of The Hunger Games.
Brian is quoted as saying "Lion Forge is home to some of the most diverse and entertaining books on the shelves, and I'm thrilled Backtrack now gets to be counted among them. Working with editor Jasmine Amiri has been a fantastic experience and I couldn't ask for a better creative partner than Jake Elphick. I can't wait for readers to get behind the wheel and take our story of racing, redemption, and raptors out for a spin."
If you had a chance to fix a mistake from your past, would you take it? Alyson Levy's life as a "wheelman" for various criminals resulted in a tragedy which left her heartbroken to this day. When she hears news of a massive cross-country car race granting the winner the opportunity to correct a single mistake in their life, Alyson couldn't say no. But there's one small catch. Each leg covers a different period in history. Drivers will have to contend with the world outside: barbarian hordes, dinosaurs, medieval warriors, even the far-flung future…all while keeping ahead of the competition and contending with treacherous roadways. Survival may be the only way to win; and to right history, Alyson will drive from the Big Bang to the death knell of the universe.
Lion Forge editor Jasmine Amiri says "It was Emerald City almost one year ago, exactly, when Brian Joines sat across from me at a café and elevator pitched a story about a woman's unflagging shot at atonement set against the backdrop of a history-spanning car race. In the middle of all of the commotion of this bustling comic con, Brian's story stood out like a beacon—he clearly had something incredible cooking. And with Jake Elphick joining our crew, we knew we had found someone who could make each page feel kinetic, dynamic, and FAST. Buckle-up, kids—Backtrack is going to be as hard-hitting as they come."
Backtrack will be solicited as a returnable comic from Lion Forge for September 2019.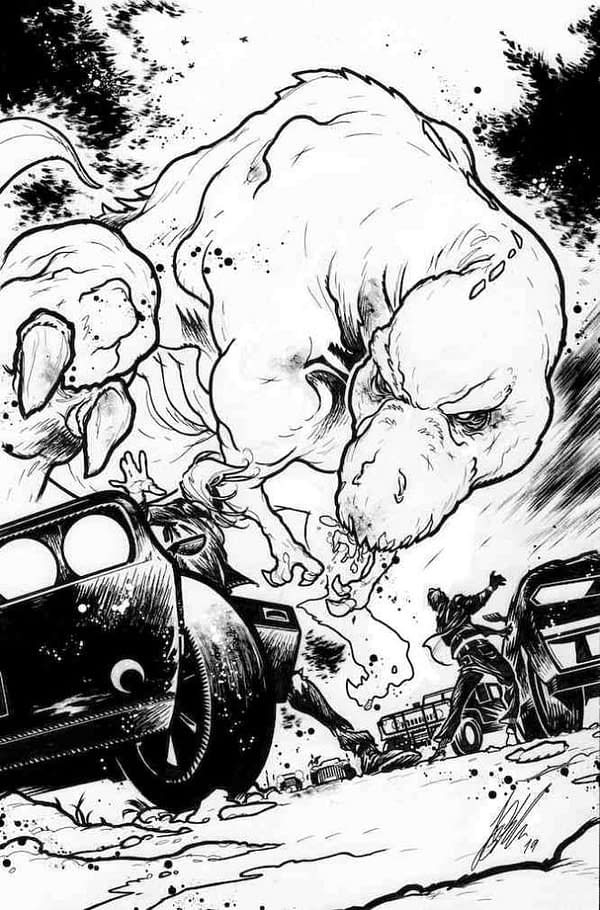 Enjoyed this article? Share it!