Live! From The Dark Circle Panel At NYCC With Fox Hunt, The Black Hood, The Shield, And More(UPDATE)
The packed out panel for Dark Circle Comics at Archie barely afforded me room to creep in at the back, and things started off with beautiful cover art for The Shield.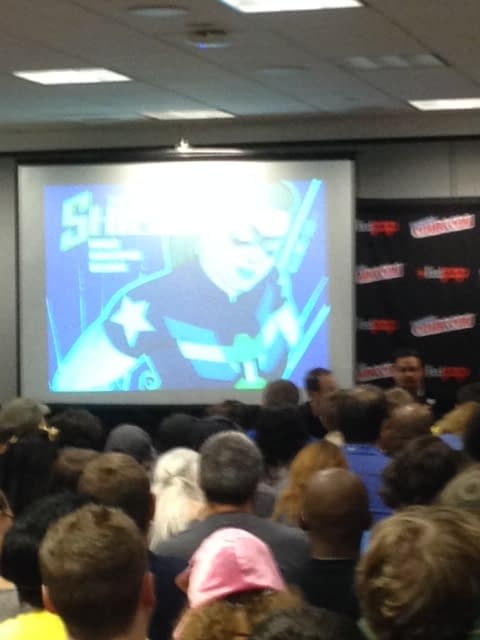 Joining the panel were Dean Haspiel, Alex Segura, Mike Pellerito, Paul Kaminski, Paul Wendig, Duane Swierczynski.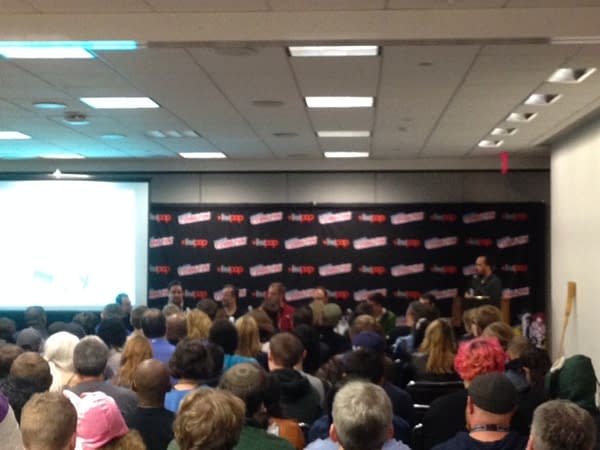 Alex Segura said, "I'd really like to think we've made a great move by bringing the second arc of The Fox to Dark Circle", and cited Dean Haspiel's award-winning work and high-level collaboration. The first series, Freak Magnet, had an excellent reception, as "not your typical superhero book", they said, about a guy who really doesn't want to be a superhero. The sense of "action" and "humor" were a big draw on the book. At this point they are simply shifting their imprint to Dark Circle and things are getting "serious" for character Paul Patton. The gist of the new series is that a group of supervillains get together and just want to kill The Fox to get him out of the way.
Haspiel said that his inspiration is comics he read as a kid that he just doesn't find around these days. At the beginning of the new series, Paul is "done" with superhero ways but the villains just won't let him go. Haspiel is in the middle of drawing the second issue and has already drawn an "exploding head" and the action "does not stop until the last page of issue 5" Haspiel said.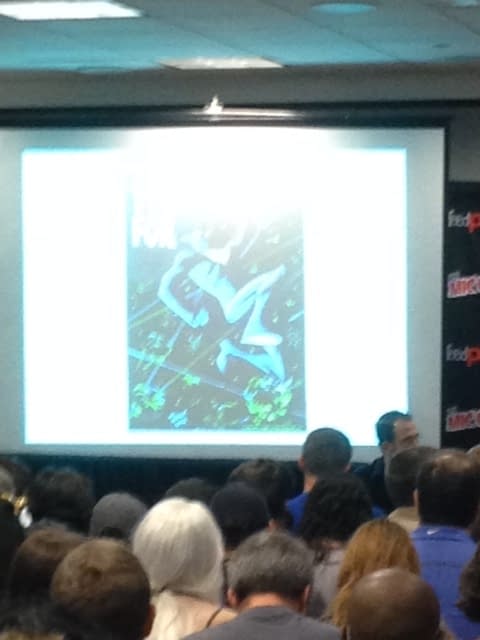 When asked to tease one thing coming next, the panelists started with The Shield and said that looking at patriotism, we can see a shift of idealism in the 60's and 70's shifting, now to the Vietnam era, and the comic will look at the Shield now, but in past conflicts, and this will allow them to explore the sense of nationalism.
In the case of The Black Hood, we're going to see a "rollercoaster" of "misery". Originally they considered having The Black Hood die in issue #5 but decided to keep him on. Haspiel commented, "It sounds like you fell in love with your character" and they agreed.
Haspiel teased, "If you are a superhero, don't have a son. He will bite you in the ass" regarding Fox Hunt.
There are "dark elements" running through these books, hence the Dark Circle name, but it will be multi-genre, with "superheroes on acid" like The Fox, but also noir and detective stories.
During the Q&A, Archie said there's a strong commitment to make these 3 titles ongoing and will have retailers' incentives to support that. A fan asked if there will be crossovers that make the books interdependent and Archie said that it is in a shared universe, and they will run into each other, but Archie will focus on not making buying all the books necessary to read a single line coherently.
Afterlife for Archie and Sabrina are the "big spearheads", they said, for this move to Dark Circle. There are going to be other characters "entering the Dark Circle" that they are not allowed to reveal yet.
A fan asked about the name Dark Circle and how they came up with it. They wanted to be "clear" they said that this was a "fresh start" and if you're starting to read anew, you're "good to go" Archie said.
When the audience was asked who was familiar with the Red Circle heroes and now as Dark Circle, about 65 percent of the room raised their hand and when asked who their favorite Red Circle character is, The Fox featured prominently.
There's one character coming to Dark Circle that no one is going to see coming, Archie teased. A "deep cut", not a "single or a B-side".
Haspiel said that going back to origins is useful and good but in this case you don't have to be "beholden" since this is about "stories" and narratives. It's important to these stories to feel something, and do appropriate stories that don't have to strictly conform to early continuity, Archie told him, and that makes things far less "stifling" as a creator.
These heroes have been around for "decades", Archie reminded, having been licensed to different companies. There was a big effort and investment to getting these characters "back to where they started". At that time, there was a lot of discussion about The Shield being the shadow of Captain America even though he predated Captain America. Then someone posed, "What if The Shield was a woman?" and that gave them a new entity to work with, a freeing thing. There's a sense of "no fear" with these things Segura confirmed. Because Archie is a small company, things can move fast, they said, and the pitches and development for these books has been speedy by getting the "best material and best talent" on them.
A fan asked if Fox Hunt will have back ups because The Fox had them. Haspiel said there are none planned, but actually with The Fox, the backups actually became part of the main plot as revealed by the end. The Fox, Archie commented, really shows that "deciding to be a superhero can be one of the worst mistakes of your life", followed by laughter.
The Black Hood is really going to tie into the life and history of Philadelphia as a crime-story and they are considering having letters in the back from local crime reporters, Archie said.