Lois Lane #1 Makes Parallels With Trump's White House in Enemy Of The People (Spoilers)
Today's launch of Lois Lane #1 by Greg Rucka and Mike Perkins from DC Comics may not have hit the headlines as much as a certain end of a zombie comic book. But it probably deserves to. Not only is she getting an ongoing comic without needing Superman in the headline, but she's also demonstrating her own superpowers in the process. And going head to head with the White House. Bleeding Cool talked about this last month, but now we get to show it.
As a member of the White House Press Corps, Lois Lane is there to talk numbers. After tracking down conspiracy after conspiracy she now has some cold hard facts to put to the powers that be.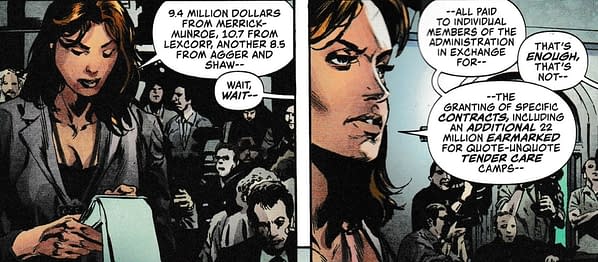 And alleging that members of the White House administration took bribes to build refugee prison camps, that separate parents from their children. Including from a certain former President Luthor…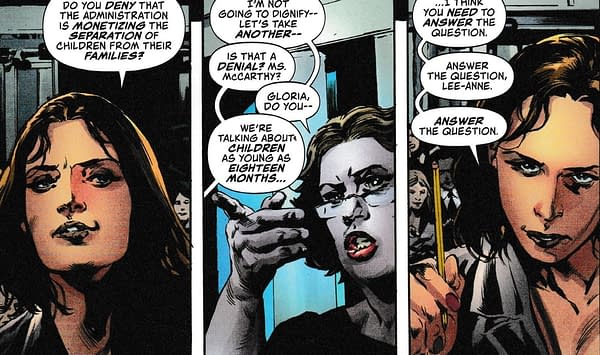 And in the process, losing her White House accreditation.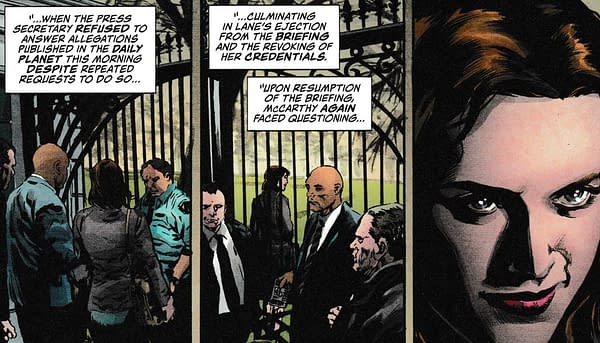 And all part of the Lois Lane playbook.
It's worth noting that Melissa McCarthy played on Sean Spicer on Saturday Night Live, as the DC Universe press secretary (for now) is named Lee-Anne McCarthy.
But also that, I understand, this plot was written during last year's New York Comic Con, before CNN's Jim Acosta challenged Trump over what he saw as the president's scaremongering about what Trump described as a "caravan" of migrants making their way to the USA through Mexico, and saw his accreditation removed.
But it does parallel both charged made against the Trump administration regarding the separation and caging of young children from their parents in similar refugee camps, and the action taken against them. Though no one is accusing anyone of bribing anyone – but that it might be worse, that they're happily doing it for free…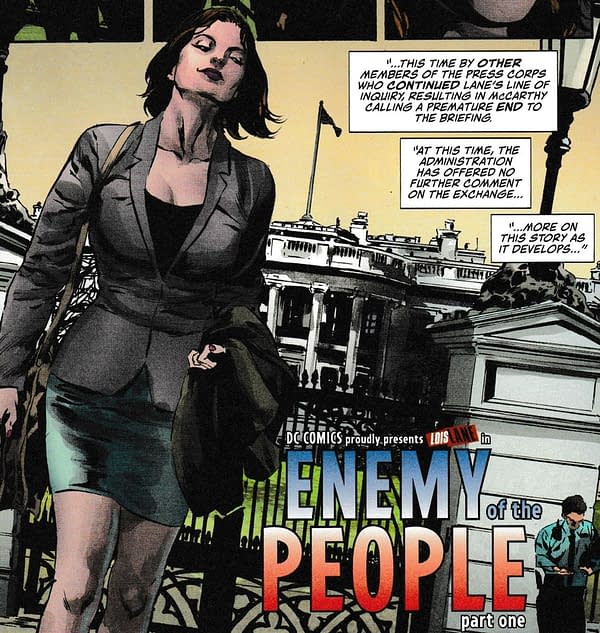 And the title of the story, reflects Donald Trump repeatedly calling the press 'The Enemy Of The People', echoing similar phrases made by Emperor Nero, Robespierre, Lenin, Mao Zedong, Der Stürmer and The Daily Mail.
This received an organised response in opposition by 350 media bodies on the same day, with international institutions such as the United Nations and the Inter-American Commission on Human Rights criticising Trump for attacking the free press. And in August last year, the United States Senate unanimously passed a resolution affirming that the media is not "the enemy of the people." Not that this has stopped Trump.
Lois Vs Donald. Who'd win?
And will the Lois Lane comic book show us?
LOIS LANE #1 (OF 12)

(W) Greg Rucka (A/CA) Mike Perkins
On the road and out of Metropolis-and carrying a secret that could disrupt Superman's life-Lois Lane embarks on a harrowing journey to uncover a threat to her husband and a plot that reaches the highest levels of international power brokers and world leaders. Critically acclaimed and best-selling author Greg Rucka and master storyteller Mike Perkins team up for a tale of conspiracy, intrigue and murder that pushes even Lois to her limits.In Shops: Jul 03, 2019
Final Orders Due: Jun 10, 2019 SRP: $3.99

LOIS LANE #2 (OF 12)

(W) Greg Rucka (A/CA) Mike Perkins
Famed writer and reporter Lois Lane never worries about speaking truth to power-so what's she hiding from the most powerful man on the planet (and her husband), Superman? Investigating a widening international conspiracy, Lois puts herself in the crosshairs with backup from an unlikely new ally from the streets of Gotham City. In Shops: Aug 07, 2019 SRP: $3.99

LOIS LANE #3 (OF 12)
(W) Greg Rucka (A/CA) Mike Perkins
Jon Kent surprises his mother with a visit to her hideout in Chicago with big news that ties directly into the events of SUPERMAN #15, also on sale this month. While Lois must deal with her now-17-year-old son making life-changing decisions, the two Questions-Renee Montoya and Vic Sage-try to understand their own confusing continuity.In Shops: Sep 04, 2019 SRP: $3.99