London Film & Comic Con Announces A New Comics Working Group
Always like to run towards conflicts of interest with open arms. Welcome to London Film & Comic Con's Comic Zone working group for 2023.
---
Looks like I'll be helping an old friend out. Tony Lee is returning to help organise Showmaster's London Film & Comic Con's Comic Zone for July's show at London's Olympia event halls. Until Nine Worlds returns to Hammersmith, it's the closest comic convention to me, and I get to cycle to it. The same place they held Toy Fair this week.
London Film & Comic Con's Comic Zone has been run by the likes of Mike Conroy, Tony Lee and Tim Pilcher, but for 2023 they are undergoing a change and a new working group has been created to do what they call "maximise show potential" and consists of Showmasters, Michael Mastakin, Amy McGarry-Thickitt, Antony McGarry-Thickitt, Tony Lee and… me.
As a result, the comic zone guests, artists alley exhibitors, and small press authors, previously separated for political reasons, will now be combined under one umbrella. They intend to focus on greater exposure, panels and launches from the exhibitors as well as an increase in signage and promotional materials. By stint of actually having some.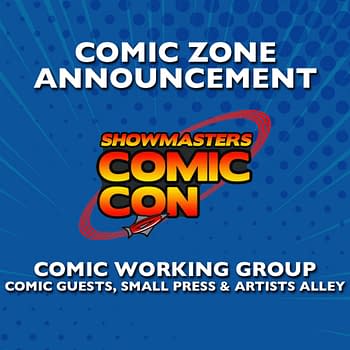 "When I stepped down in 2021, I never expected to be back," Tony Lee said. "I couldn't give the time the zone required after the pandemic, as it needed someone working full time for several months on it. However, when Jason and the Showmasters guys showed me their plans for a working group in the style of Young Adult Literature Convention (YALC) a couple of weeks back, I saw the workload was shared a lot more, and my previous team, a team I knew could do way more than they were previously given, were getting a chance to shine."
I've no idea what I'll be doing, but if London Film & Comic Con wants to sit me down, throw things at me, and get my reactions, well I do love an audience, don't I? So I'll be more than happy to blather on. I've been doing more industry consultation work in recent years, and am happy to add this to the list.
In conjunction with Tony and his publishing company Hooded Man Media, London Film & Comic Con will be helping present the winner of the 2023 Caliburn Prize, a £2,500 grant for unpublished UK comic creators (to be launched at the March event), provided by Hooded Man Media, as well as restarting the London Film & Comic Con Symposium, a series of industry-veteran-led mini-lectures, given exclusively (and for free) to Artists Alley exhibitors, while launching the London Film & Comic Con Comics Hall of Fame Awards, new for 2023.
"When I agreed to come back, I wanted to make sure the next generation of creators gained something more from the convention than just a table and chair," Tony explained. "We started the Symposium a few years back, and Antony (McGarry-Thickitt) is taking it on for this summer and making it his own, while Amy will be taking on far more management duties over the weekend, and Michael is already working on Hall of Fame candidates for the varying awards we're looking to give."
With new guests ready to be announced and a new website being created to showcase artist alley exhibitors, the 2023 team wants to bring something new to the zone, with free audience panels, editor portfolio reviews, and children-friendly art classes over the weekend.
"It's the same old comic zone you've had for years, but with the working group having more people involved with the autonomy to make decisions on the fly, many of the issues we had brought to us in 2022 will be removed," a Showmasters spokesperson said. "We're excited about unveiling this and reminding people that the "C" in LFCC stands for comics, and we won't be forgetting that any time soon."
I remember a long stretch when London had no comic book conventions, now it has two big ones twice a year each, plus a number of smaller comics-focussed convention events around the city. And it's always a good opportunity to spread the world and keep the "comics" bit as prominent as possible when other media comes a-calling.
London Film & Comic Con runs from the 7th to the 9th of July, 2023, at London's Olympia.