Lumberjanes is Five Years Old and They Brought Presents to WonderCon!
I don't think I fall into what would be the expected demographic for Lumberjanes, lucky for me though I don't care as I have been on board with all the Janes since issue one and I was extremely excited to attend the Lumberjanes 5 year anniversary celebration panel at WonderCon 2019.
Tracy Brown, writer for the Los Angeles Times was the moderator, and the panel included co-creator Shannon Watters, writer Kat Leyh, Lilah Sturges, writer of the first Lumberjanes original graphic novel, The Infernal Compass, and executive editor Jeanine Schafer.
The panel started by getting the audience excited by telling us we would all be receiving a 5 year anniversary patch. (All photos by Joshua Stone.)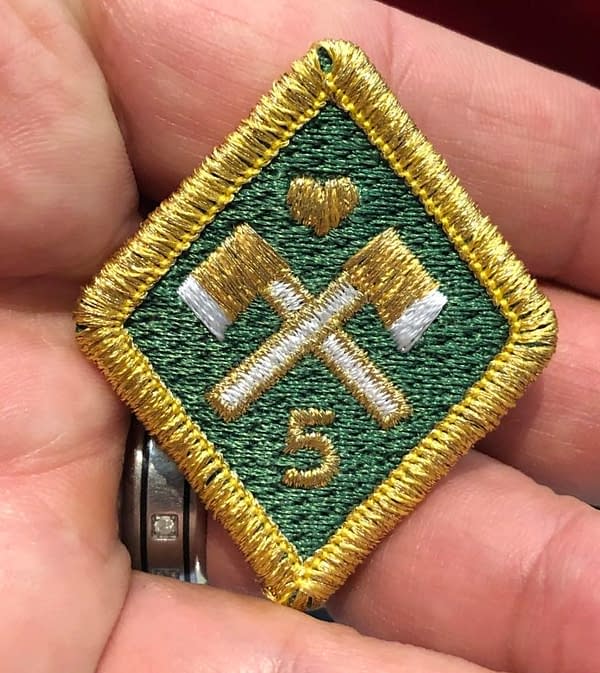 Watters then talked about her feelings regarding 5 years of Lumberjanes. She said the whole thing was a lark, and that it was only supposed to run for eight issues. She said that her real job is an editor, and that she never expected to do any of this. Leyh said she has been on the book for almost 4 years and that she has never worked on a series like this and she was very nervous at the beginning, because she was coming into a successful series.
One of her favorite things is that she meets a lot of librarians and teachers and they are so happy with the book. Not in attendance were colorist Maarta Laiho and letterer Aubrey Aiese who both have been onboard the book since the beginning. Watters said that Laiho had never been a colorist on series before Lumberjanes, and that until very recently Aiese had been doing all the lettering by hand.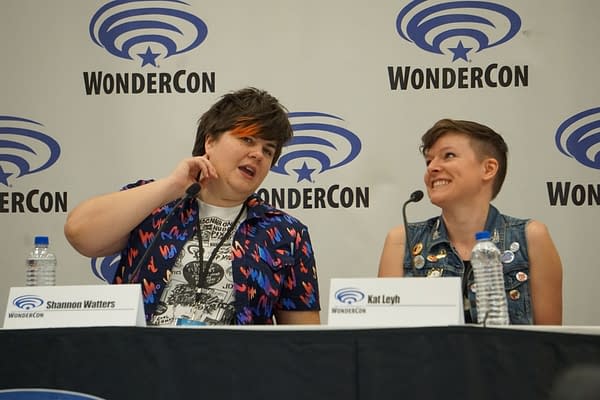 Schafer joined Lumberjanes about a year ago and said that the Janes are so fully formed that you feel like you know them. She believes that there is no end to the stories that can be told because they are real people. She said she fell in love Lumberjanes so hard because the book is character first.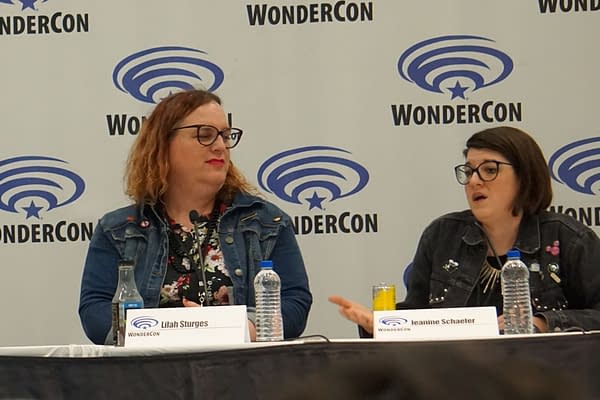 Brown asked Watters what is the most surprising thing about Lumberjanes and Watters said first that it's been 5 years and second that it's been 5 years and yet it still continues to connect with new readers. She has spoken to librarians who say they keep ordering the book because it is so often the first comic that kids read.
At this point it was time to celebrate, so cookies were passed out to everyone there, and the cookies had a picture of the Janes on it. Then we sang Happy Birthday. Oh, and the cookie was good.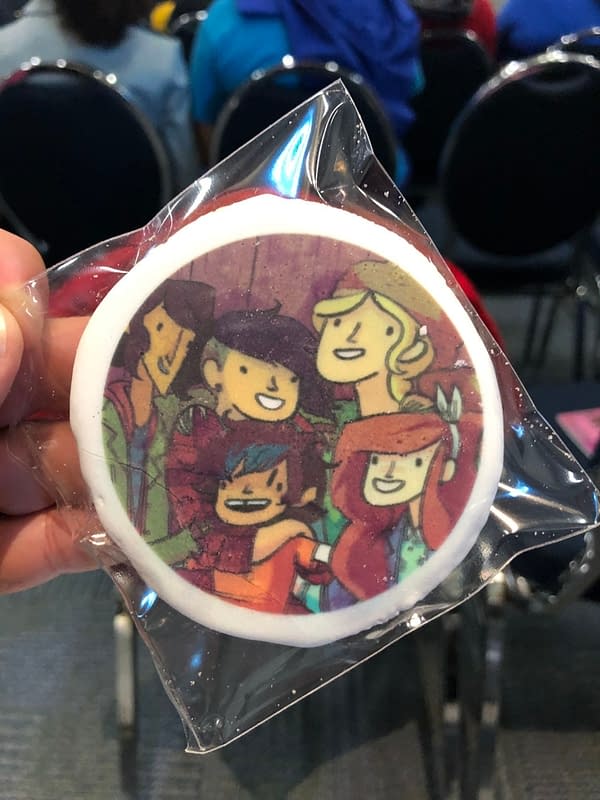 Next came the question of what the panel wanted for the future of Lumberjanes. Both Watters and Leyh said they wanted to see an animated series. Watters also said she would like to see more chic Lumberjanes merchandise. Sturges said she would like to write a Lumberjanes musical, which drew loud approval from the audience. Sturges also announced that she has another Lumberjanes OGN coming out on November 26, 2019, Lumberjanes: The Shape of Friendship. The artist will be polterlink, who also was the artist for the first OGN. There will also be a Free Comic Book Day release, May 4, 2019, of the first chapter of Lumberjanes: The Shape of Friendship.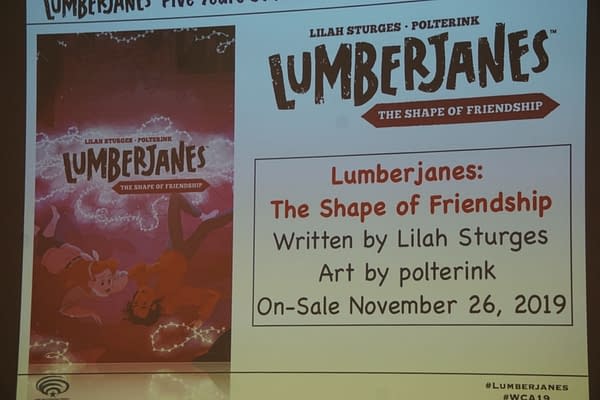 After that Brown showed video of fans who couldn't be at the panel who wanted to say thanks and express their love for Lumberjanes. The video definitely brought tear to eye of some of the panel members. Who knows how many more years we will have of new Lumberjane stories, but based on what was heard from this panel, we should be able to keep joining the Janes on their adventures for years to come.
[For further musings from Joshua Stone, follow him on Twitter.]