By Olly MacNamee.
A monthly review spotlighting the best titles the UK indie press has to offer.
Beast Wagon (Changeling Studios)
Reel Love, Act Two: Confessions (Changeling Studios)
Zarjaz No. 24 (FutureQuake)
Beast Wagon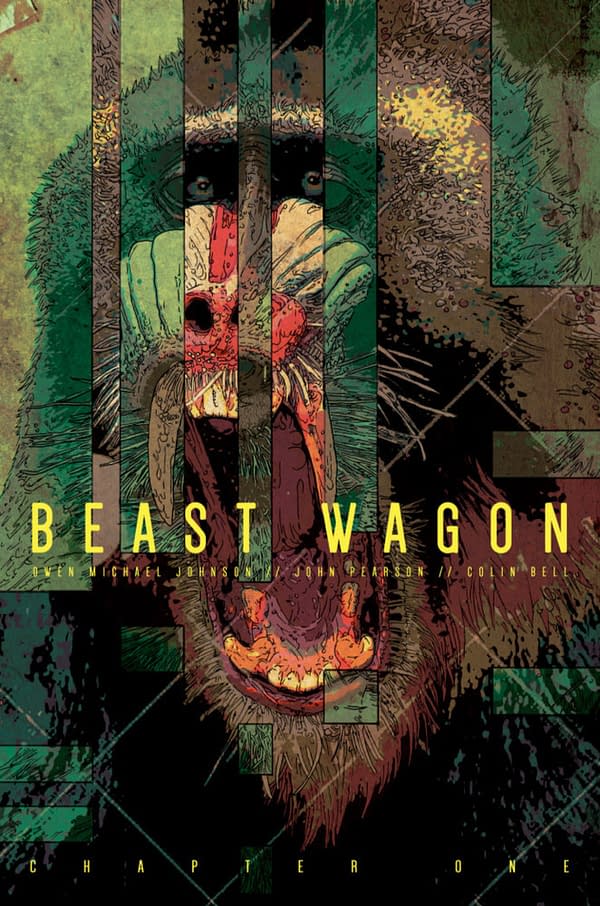 Writer: Owen Michael Johnson
Artist: John Pearson
Like many first issues, Beast Wagon No.1 is a scene-setter, introducing us to the cast of both animals and humans, who will, no doubt, be the focus of the unraveling story that promises some kind of animal-led revolution while also hinting at changes for the zoo of a far more human dimension too. Either way, it is clear that change is coming, and it's coming soon.
Set in the fictitious Whipsnarl Zoo, we are introduced to our would-be protagonists including Grist Geraldo, a foul mouthed, defecating, cantankerous old goat (but then, wouldn't you be if you had to suffer the indignities of being a prisoner in a petting zoo) and his cellmates, Sralti a donkey and an as-yet unnamed lama. But, they are not the only animals we meet along the way, all of whom, on the whole, seem to share the same sense of impending revolution, albeit some more acutely than others. A buzzard proclaiming the coming of the 'Golden Messiah' is met with skepticism by Grist, while amongst the apes and baboons, a gibbon raps out his beatnik babble which only causes embarrassment amongst the others when his actions are laughed at by the paying punters; the human animals. The only descending voice seems to be the issue's cover star, Stokely the baboon, who seems to have the most to lose should the Golden Messiah prove to be real and not the 'false prophet' Stokley suggests.
Johnson's writing is both humorous and tension building, as he ramps up the feeling of an impending, dramatic change while giving his magically real animals distinct voices, each and every one. The ancient, prophetic tortoise, Sherman, who seems to exist in a dreamscape that transcends all times and space, a love-struck hippo professing her undying love for her keeper, who of course is oblivious to her desires leaving her at the mercy of a predatory male hippo; these are but a few of the large cast of zoo animals we come across, along with their human keepers.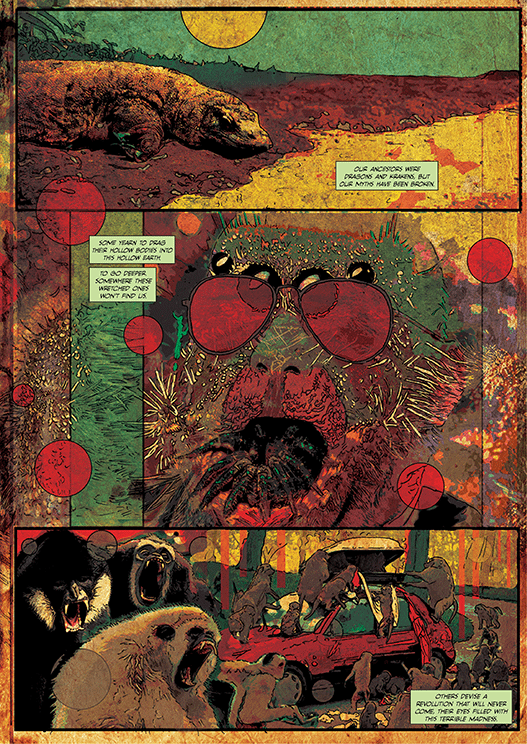 Pearson's artwork is photo-realistic and works well and is highly inventive, whether it be depicting the aforementioned Sherman and his visions, or introducing us, across a double page spread, to the human cast as though it were a map of the zoo, and the human's homes their own cages. A wonderful, new emerging talent, Pearson is equally at ease depicting Sherman's dream visions and his splicing of one scene over another works well both on the front cover and throughout the comic too, creating the sense of a slow, melting camera wipe on the page as mundane reality is replaced with prophecy. Pearson's use of colours is certainly worth mentioning to, as he consciously leans towards the more earthy tones of light-browns and clay-reds which help create a sense of cohesion amongst the varied beasts we see enclosed in different parts of the zoo, but linked to a common cause, a common hope for their collective futures.
Not for the first time are we asked to look at out own 'civilized' behavior in comparison with that of animals. Jaleesa, a young female Muslim, is bullied openly as she arrives home, while we see a more caring side to Mildred, a work-weary woman who also tirelessly looks after her severely disable partner, Arthur.
As first issues go, this is a good opener. I was intrigued by the growing sense of 'something' whether it pertained to the world of the humans or the world of the animals, and while several characters mumbled and stumbled, it was not enough to throw me off the scent, so to speak, of a tense, intriguing plot that promises fireworks in the 5 issues to come of this mini-series. At the end of the issue, I was left wondering, like the revolutionary-minded animals, what exactly is in the mysterious box delivered to the zoo, the Golden Messiah, or something else?
Part Animal Farm, part magic-realism, this is an enjoyable, black-veined humour that is a far cry from the usual Disney anthropomorphism. This is a comic that clearly has something to say about the modern condition and I look forward to reading in future issues what the end goal will be, for both the human slave-masters and the enslaved animals. When the 'Revealing Time' comes' will it be revolution, or reaffirmation of the status quo?
Look out for Beast Wagon on the Changeling Studios shopping site now.
Reel Love, Act Two: Confessions
Writer and Artist: Owen Michael Johnson
With two titles up for review this month, Owen Michael Johnson has been keeping himself busy, especially as he illustrates this large 48-page book himself too.
Debuting at Glasgow's Comic Con over the July 4th weekend, Reel Love, Act Two is a black and white comic that captures the last great summer of a movie-obsessed teenager, before he leaves for university and moves away from home. It is story of joy, new-forged friendships, optimism and pessimism, in other words a bumper car ride of intense emotions that many readers can relate to all too well, capturing those mixed emotions and hopes ahead of the life-changing move away.
Picking up a job at his local cinema, our protagonist and would-be filmmaker is introduced to his co-workers, the 'Monster Squad' who echo the classic Universal monsters in their clothes and general looks. Foley, the over-confident leader of the group with his slicked back vampish hair, Ellie, the Bride of Frankenstein, Dean the quiet hulking brute in the background and Edwards, with his hirsute locks and stoned demeanor a far cry from any wolf man I've ever encountered. All done with a tongue firmly placed in Johnson's own cheek as this book is layered with movie references throughout, falling from the collective mouths of these film aficionados.
Along the way, our hero feeds his dream of movie-making using his new found friends to help him realize his dreams, like a young Sam Rami, using the cinema after hours to film in, while all the time falling for a one-last summer love with Ellie, which doesn't go as well as one would imagine, certainly not in the bedroom at any rate.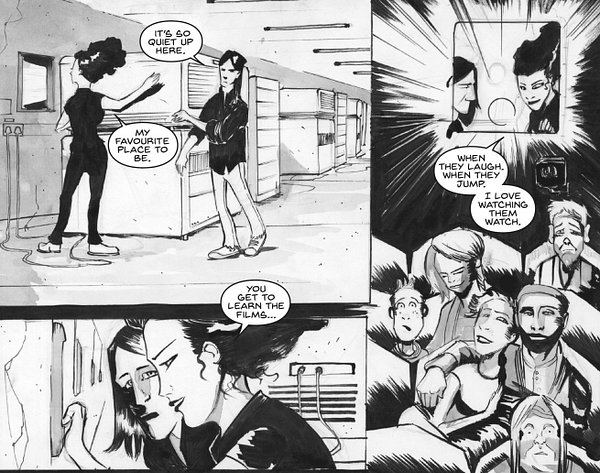 But, that's the beauty of this book. The characters are young, they are inexperienced and full of as-yet-broken dreams, and they are flawed. This is a kitchen sink kind of drama that allows youth to exude while all along poking at something darker in the background. Indeed, like The Empire Strikes Back, this is a darker sequel to the original, as our hero's dreams are initially thwarted as he grows frustrated with stop-motion animation and hears his own toys rebelling against his stereotyping and 'juvenile screenplay'. As he falls for Ellie, he finds that he is turning his back on his first true love, cinema. He is clearly estranged from his father, something of his own making it would seem, and when he does find the courage to film his new magnum opus, even that doesn't run smoothly.
This is a book that doesn't need to deliver happy endings, because life isn't full of happy endings. This captures the spirit of youth, the wasteful, useless rebellion we show towards our loving parents, the freedom of being a young adult on the cusp of great changes and the threat that you can never go home again too. This is one for the comic book and movie buffs, but it is also worth passing onto any friend you have who also went to university. Reel Love, Act Two is a timeless tale worth hunting out at your local comic book store, or online here. It spoke to me as the 18 year old that I was and my own mad, long summer before journeying to university and I dare say, it will speak to your inner youth too. It is a bittersweet comedy full of angst, raw emotion and lost opportunities too, so seek it out this summer for yourself.
For your copy pop over once again to the Changeling Studios online shop today.
Zarjaz No. 24 (FutureQuake Press)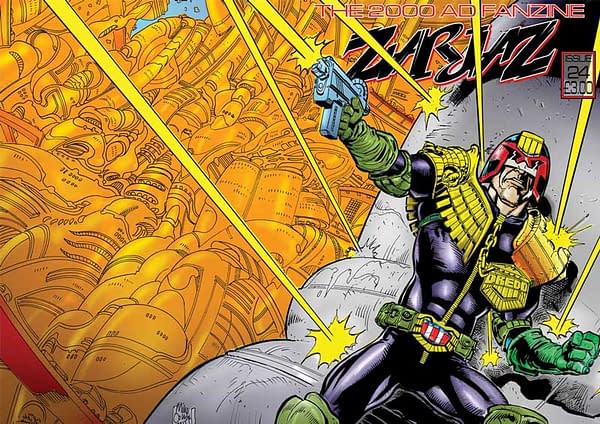 Writer: Daniel Whiston
Artists: Johnny McMonagle, James Kircough, Dave Thomson
With a stunning, thrilling wraparound cover by Gambit co-creator and Doctor Who artist, Mike Collins, this 'fanzine' was always going to be a little more than a semi-professional love letter to Tharg and his droid army of creators, and I was proven right on this. I was able to judge a book by its cover after all. And, like Dredd himself, I now sit as jury and executioner, looking down from my throne of comic book justice at the eight black and white strips on offers in this latest non-profit issue.
And it doesn't disappoint for any fan of Dredd and his expanded universe of characters that include in this issue alone strips featuring Red Razors, Judge Rico, the Wally Squad as well as a blast from the past in an untold tale from the despotic days of Judge Caligula's rule over Mega-City One. All with the usual black humour, social satire and the ever-present stoic straight-faced Dredd meting out justice indiscriminately, all set against a Mega City One where mega-blocks have names that echo each strip's theme/inspiration. For example, in a strip about illegal bootlegging of a seemingly deadly horror film called Video Nasties (written by Lee Robson and illustrated by John Hutcheson) the story is littered with tell-tale block names such as Billy Friedkin Block (The Exorcist) and Hooper (The Texas Chainsaw Massacre) and Argento block (Suspiria). I could read this fanzine all day, as it illustrates that even in the one 2000AD world of Dredd, there is so much on offer and so much room to explore. The Judge Cal strip, Cal's Arena, really captures the art style of the period, with artist, Steven Austin, giving off slight mumurs of an young Brendan McCarthy and his own contribution to the much loved epic, while maintaining his own polished and detailed style too.
The stories range in scope too, but not too far that it doesn't chime with modern day fears and phobias. There is the story of a deranged stalker out to hunt down Judge Rico first for a selfie, then for death (Death In Pictures written by Shaun Avery and illustrated by Bhuna) as well as wonderfully bonkers Wally Squad strip (Lowlife, Attack of the Naturists by writer Tony McVeigh and artists Eddy Lyle) to a solitary Dredd staring down two imposing blocks of riotous citizens ready to do battle, only for a bit of luck to come to his rescue (Stance, written and illustrated by Martin Currie). There are chuckles to have in each strip and a voice none too dissimilar to any official Dredd strip as would appear in 2000AD.
A must for Dredd fans, and a fanzine I will be looking to pick up regularly too. I never felt one dose of Dredd a week was ever enough for me when I was reading 2000AD, but Zarjaz is the tonic for that.
Drokk it, it was a fun read and transported me back to the thrills I remember form a childhood looking forward to Saturday's and the a new Judge Dredd strip. All for just £3.00 from the FutureQuake site now.
That's my recommendations for this month.
Be seeing you.
Olly MacNamee teaches English and Media, for his sins, in a school somewhere in Birmingham. Some days, even he doesn't know where it is. Follow him on twitter @ollymacnamee or read about his exploits at olly.macnamee@blogspot.co.uk. Or don't. You can also read his articles fairly frequently at www.bleedingcool.com too.
Enjoyed this article? Share it!