Setting The Scene For The Magic Trick Of Batman #77 (Spoilers)
Did you get a copy of Batman #77? Did you pay cover price? Well done you. Because while copies are indeed selling on eBay for $30 and probably going north of that when the mainstream media kicks in, we're just not buying it over here. You know, the big reveal. Or at least one of them.
We have been told in previous issues of City Of Bane about the current situation. How none of the Bat family are allowed in Gotham, or Alfred Pennyworth's life is in the balance.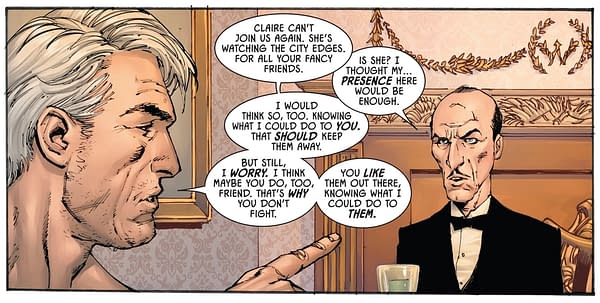 And Damian knew that explicitly.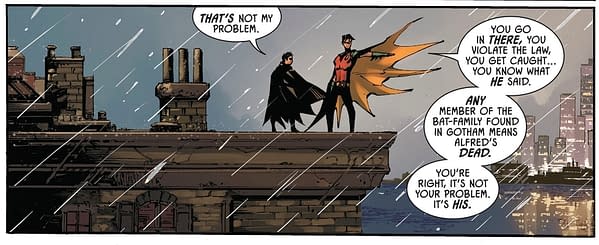 And in today's Batman #77, was reminded of that by Thomas Wayne, his grandfather from another dimension.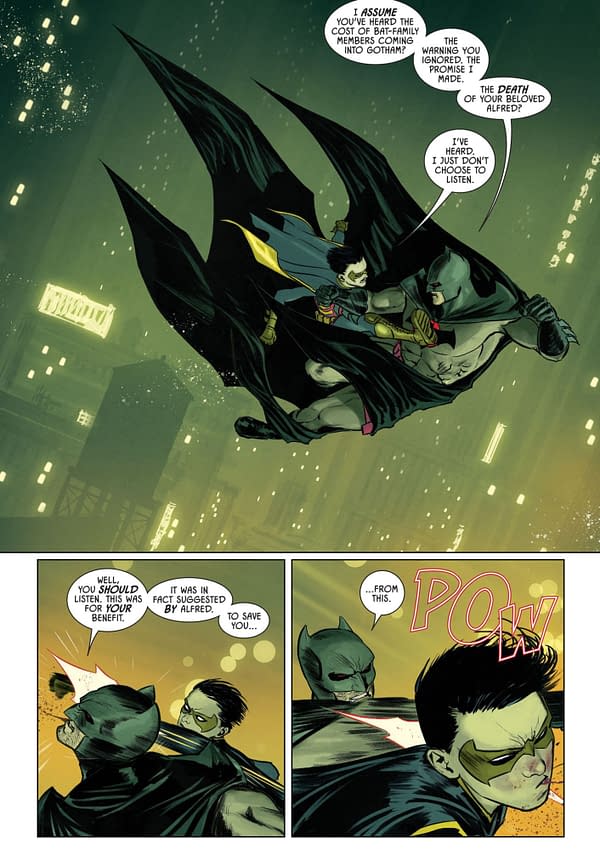 And no threat is worth its salt unless it is carried through.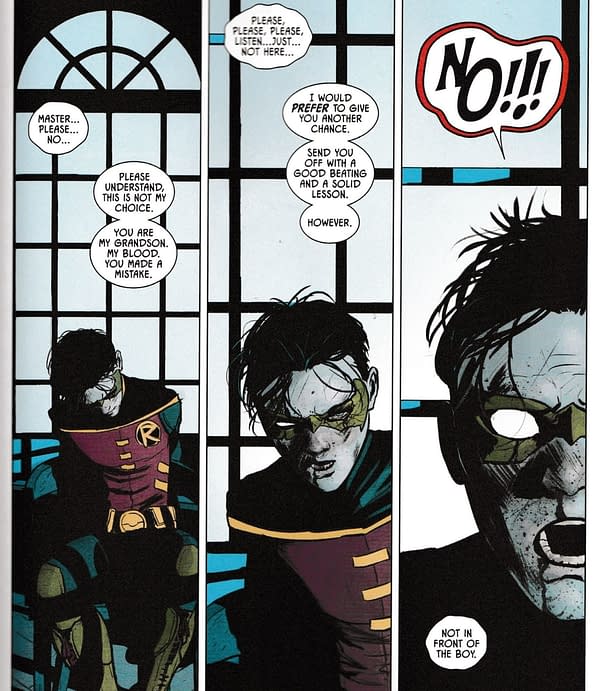 But note. We never see him speak. The perception of events is from Damian, literally held in position.
Remember David Blaine's levitation trick? Known as The Balducci Levitation, it's all about keeping the audience watching from a very specific angle.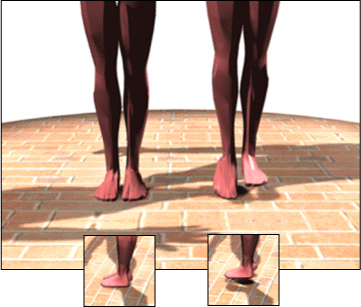 Being in control. Showing what you want to. Because not even a Thomas Wayne from another dimension will actually participate in such an act. And, as he says, it was Alfred's idea anyway…
Oh and just in case, they have the Psycho Pirate. And a Lazarus Pit.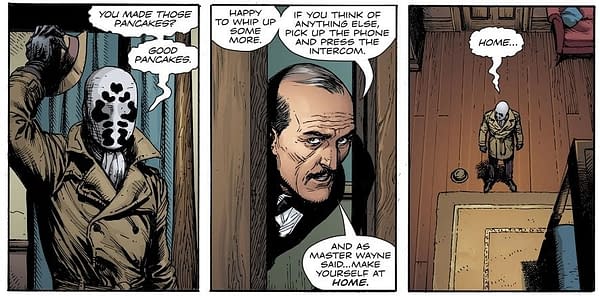 And Alfred present in the near-future in-continuity Doomsday Clock series. Someone has to make pancakes for Rorschach.
It is a very cool comic book, that defies audience demands. Tom King's Batman is criticised for, Batman never doing anything – Batman does literally nothing in this issue. Reliance on quotes? There are more quotes. Too much Pow and Meow? There is more Pow and Meow. He doubles down and comes out on the other side. I see his run as huge melodrama, pinned to a macro structure and bashed into shape with a ball-peen hammer. And Batman #77 plays into all of that.
It's worth it. I mean, not worth $30. Wait till you can just pay $4…
BATMAN #77
(W) Tom King (A) Mikel Janin (A/CA) Tony S. Daniel
"City of Bane" continues! The last of the independent villains are on the run, leaving Gotham City entirely to Bane and his cronies-including Flashpoint Batman and Gotham Girl! Though this means a semblance of peace on the streets, the iron grip of tyranny is squeezing all life out of Gotham. And with Bane's machinations keeping other heroes out, the city really needs the Batman to return. Is Bruce Wayne ready to face his toughest foes yet…his father and the man who broke his back?In Shops: Aug 21, 2019
SRP: $3.99