Avengers, X-Men, Walking Dead, Oh My — March Madness Comes to this Week's Comic Connect Event Auction There's always something special about this time of year: the snow is mostly gone, it's a little bit warmer, and of course there's the NCAA men's basketball tournament. A 16 seed beat a 1 seed this year! And if you don't know what that means, that's okay, because I never thought I'd see it in my lifetime and probably never will again. But that's the magic of this fresh, almost-spring time of the year — anything can happen.
Of course, much as I like basketball, the true March Madness in my eyes is seeing the auction season gear up in earnest for the year after a short winter's nap. Serious collectors are really ready for those first big auctions (or fresh collections brought to market) of the year to hit at this point, and we always see some surprising sales as a result. We've seen a comic book cross the million dollar threshold for the first time ever at this time of year. Then we saw a Silver Age comic book do the impossible and follow Batman through that million dollar barrier. Last March's Comic Connect auction saw this Detective Comics #33 CGC 8.0 hit $150,000.00.
What surprises will Spring fever bring us this year? We're about to find out, as the first original art (and misc) items of the day are just about to close.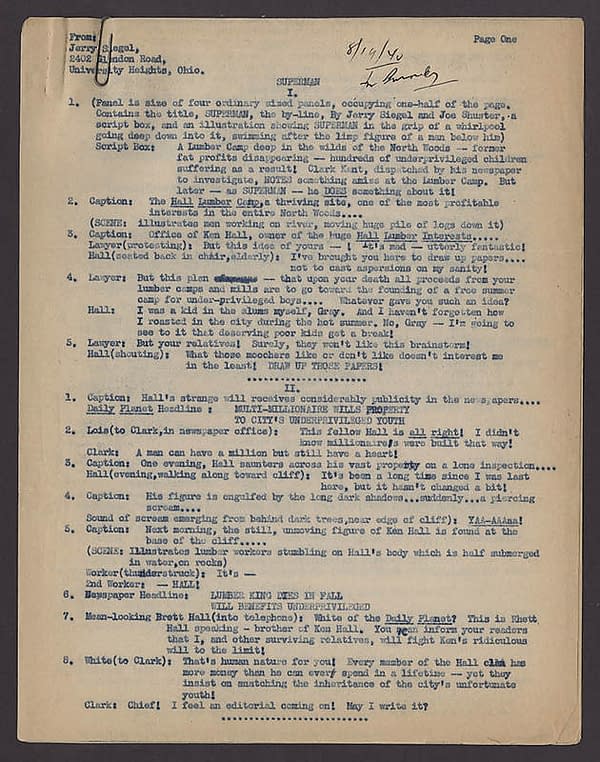 At the top is a very nice example of something I've always wanted for my own collection, frankly — an original Jerry Siegel Superman script from the early days. Comic Connect has had a few of these over the years, and they always bring a solid price. There's something special about looking at this and seeing the process and the paper that made that original Superman magic happen.
Original art has gotten a rep for being "fully valued" and then some in certain cases on today's market, but there are still bargains to be had. Take this Golden Age Arturo Cazeneuve splash page from All New Comics #3. Sitting at $129 with minutes to go as I type this… somebody is going to steal this one, looks like.
Somewhat towards the other end of the spectrum we have an Amazing Spider-Man #316 interior page by Todd McFarlane, always in demand on the current market, and this gorgeous Avengers #123 cover by Ron Wilson and inked by John Romita. While Wilson is not typically thought of as among the fan favorites of Marvel artists of this 1970s period, this is an undeniably strong cover from an era of the Avengers that has a lot of relevance to the Marvel Cinematic Universe today — currently at $26,055.00 with minutes to go, it looks like this one is going to close at a price that reflects that importance.
Overall, there's a little something for every budget here and every era from Golden Age to modern, and I'm still seeing a few bargains in the early going. Somebody is going to walk away with this amazing Tom Grindberg Firestorm the Nuclear Man page for way too cheap. Meanwhile, this Gil Kane Invaders #13 cover appears to be finishing strong. And look at this Keith Pollard / Dick Ayers Iron Man #74 Splash… that's peak 1970s right there.
There's also a plethora of pages that from the title that has been Original Art rocket fuel in recent years — The Walking Dead.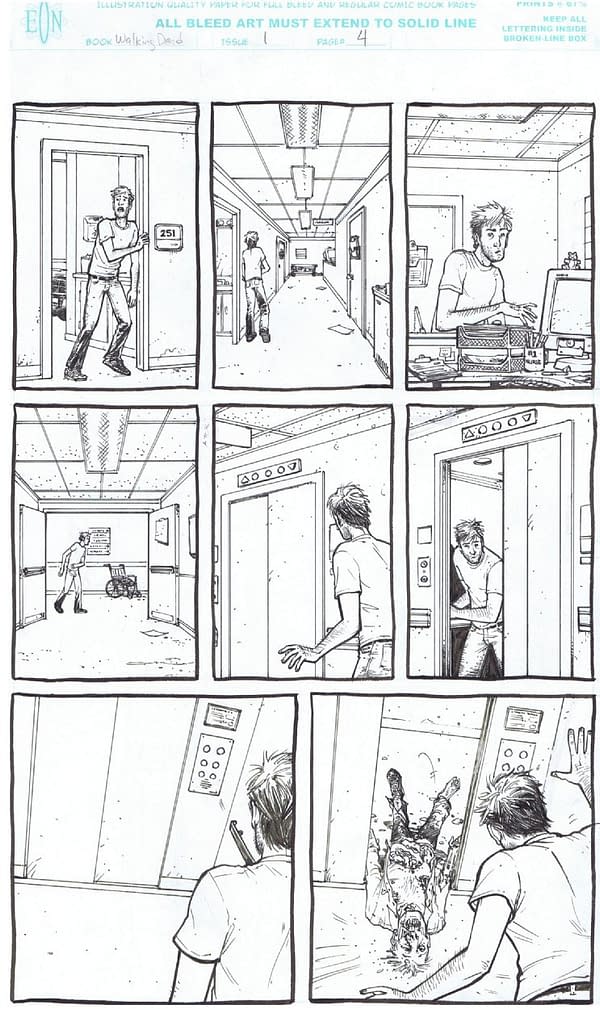 And here's a gorgeous Barry Windsor-Smith X-Men #186 page, already at a nice price.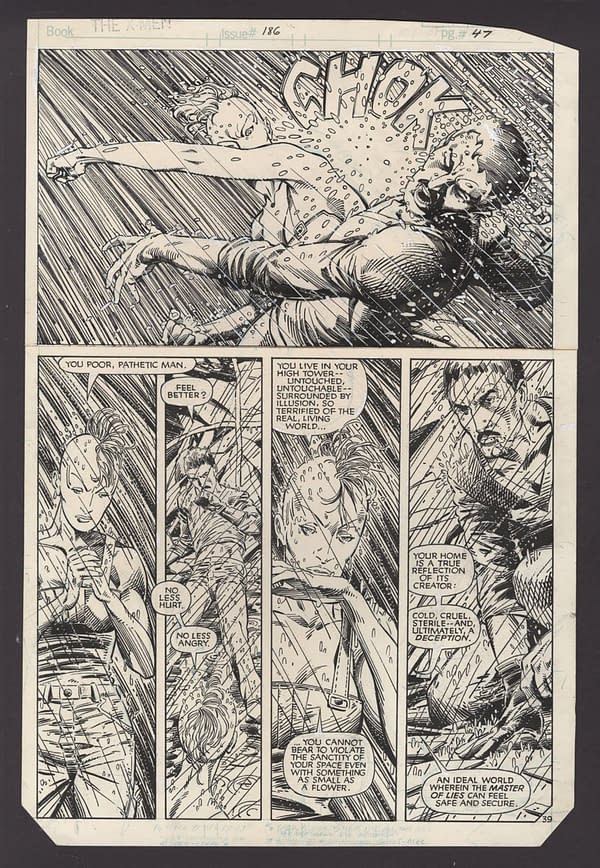 Overall, as I ran through tonight's offerings, I found myself thinking "ah jeez, I should buy that at that price" a whole awful lot, which means you should do that so I don't have to.