I've just been to Gosh Comics for Free Comic Book Day where Mark Buckingham was signing alongside Al Ewing and Jamie McKelvie. And since he was there, and all, I thought I should ask him about Miracleman especially as he seems to be signed a boat load of copies.
He told me that he was actually a co-writing the long awaited conclusion of Miracleman with Neil Gaiman and they have been taking advantage of Neil shooting Good Omens in the UK, to have a lot of secret pub meetings where they've been laying down the plot for the Golden Age and Dark Age arcs together – and that's all done, it's all mapped out for Mark to draw. And Buckingham is drawing Miracleman right now, he's well into it, as long as he isn't distracted by other things, projects, covers – and including small humans coming into his life.
Congratulations, Mark. You do seem to have your hands full.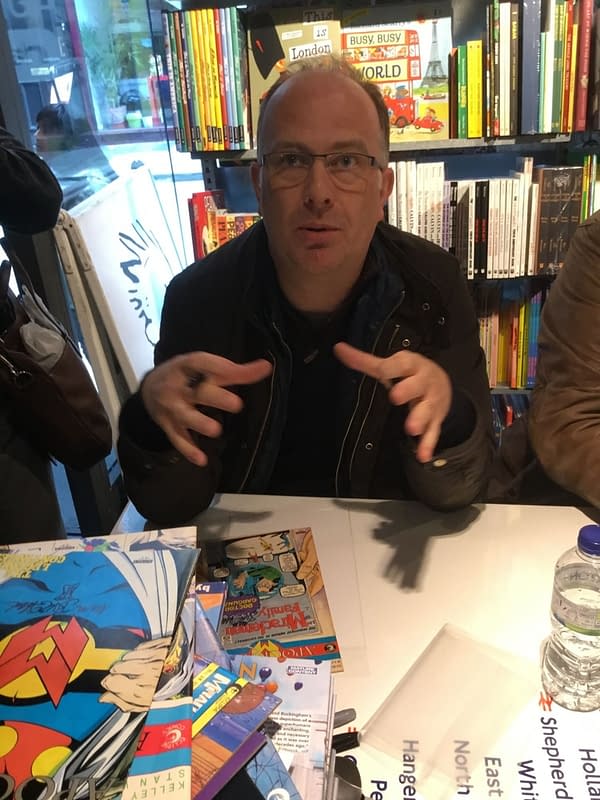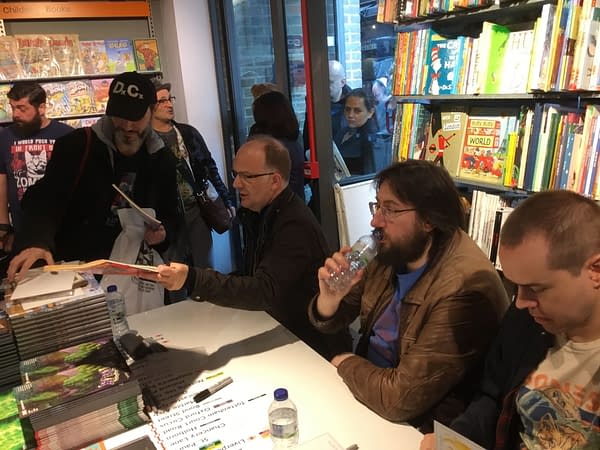 For all the superhero deconstruction that's been going on since the eighties, Marvelman/Miracleman was really the one that did it first. It paved the way for everything that came – all the credit and blame that Watchmen gets, Marvelman has a strong first claim to. Written by a nobody, Alan Moore was Dez Skinn's third choice to write the comic, Warrior magazine itself formed by Skinn as a way to recreate the success he'd had at Marvel UK, but doing it independently. Marvelman was his Captain Britain, V For Vendetta his Night Raven. Drawn and co-written by Garry Leach and then Alan Davis, it soared, telling an actual adult superhero comic story, and making everyone sit up and go "oh". This was the comic that got Alan Moore noticed by America.
It is seen as one of the first superhero comics to deconstruct itself, take all the juvenile elements and make them something very real and very scary. This was the superhero comic that grew up. Or, at least, went through puberty. And over twenty years after Neil Gaiman and Mark Buckingham's follow up run was curtailed, the end is in sight…
Enjoyed this article? Share it!