Bleeding Cool is rather honoured to welcome Mark Russell to Bleeding Cool. You may have read his interview with us for DC/Vertigo's Second Coming from August that, last month, hit the conservative Christian, Fox News and Breitbart axis. Last week Dynamite published his first Red Sonja #1. I loved it. And now we get to hear him talk it through…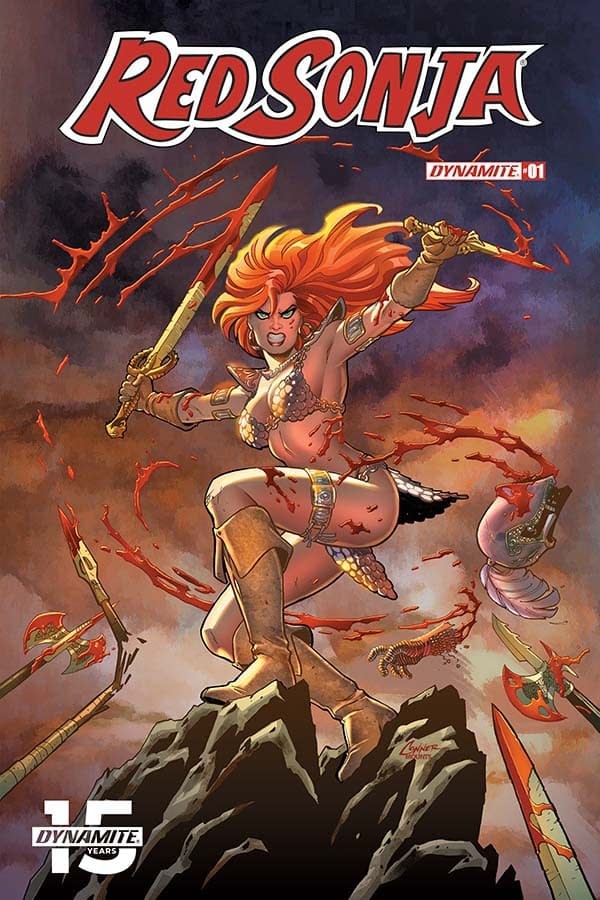 Covers:
I've been lucky enough to have somehow gotten an Amanda Conner cover for almost every title I've ever written. Not sure to what I owe this luck, but if the Universe ever asks for that luck back, it's probably going to require a failed liver or a collapsed roof on my part. I sincerely hope the Universe lets me keep this luck surplus. I also really love the variant by Christian Ward, which kind of sets the tone for the series as well as Frank Cho's cover, which hints at the fact that the price paid for greatness is the suffering of all the minor characters around you.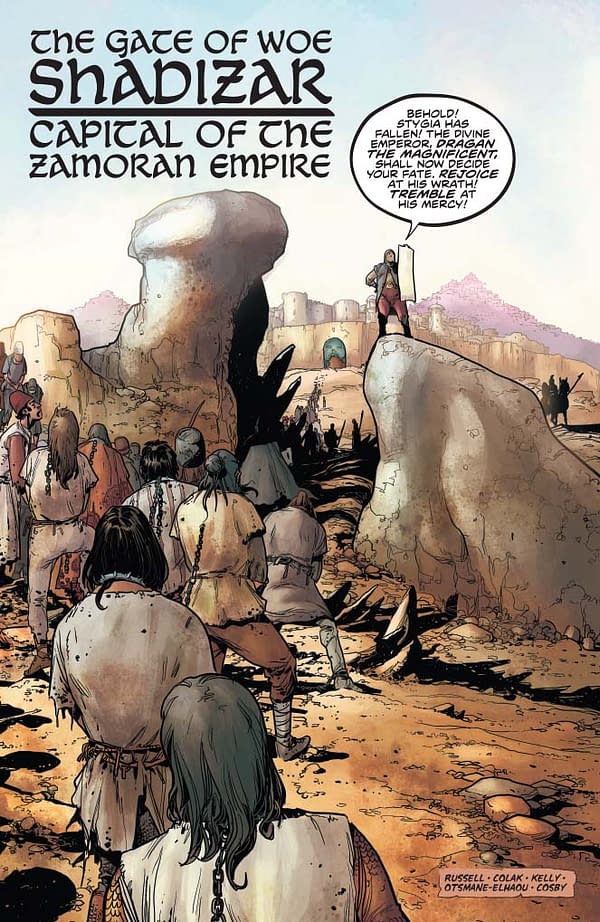 Page 1
I generally like to start a series with a splash page or two page spread that introduces the reader to the world they're joining. Having a long queue of prisoners outside the "Gate of Woe" in Shadizar not only clues them into what sort of world they're being dropped into, but also the stakes that confront Sonja's decision later in the issue. Mad props to Mirko Colak and Dearbhla Kelly for really capturing the miserable and grimy reality of the aftermath of conquest, which they do so well here and throughout the issue.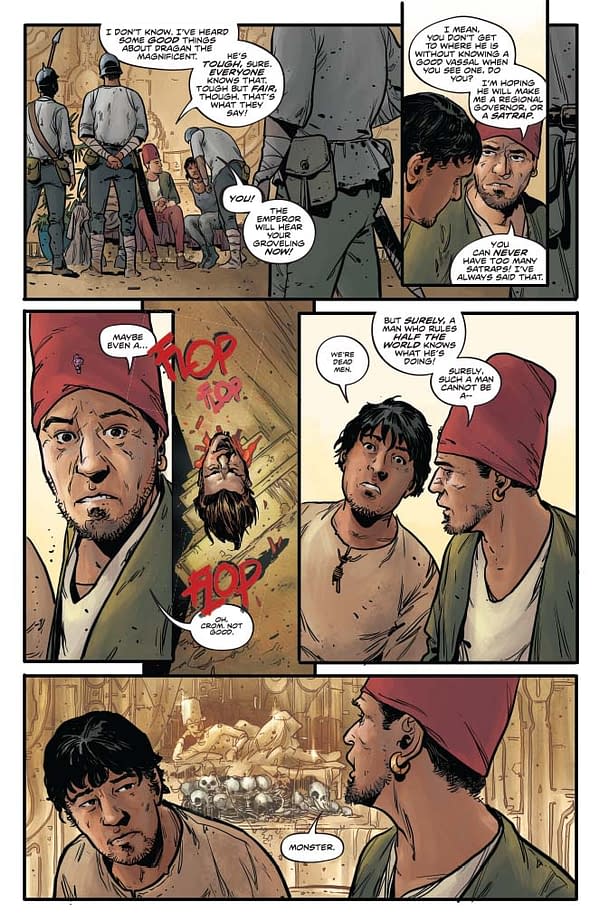 Page 2
I really wanted to capture the feeling of someone waiting in the hallway outside the principal's office or waiting to see the boss to find out whether they're being fired (or in this case, put into a sack of scorpions). To go through the sorts of rationalizations and self-delusion that you have to tell yourself in those situations because the reality is too awful to contemplate. Also, about how people can stick their head in the sand and ignore the truth about their rulers right up until the minute they're sealed in with the rats and scorpions.
Pages 3-6
The principal's office. I really wanted to accomplish a few things in this scene where the newly-conquered king is grilled by Dragan the Magnificent. I wanted to establish the death-curse that compels Dragan's ABC (Always Be Conquering) approach to life and just what kind of guy he is, someone who's sarcastic, intelligent, but whom you never want to cross in a million years. I also wanted to establish the futility of his quest. He's the most powerful man in the world and yet he's risking it all to conquer a country that doesn't even have metal pots.
Page 7
I realize that we're seven pages into a Red Sonja comic and this is the first that we're seeing Red Sonja. We are joining her at her lowest. She's fleeing a calamity that claimed the life of her best friend and will, in all likelihood, kill her as well. Again, this reinforces the chaotic nature of life. One minute she's on the run, surrounded by desert and ruins and by the end of the issue she's the queen of her homeland. Also, can I just give a shout-out here to the incredible lettering work of Hassan Otsmane-Elhaou? He gives grand moments their due with this large, sweeping lettering and killer ancient-looking fonts. His lettering is almost its own character. The words of a trusted scribe or a majestic storyteller like Homer or Herodotus. Love it.
Pages 8-13
Sonja's first battle scene. She is fending off her pursuers from Khitai, from where she has been forced to flee following the murder of her mentor, Domo. Mirko comes through on a really challenging task, having to draw both an action and emotional flashback sequence at the same time. But it comes off beautifully, beginning with Sonja using the lessons she learned from Domo in dispatching the men chasing her. It allows us to simultaneously introduce Sonja as a bad-ass warrior (as if you didn't know that already) and Domo as a character. He becomes a major character in this series, which is quite an accomplishment considering he's dead. He is loosely based on Sun Tzu and Sonja relies upon his teachings more as she leads her people into war against Dragan the Magnificent. This scene, bloody as it is, is her chance to mourn the death of Domo. It beautifully dovetails with the arrival of Kryon, who is to become the next great presence in her life.
Pages 14-16
This is the scene where Sonja is tricked into becoming queen of Hyrkania, not knowing that whoever accepts that designation is probably going to be sealed into a sack with rodents and scorpions like the guy at the beginning of the story. We are introduced to the craftiness of the Hyrkanians, which they will need in plenty for what's about to unfold. She doesn't realize that she's been sold a used car until it's too late. But, on the other hand, however bad the timing, this is a chance to reconnect with her homeland and a family member she didn't know she had, so it's sort of a mixed-curse for Sonja. I love how jubilant the noblemen look as they hot-foot it out of the yurt, realizing they've found someone to take the fall for them.
Pages 17-19
Possibly my favorite scene in the entire issue. Foghor, Dragan the Magnificent's over-eager envoy, arrives giving Sonja the chance to avoid war by willingly submitting to the Zamoran Empire. He gives her some corporate promotional materials from the Zamoran Empire (which come with some pretty alarming fine print, even for readers used to Apple's Terms and Conditions). She knows the stakes are high for the Hyrkanian people, but what she doesn't realize until the end is how high the stakes are for her personally. We are introduced to a new character who plays a role later on in the series… her cup-bearer Hannah. We also get some more of her and Kryon's backstory weaved into the narrative. These three pages really pack in a lot.
Pages 20-22
Sonja's clever and (literally) sh*tty response to Dragan's offer to join the Zamoran Empire. I love how Mirko captures her nonchalance as she crafts her reply, just as if she were responding to an e-mail with an offer to buy a time-share. I also love how he downplays Dragan's response. Dragan does not get visibly angry at the realization that he is now covered in horsesh*t. It's as if he can't really believe somebody just did that to him. He just calmly orders Foghor to begin assembling the largest invasion force the world has ever seen so he can go teach this barbarian queen a lesson. And this is where the rest of the story begins…
Enjoyed this article? Share it!