We mentioned it in Things To Do in London If You Like Comics – December 2019. An Evening Of Creepy Comics being held at London's Cartoon Museum on the night of the 11th.
Morbid Mark Stafford ( the Bad Bad Place), Chthonic Cathy Brett (Who Killed Jojo?), Necropolitan Douglas Noble (Jazz Creepers) and Diabolical Dan White ( Sticky Ribs), unrepentant cartoonists of the uncanny one and all, will gather to discuss the wide wide world of creepy comics, in their various forms, from EC to underground, manga to mainstream, all manner of nightmarish sequential art will be ruthlessly dissected and assessed in gruesome detail. In a slideshow. With some chat. There will be drinks! There will be comics! Some of the drinks will be mulled! Sketching and signing will occur! The Cartoon Museum has spoken! The Cartoon Museum 63 Wells Street, W1A3 AE London
But at that point what we didn't have was the poster that Mark Stafford designed for the event. And any image from Mark is always worth highlighting… as his gallery will attest to.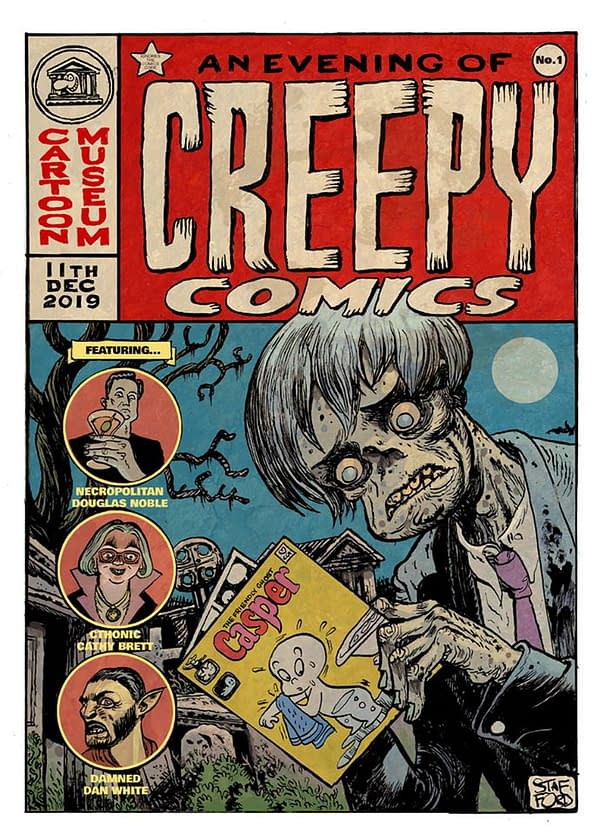 I'll definitely have to add that to the big list – and tag yourself in if you are thinking about going…
Enjoyed this article? Share it!