Marsha Cooke, Ethan Van Sciver, Comicsgate, and Darwyn Cooke's Legacy
Marsha Cooke is the widow of comic book creator Darwyn Cooke. A prominent a presence at comic conventions, she is forthright in her opinions — and I know from personal experience that it's not the greatest position to be on the wrong side of her.
Recently someone on Twitter claimed that Darwyn would have supported the "ComicsGate" crowd. You know, those who want the content of comic books to be traditional in a way that never actually existed, and not created by people who they seem to wish didn't exist.
Marsha wasn't as sure and pointed this out.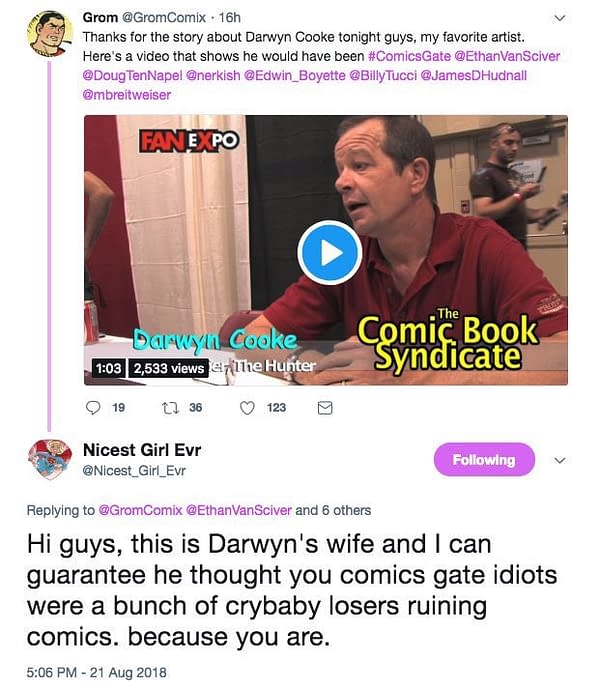 Hi Grom, I can guaran-fucking tee Darwyn cooke thought you and your babyman friends were embarrassments to comics and can take a walk any time.

— Nicest Girl Evr (@Nicest_Girl_Evr) 22 August 2018
This resulted in a slew of people doubting she was Darwyn's widow, criticising her for getting involved, and making all sorts of accusations regarding her status. Forgive me if I don't include them here; you can search for them if you really want.
Ethan Van Sciver, a controversial creator and leading figure for much of ComicsGate, had his own take on this, which started out relatively neutral:
Darwyn always went his own way. Against peer pressure. With his own conscience.

— ComicArtistPro Secrets (@EthanVanSciver) 22 August 2018
But others went further, into traditional ComicsGate territory, leading Marsha to ask:
Hi guys I'm right here and Ethan it looks like your friends are being transphobic, I'm sure you wouldn't support anything like that would you? You certainly would ask your friends to stop bringing my name up, right? Because I haven't seen that yet

— Nicest Girl Evr (@Nicest_Girl_Evr) 22 August 2018
I….don't know what this means. I don't have a possibility to get pregnant (thanks for reminding me) and many many other women don't have babies so you'll have to find another way to exclude mags. Or are women only baby factories in your world

— Nicest Girl Evr (@Nicest_Girl_Evr) 22 August 2018
.@EthanVanSciver just so you know, your fans are all up on me about this and calling me trash, garbage and a liar so anytime you'd like to tell them to back off is great. Darwyn agreed with you on nothing and you know this.

— Nicest Girl Evr (@Nicest_Girl_Evr) 22 August 2018
Are you going to tell anyone to apologize to me.

— Nicest Girl Evr (@Nicest_Girl_Evr) 23 August 2018
Yes, SJWs in comics, apologize to Marsha Cooke for cynically using her as a shield to attack Comicsgate, and for lying to her. It was Darwyn's dear friend Billy who claimed him for Comicsgate, and I am disgusted by this whole affair.

This wasn't fair to you or Darwyn, Marsha. https://t.co/a4htal2tZH

— ComicArtistPro Secrets (@EthanVanSciver) 23 August 2018
That escalated quickly. And Billy is Billy Tucci, who replied:
I apologize for any misconception that I claimed my dear friend Dar for any cause. Twitter is a vicious home for those who'd never confront you in person. U all know where I stand with friends both left and right. Hopefully soon, we'll all stand in the arena of civility. #coda

— William Tucci (@BillyTucci) August 23, 2018
So he knows how to apologise… It may be worth noting that Darwyn Cooke wrote and drew this kind of thing — and deliberately drew Wonder Woman so she was taller than Superman.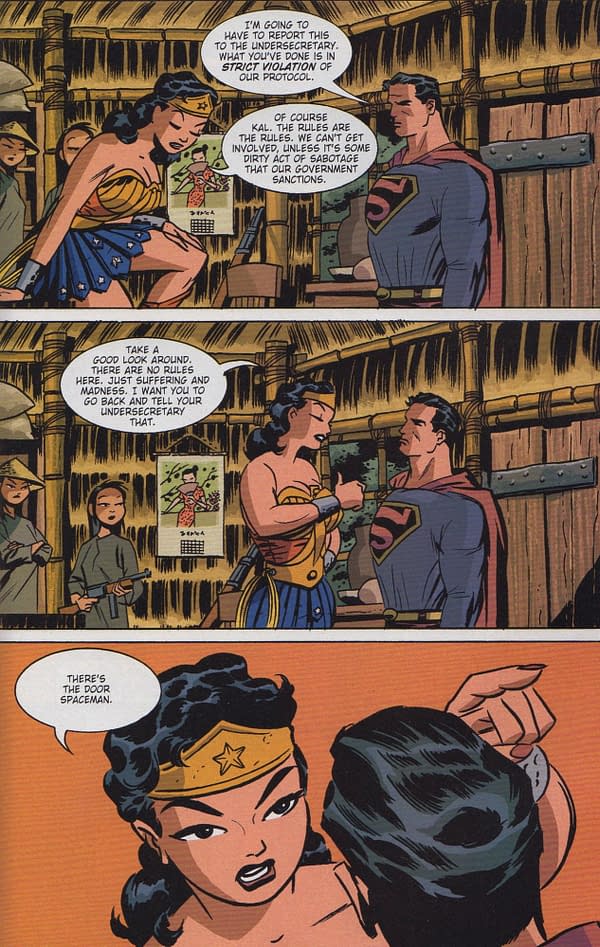 The fuss even brought out some comic book folk who don't comment as much on this sort of thing.
Comics are brutal. No one makes it in without scars. For most of its history, though, only straight white guys made it in. Now, finally, that's changing. Still brutal, but everyone shares in that. You want to whine about that? Find another industry. Your skin isn't thick enough.

— Van Jensen (@van_jensen) August 23, 2018
And, yes, this is in reference to Comicsgate. If any of that crowd wants to talk, I'm here. But from one straight white guy to a group of other straight white guys, I don't have any sympathy.

— Van Jensen (@van_jensen) August 23, 2018
Comicsgate is based on fear, intolerance, bigotry and anger. The comics creators emerging today are too talented, too smart and too loud to be beaten by these weak people. It's time we all started standing up for one another.

— Jeff Lemire (@JeffLemire) August 23, 2018
Richard C Meyer just made a video complaining about how he was banned from our sub.

He was banned because we don't tolerate hate on our sub.

And #ComicsGate is a hate movement.

It is not welcome on our sub.

— Reddit Comic Books (@RedditComicBook) August 23, 2018
i'd appreciate NOT being included on this with the comicsgate hashtag.

— THOMAS MASON (@mentalstudios) August 23, 2018
When creators like @sinKEVitch and @JeffLemire are making a point of speaking out against comicsgate, and in the process making themselves targets for trolls and bigots, you have to admire them as people as well as great creators. Please read the links in my previous 2 retweets.

— Gary Spencer Millidge (@millidge) August 25, 2018
ComicsGate is rooted in harassment and bigotry. If you claim to be part of ComicsGate, you can't say "how dare you identify me with those things". YOU identified yourself with those things. You saw a bigoted movement and you signed up.

— Gay Andrew Wheeler (@Wheeler) August 24, 2018
Hey not to harp on some stuff, but comicsgate accused me of running a mafia out of Portland and Meyer made fun of me for being a rape survivor. In addition to that they've tried to get me & friends kicked out of shows.

I don't talk about it much because it doesn't deserve air.

— Marissa Louise (@marissadraws) August 24, 2018
I'm glad to see a lot of prominent creators who have seemingly ignored comicsgate up until now coming out against it. It's clear that they view silence as tacit agreement, up to the point that they've even tried to appropriate the names of deceased creators.

— Jeremy Whitley @ DragonCon 414 (@jrome58) August 24, 2018
Something seems to have been stirred among the comics industry, when Marsha was the target this time around. But this kind of thing has been happening to so many other more marginalised people for so long now…
#comicsgate started as a response to nonexistent gatekeeping by "SJWs" in the comics industry, but it became a self-fulfilling prophecy. By going after Marcia Cooke, who is beloved, they pretty much assured anyone associated with their movement is radioactive. Bad move.

— Tony Bedard (@TonyBedard) August 24, 2018
if you wanna know what comicsgate is about, just remember that Meyer's most frequent complaint is probably that women in comics need bigger boobs.

the rest of it is exactly that mature and thought-out.

— Mags the Merciless (@MagsVisaggs) August 24, 2018
It's reasonable to be mad that comicsgate is harassing Darwyn Cooke's wife. But don't forget to support the trans creators and creators of color and all the other women that have been bearing the brunt of this bullshit for years now.

— Mr. Tyler Crook (@MrTylerCrook) August 23, 2018
It's great seeing people finally speaking out against ComicsGate, but in addition to joining the growing chorus condemning them, consider signal boosting or otherwise supporting the folks who have been targeted and have suffered very real personal and professional consequences.

— aubrey sitterson (@aubreysitterson) August 24, 2018
I am currently talking with Ethan Van Sciver over other claims. I think this is going to come up.
Update, Aug. 25, 7:10 p.m. CDT: A previous version of this article included an apologetic tweet to Ethan that was inaccurately attributed. This has now been removed. Thanks to Jason for pointing it out.