Marvel Builds a #SpaceForce with Silver Surfer Annual, Guardians Omnibus, Quasar Collection, More
When Donald Trump told the Pentagon to create a Space Force to ensure American dominance in space, it looks like his close friend and advisor, Marvel Chairman Ike Perlmutter, must have been listening closely. In Marvel's September solicitations, Marvel has assembled a truly dominant Space Force the likes of which America's enemies, like France, Germany, and Cage-Free Children, can never hope to stand against!
First up, Silver Surfer may not have a current ongoing series (yet), but he's sure got an annual hitting stores in September: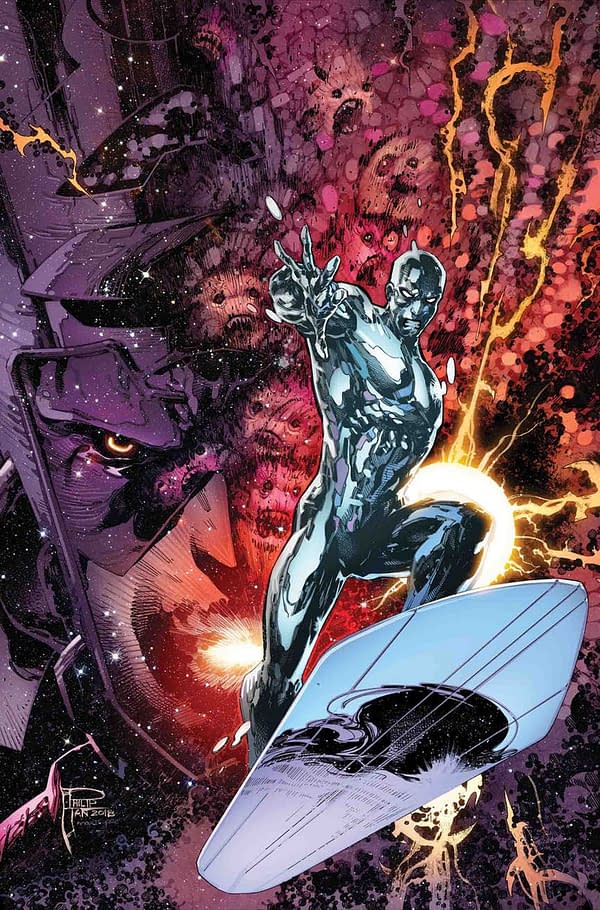 SILVER SURFER ANNUAL #1
ETHAN SACKS (W) • André Lima Araújo (A)
Cover by PHILIP TAN
VARIANT COVER BY ADI GRANOV
What mysteries await buried deep within the cosmic multitudes of the Marvel annals? Why — it's an UNTOLD STORY of the dark and tragic past of the SILVER SURFER, brought to you the mighty Marvel way by ETHAN SACKS (writer of OLD MAN HAWKEYE) and ANDRÉ LIMA ARAÚJO (of the THANOS ANNUAL)!
Anxious to find a world worthy enough to sate the mighty hunger of GALACTUS, Norrin Radd's early explorations as the Devourer's new Herald bear no fruit. Until the Surfer discovers an exotic alien planet teeming with life…and energy enough to finally satisfy his master. But can the Surfer really doom an entire sentient civilization just to save his own?
40 PGS./Rated T+ …$4.99
But that's not all! Marvel is also releasing an Omnibus featuring the original Guardians of the Galaxy (take that, Trump critic James Gunn)!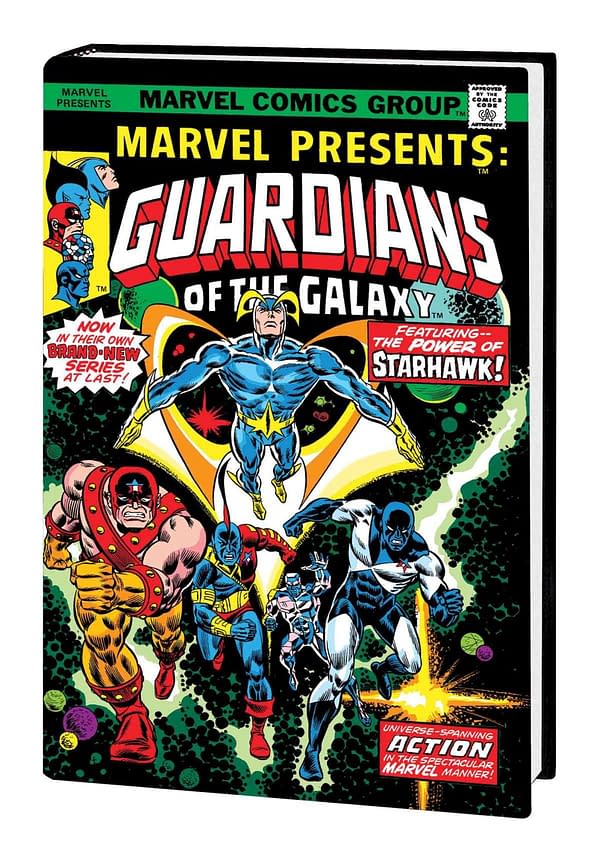 GUARDIANS OF THE GALAXY: TOMORROW'S HEROES OMNIBUS HC
Written by ARNOLD DRAKE, STEVE GERBER, STAN LEE, ROGER STERN, LEN WEIN, JIM SHOOTER, DAVID MICHELINIE, CHRIS CLAREMONT, MARK GRUENWALD & MORE
Penciled by GENE COLAN, SAL BUSCEMA, DON HECK,
AL MILGROM, JOHN BUSCEMA, GEORGE PEREZ,
DAVE WENZEL, JOHN BYRNE, MIKE VOSBURG, BOB MCLEOD, JERRY BINGHAM & RON WILSON
Cover by JOHN ROMITA
ON SALE JANUARY 2019
A thousand years from now, Vance Astro, Yondu, Martinex and Charlie-27 will rise to free the enslaved planet Earth — as the Guardians of the Galaxy! Soon, Captain America, Doctor Strange, the Thing, the Hulk and more join the time-spanning heroes in the war to reclaim the future! Threats arise from other worlds — as well as new allies Nikki and the uncanny Starhawk! But when Guardians and Avengers join forces in the present day, will even the combined might of two millennia be enough to stop the deranged demigod Michael Korvac? Plus: the Silver Surfer, Ms. Marvel, Spider-Man and Adam Warlock! Collecting MARVEL SUPER-HEROES (1967) #18; MARVEL TWO-IN-ONE (1974) #4-5, #61-63 and #69; GIANT-SIZE DEFENDERS #5; DEFENDERS (1972) #26-29; MARVEL PRESENTS #3-12; THOR ANNUAL #6; AVENGERS (1963) #167-168, #170-177 and #181; MS. MARVEL (1977) #23; and MARVEL TEAM-UP (1972) #86.
752 PGS./Rated T …$100.00
ISBN: 978-1-302-91554-4
Trim size: Oversized
As well as a collection from Quasar's first ongoing series:
QUASAR: COSMOS IN COLLISION TPB
Written by MARK GRUENWALD
Penciled by MIKE MANLEY & GREG CAPULLO
Cover by TODD MCFARLANE
Quasar takes on Maelstrom in the fight of his life! As Protector of the Universe, Wendell Vaughan takes his job seriously, but he's only human — and his cosmic mentor, Eon, has long warned of a looming threat that will destroy all that is. Can Quasar possibly prepare himself for the mind-bending battle to come? Meanwhile, Captain Atlas and Doctor Minerva want Quasar's quantum bands — and they're not the only ones. And when the members of the extradimensional Squadron Supreme find themselves stranded on Earth, Quasar must aid them in a galactic conflict between the Stranger and the Overmind! Plus: Wendell's new employee is hiding a dangerous secret! When Maelstrom strikes, Quasar is thrown into a perilous journey beyond life and death — from Infinity to Oblivion and more. Can he emerge a new man and stop a cosmos in collision? Collecting QUASAR #10-25.
416 PGS./Rated T …$34.99
ISBN: 978-1-302-91372-4
And that's not taking into account any of the Star Wars comics (a competing brand to Space Force), or the cosmic books we already knew to expect this month: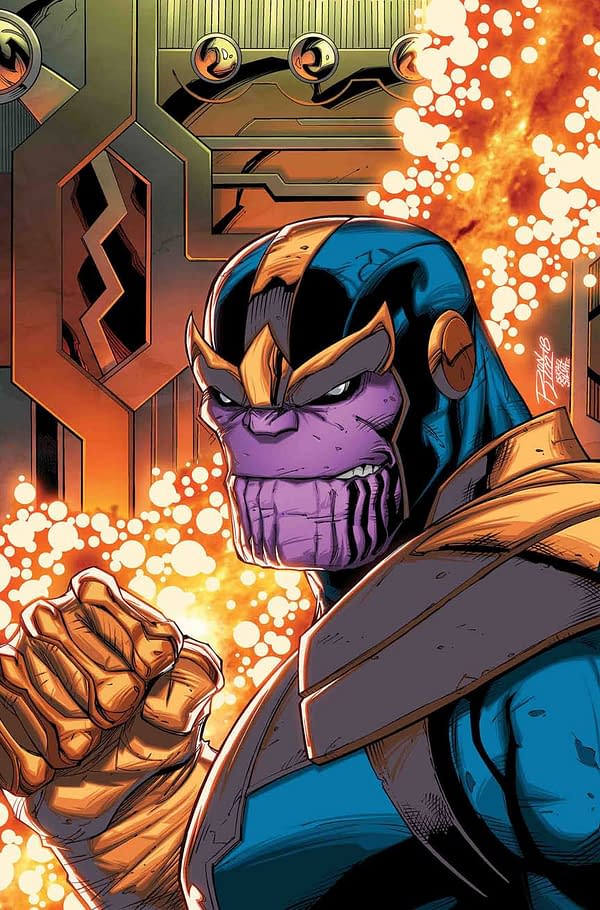 THANOS LEGACY #1
DONNY CATES & GERRY DUGGAN (W) • BRIAN LEVEL (A)
COVER BY GEOFF SHAW
VARIANT COVER BY RON LIM
VARIANT COVER BY STONEHOUSE
VARIANT COVER BY ESAD RIBIC
COSMIC GHOST RIDER VS VARIANT COVER BY DAVE JOHNSON
"THANOS WINS"…AGAIN?
Rising star Donny Cates returns to the Mad Titan to bring the story bridging the gap between his best-selling "Thanos Wins" and the world-shattering INFINITY WARS! How did Thanos' journey back from the future lead to the events of INFINITY WARS PRIME? Now it can be told!
40 PGS./ONE-SHOT/Rated T+ …$4.99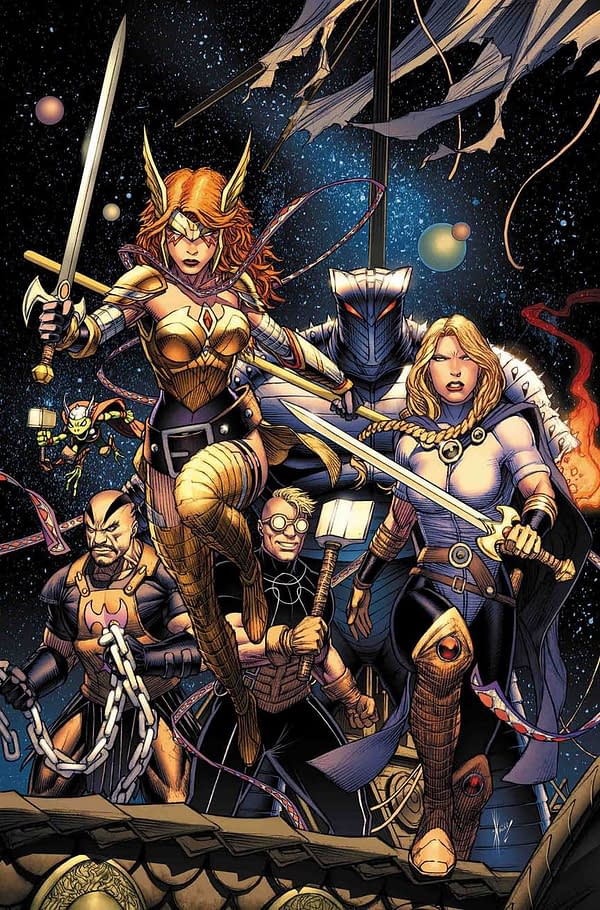 ASGARDIANS OF THE GALAXY #1
CULLEN BUNN (W) • MATTEO LOLLI (A)
Cover by DALE KEOWN
Variant Cover by SKOTTIE YOUNG
Variant Cover by Humberto Ramos
VARIANT COVER BY CLIFF CHANG
Spinning out of the events of INFINITY WARS comes an epic space opera from DEADPOOL veterans Cullen Bunn and Matteo Lolli!
Angela, the not-so-beloved half-sister of Thor. The hotheaded Valkyrie – and the human who shares her form, Annabelle Riggs. Skurge the Executioner, freshly returned from Hel. Throg, the mightiest frog of thunder. Kevin Masterson, the boy who took his father's mace to become the hero Thunderstrike. And the Destroyer, the Asgardian armor built to take down Celestials – its wielder unknown. The events of INFINITY WARS set NEBULA off on a quest to rule the galaxy – wielding an Asgardian weapon even Thor would fear – and it's up to this team of gods, assassins, frogs and heroes to stop her.
32 PGS./Rated T+ …$3.99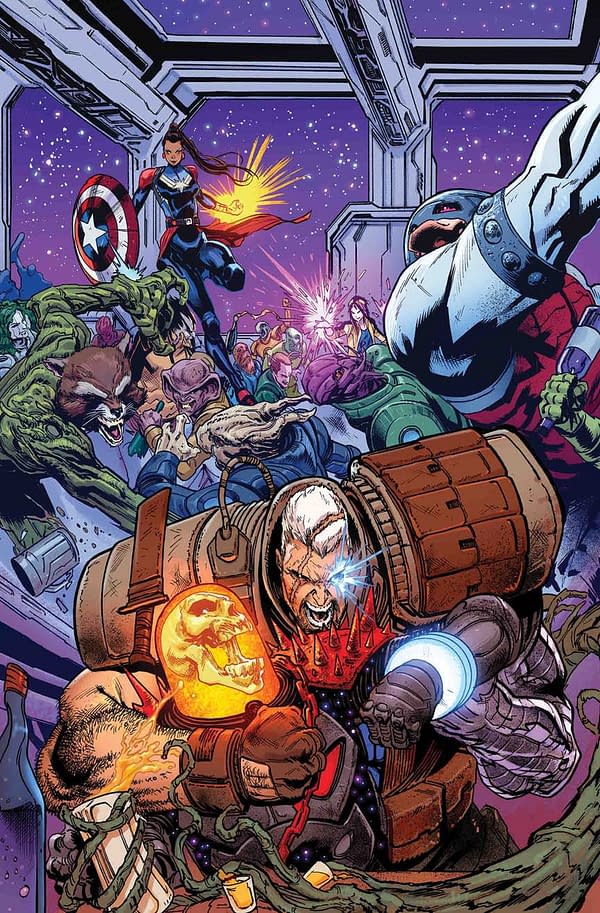 COSMIC GHOST RIDER #3 (of 5)
DONNY CATES (W) • DYLAN BURNETT (A)
Cover by GEOFF SHAW
VARIANT COVER BY DECLAN SHALVEY
VARIANT COVER BY IVAN SHAVRIN
COSMIC GHOST RIDER VS. THE FUTURE GUARDIANS OF THE GALAXY FOR THE FATE OF THE UNIVERSE! 'NUFF SAID!
32 PGS./Rated T+ …$3.99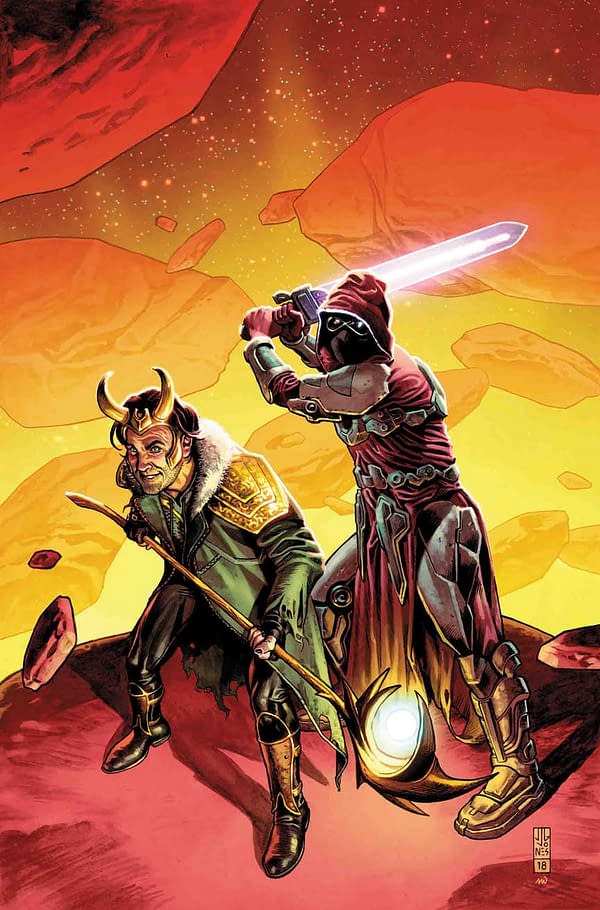 INFINITY WARS #3 (of 6)
GERRY DUGGAN (W) • MIKE DEODATO JR. (A/C)
PROMO VARIANT COVER BY J.G. JONES
VARIANT COVER BY RON LIM
VARIANT COVER BY PATRICK ZIRCHER
CONNECTING VARIANT COVER BY HUMBERTO RAMOS (3 OF 6)
With Requiem tearing through the Marvel Universe, Loki whispering around its fringes and a new threat looming to devour everything, the very fabric of reality warps around the heroes of Earth… and the only way through winds through infinity itself!
40 PGS./Rated T+ …$4.99
Will the President be pleased? We'll let you know if he says anything on Twitter.