Marvel Comics Cancels Their Future…. Foundation
Marvel Comics recently saw the revival of their comic book title, The Future Foundation, running alongside the new Fantastic Four series, and showing what happens to those they left behind, the Power Pack kids and aliens working (currently with Yondu) to recreate the Marvel Multiverse after Secret Wars, investigate its anomalies and generally mess around in the fundamental substructure of storytelling. Written by Jeremy Whitely and drawn by Will Robson and Paco Diaz, it has a cartoony kinetic feel, a little like Art Adams crossed with Jamie McKelvie and was a great example of great power being used rather irresponsibly. Even by kids trying to do their best, but rushing in headstrong.
Sadly, despite some strong reviews, Bleeding Cool understands from a recent writers summit, that the series has been cancelled by Marvel Comics. Currently, only two issues have been published so far, but I understand the decision was made soon after the publication of the first issue a month or so ago.
It seems not even the appearance of The Maker from the Ultimate Universe or the surprise return of Rob Liefeld and Jeph Loeb's version of Bucky from Heroes Reborn, Rikki Barnes, could save this comic. But then again, the series was cancelled internally at Marvel before anyone had even known she was in the comic…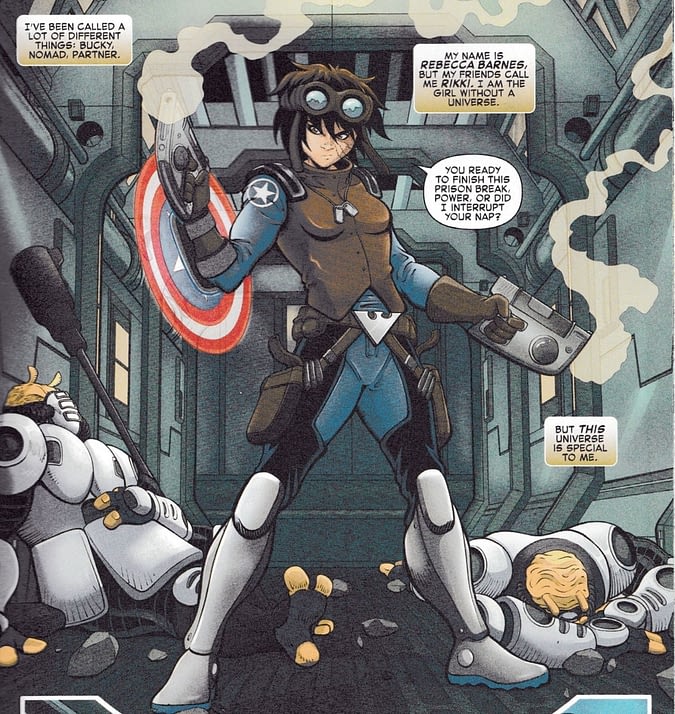 This time the cancellation had everything to do with sales and anticipated sales – and nothing to do with Ike Perlmutter falling out with Fox Studios. Here are the current two issues still solicited for publication. I wonder what other surprises they will contain on their way out? And will we get a fifth in December, or is that it?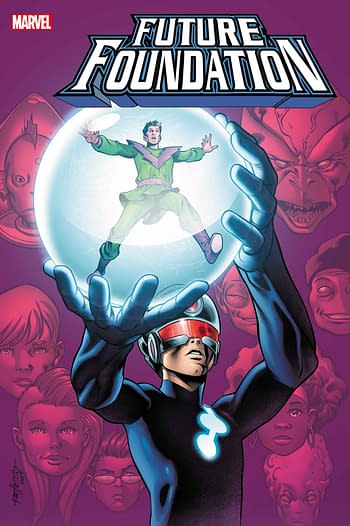 FUTURE FOUNDATION #3
(W) Jeremy Whitley (A) Will Robson, Paco Diaz (CA) Carlos Pacheco
RAINBOWS AND REECE'S PIECES!
Owen Reece – a.k.a. Molecule Man – once helped reshape the entire multiverse. Now his body is scattered across the cosmos – and the Future Foundation is out to put him back together. But they're not the only ones. It's a race across space as the Maker sets his sights on pieces of Reece! And with a prison security system out to murder them all, the Future Foundation is already behind the mark. But the Foundation has a secret weapon. Find out at last who Julie Power set out to rescue from that intergalactic prison – and why the Maker should be very, very afraid.
Rated T In Shops: Oct 02, 2019 SRP: $3.99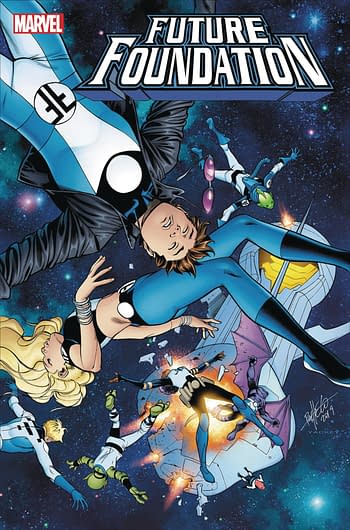 FUTURE FOUNDATION #4
(W) Jeremy Whitley (A) Alti Firmansyah (CA) Carlos Pacheco
LOST IN SPACE!
The Future Foundation's fight to save Molecule Man comes to a head! And there'll be no rainbow after a storm like this. This issue, someone dies. Don't miss Professor Power and his team meeting their Maker – and more!
Rated T In Shops: Nov 13, 2019 SRP: $3.99