Bleeding Cool talked yesterday about Marvel's plans to introduce a delayed or extended billing scheme for comic book retailers when it came to certain launches. This is the kind of programme intended to help retailer's cash flow dealing with non-returnable comic books, and might encourage some to order more if they can rely on being able to sell them all before the bill is due.
Marvel suggested visually that might cover the launch of Captain America #1 and Fantastic Four #1,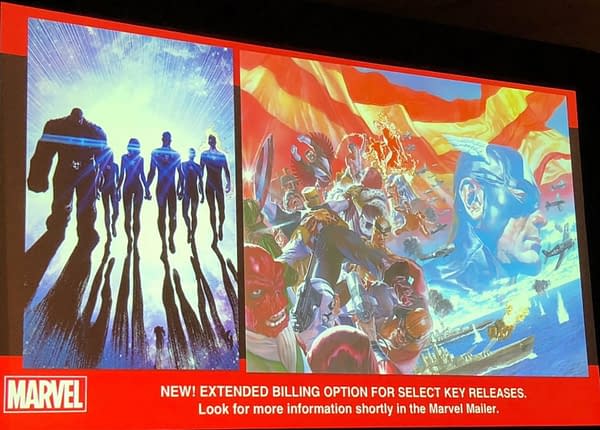 Well, we now have more specific information for the launch of Captain America #1 by Ta-Nehisi Coates and Leinil Francis Yu. Retailers who opt into the new programme will be invoiced half of their order at the normal time but will be invoiced for the remaining half a month later. However, retailers will be expected to order considerable amounts.
Often for launches, Marvel encourage large orders by offering large discounts for retailers who meet, say, 200% or their orders for another, related and recent book. They will still be keeping this discount programme. But for retailers who go all in, at the highest discount level, they will at least have another month to pay that discounted bill.
For some, this will be a cash flow bonus for what they were doing anyway, and help support their business. For others, it won't persuade them any more than it did before. But for some it may be a window into trying something they usually don't.
CAPTAIN AMERICA #1

Ta-Nehisi Coates, Leinil Yu, Alex Ross

"WINTER IN AMERICA" For over seventy years, he has stood in stalwart defense of our country and its people. But in the aftermath of Hydra's takeover of the nation, Captain America is a figure of controversy, carrying a tarnished shield. And a new enemy is rising! Who are the Power Elite? And how do they intend to co-opt and corrupt the symbol that is Captain America?

On Sale 7/4
Enjoyed this article? Share it!