SCOOP: After 80 Years, Marvel to Publish "Masked Raider" Comics Again – in 2020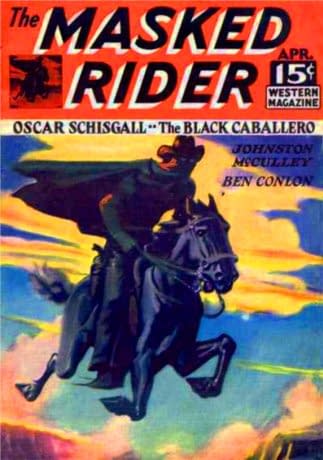 Oscar Schisgall's novel, The Black Caballero, introduced the Masked Rider and his Native American companion Blue Hawk. It crossed The Shadow with Lone Ranger rather effectively. It was picked up, reworked, serialised and continued in 1934 as The Masked Rider pulp magazine, the first such volume published by Martin Goodman, the man who later founded comic book publishers Timely, Atlas and Marvel Comics, and the cousin-in-law of Stan Lee.
Published regularly, with several different authors, the character also appeared in comic book form in Marvel Comics #1 as The Masked Raider, later Marvel Mystery Comics. That ceased when the character was sold to Standard Publication in 1940, who published their own more Westernised version of the character.
Eighty years later, spinning out of the upcoming Marvel Comics #1000, which reintegrates Marvel's entire publishing history, including those lost early years, I understand that Marvel Comics will be publishing a new Masked Raider series in 2020. Written by Al Ewing? Maybe.
The Masked Rider was Jim Gardley, a young cowpoke in 1830s Texas, originally approached with the offer to serve as hired muscle for a powerful rancher. When he found out the boss wanted him to "convince" all the small ranchers in the area to sell their lands to him at dirt cheap prices, Gardley turned down the offer. The rancher then framed him for cattle rustling and had him jailed. Escaping, Gardley started preparing himself to take revenge. He created the costumed identity of the Masked Raider, perfected his aim and draw and partnered himself with a feral white horse by the name of "Lightning".
What he is now though, is anyone's guess.