"What the hell is this people were talking about at the party tonight?" one comic creator at San Diego Comic-Con asked me when I woke up this morning. "You're rewriting comic book history or something? What the hell do you know?"
Not me, mate, but Bleeding Cool General manager, historian, and paper stock expert Mark Seifert, who contends that when it comes to history in this area, simple assumptions or mistakes have become "canon" and it's time for a closer look at underlying sources. But especially that of comics. And especially that of Marvel Comics. And on Monday, it will all come out as part of Bleeding Cool's series Marvel Declassified.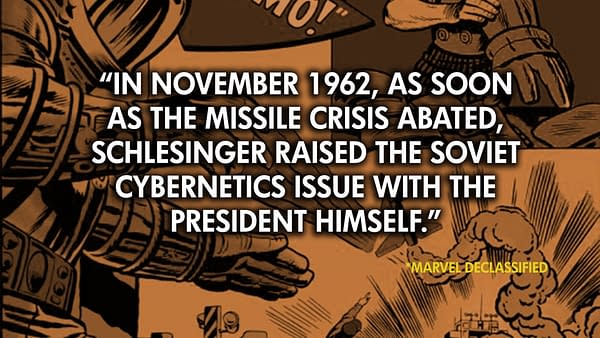 Come by on Monday for a collective mind-blowing experience. Oh, and regarding yesterday's 'Face Front' teaser, Mark Seifert writes:
Stan didn't write the quote in the teaser (he was likely inspired by it), but as the true author of the piece this comes from noted, he got the term "Face Front" from Edward Everett Hale.

Hale wrote fiction in the mid-1800s ranging the gamut from science fiction (The Brick Moon) to one of the most famous works of American fiction ever (Man Without a Country).

He was also a cousin of Edward Everett, who (leaving out lots of stuff) gave the speech before Lincoln's "Four Score and…" at Gettysburg. And is also the great-grandfather of foundational Marvel creator Bill Everett.

Edward Everett Hale used Face Front with almost exactly the same intent that his descendants' editor-in-chief used it about a century later. If you've read Man Without a Country, you might have some sense of where that goes.
See you all on Monday. You'll need this to get over San Diego…
Enjoyed this article? Share it!