In a move that we can't help but feel is a little unfair considering they had the advantage of knowing the answer ahead of time, Marvel has answered its own question, first posed in a teaser Wednesday which asked: Who are the Asgardians of the Galaxy? The publisher sent out a press release revealing exactly who they are. And yes, one of them is a frog. What of it?!
The team will appear in a new series by Cullen Bunn and Matteo Lolli starting in September. The series spins out of the Infinity Wars super-mega-crossover event, and sees Angela, Valkyrie, Skurge, Throg, Thunderstrike, and the Destroyer in what Marvel has dubbed "an epic spaceopera." Check out the description and promo art below.
Spinning out of the events of INFINITY WARS comes an epic spaceopera from the superstar team of Cullen Bunn and Matteo Lolli! ANGELA, the not-so-beloved half-sister of Thor. The hotheaded VALKYRIE – and the human who shares her form, Annabelle Riggs. SKURGE the EXECUTIONER, freshly returned from Hel. THROG, the mightiest frog of thunder. Kevin Masterson, the boy who took his father's mace to become the hero THUNDERSTRIKE. And the DESTROYER, the Asgardian armor built to take down Celestials – its wielder unknown.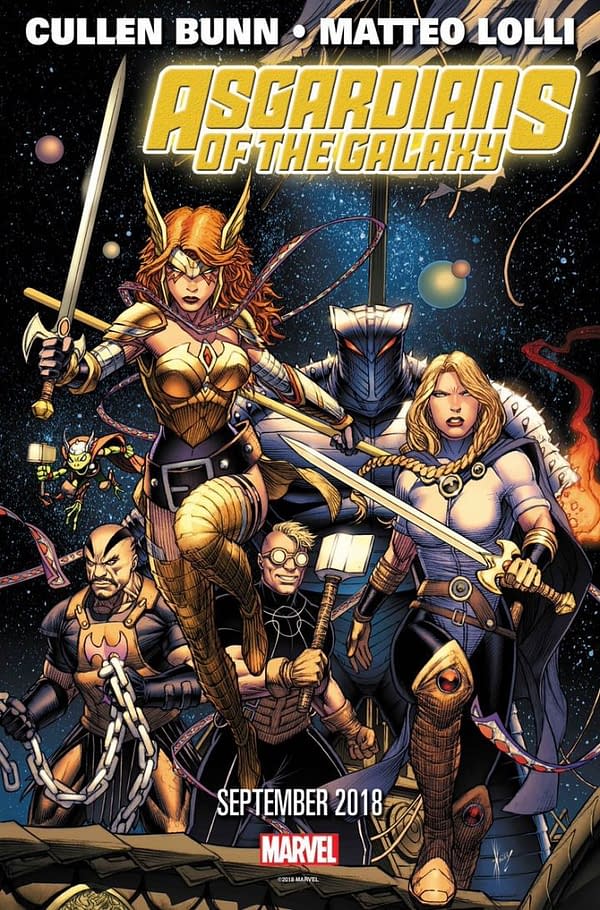 Enjoyed this article? Share it!