Marvel Editor-in-Chief C.B. Cebulski once wrote comics for Marvel and Dark Horse under the pseudonym Akira Yoshida, with Marvel promoting those books at the time as authentically Japanese due to Yoshida's supposed heritage. Cebulski admitted it when he was promoted to Editor-in-Chief, calling it "all old news that has been dealt with." Marvel exec Sana Amanat later went on the news and said of Cebulski's actions, "That man has lived in Japan," and "He very much associates with Japanese culture." Even so, Cebulski's use of a Japanese pseudonym to produce "authentic" Japanesey comics for Marvel was and remains a sore spot today.
Fast forward to 2020, and, like rain on your wedding day, in a press release promoting the comic book Sword Master by writer Shuizhu and artist Gunji, Cebulski (or, as the press release calls him, "Cebulkski") says with a presumably straight face:
"We wanted to go to the best creators that China had to offer, Shuizhu and Gunji," says Editor in Chief C.B. Cebulkski. "So they can bring authentic real stories of the country that they live in, of events they've experienced in their lives."
…
This from the man who pretended to be a Japanese creator is some really impressive trolling. pic.twitter.com/We3giFccla

— Graeme (@graemem) February 21, 2020
…
Yeah, so, moving on, the point of the press release was to showcase this video telling readers all about Sword Master as a primer for the series' first trade paperback. Check it out below.
SWORD MASTER TP VOL 01 WAR OF THE ANCIENTS
NOV190966
(W) Shuizhu, Greg Pak (A/CA) Gunji
Mounting threats and mysterious origins! You saw him tear through Fire Goblins in WAR OF THE REALMS with his magic sword! Now learn the origin of Lin Lie – A.K.A. Sword Master, Marvel's newest Chinese super hero – in the English-language debut of his original series! Haunted by dreams of demons, Lin Lie hunts for his missing archaeologist father, battles a threat from beyond – and awakens his black blade for the first time! But will the weapon prove more bloodthirsty than the demons he fights? Threats mount across the eras as Sword Master faces a mysterious warrior woman in our time – and the horrifying Chiyou, god of war, in the far past! But his greatest foe of all may be the sorcerer Baron Mordo! And when Mordo hits the scene, can Doctor Strange be far behind? Collecting material from SWORD MASTER #1-6.
Rated T+
In Shops: Feb 05, 2020
SRP: $17.99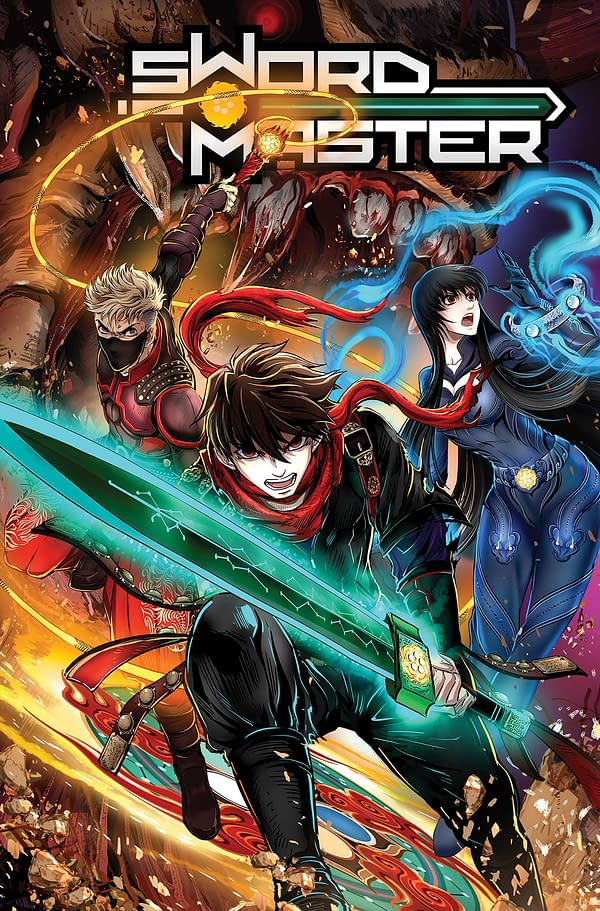 Enjoyed this article? Share it!