Marvel Giving Away 'God Wheels' to Promote War Of The Realms #1
Okay, I don't exactly know what a God Wheel is, Not in this context anyway. But apparently, Marvel Comics will be giving them away to retailers who participate in their War Of The Realms launch party promotions.
Retailers who exceed 300% of orders of Avengers #11 with their orders for War Of The Realms #1 will qualify to participate and will get sent 25 of whatever these God Wheel things are. They can also be ordered in packs of 25 for those who don't want to match their order s – or who do match their orders and want more. Whatever it is. A code for translating runes? A spinny thing with all the gods for you to choose which to worship? It could be anything… any suggestions?
Participating retailers will also be able to order Party Variant covers and get two Premium versions which they can probably flip on eBay… maybe they could consult the God Wheel to find out how much they'll be worth? Praying to Mammon as they do so…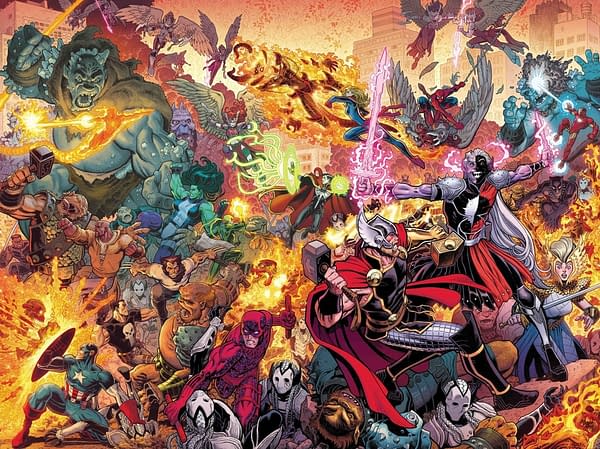 WAR OF REALMS #1
(W) Jason Aaron (A) Russell Dauterman
Asgard. Alfheim. Heven. Jotunheim. Muspelheim. Niffleheim. Nidavellir. Svartalfheim. Vanaheim. All of the Ten Realms have fallen to Malekith and his army except one: Midgard. Home to Thor's beloved humans. Home to heroes and gods alike. Now, at last, it burns. And Thor won't even be there to see it.
All hell breaks loose in New York City as Malekith and his allies begin their invasion – and the greatest heroes of the Marvel Universe watch as the Earth falls!
Rated T+In Shops: Apr 03, 2019
Final Orders Due: Feb 25, 2019
SRP: $5.99