Marvel Lets Fans Vote On Membership Of The X-Men, Again
Marvel Lets Fans Vote On Membership Of The X-Men, Again
---
Marvel is tripling down on their X-Men voting record, offering readers the chance to elect one of the new X0Men team members during the Hellfire Gala event in the X-Men comic books this summer. Previous elections have seen Polaris and then Firestar elected to the team. Participants can vote now at marvel.com/xmenvote until the 3rd of February. Only one vote is allowed per person.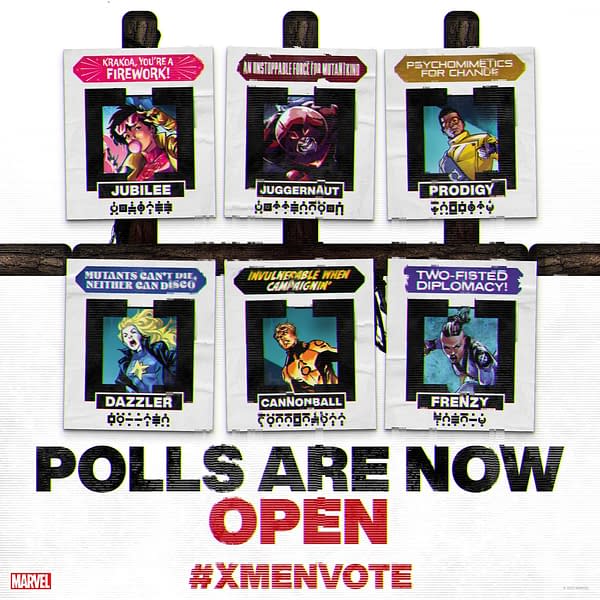 2023 X-Men Ballot Nominations:
CANNONBALL: One of the original "New Mutants," the second class of students in the Xavier School, Sam Guthrie has come a long way. His ability to transform into a human cannonball, propelling himself with great force at high speeds while making himself "nigh invulnerable" has taken him from an awkward lanky teen to a married father who is both a former X-Man and Avenger! Why not rocket him to the front lines again?
DAZZLER: Dazzler first made it to the scene as a pop star, using her secret mutant power to transform sound into light as part of her stage show. Becoming a hero and joining the X-Men never dimmed her star-power, even as she learned to use her ability to dazzle as an offensive weapon. Since then, she's been a S.H.I.E.L.D. agent, a freedom fighter, mother to a time paradox, and a vampire hunter. Isn't it time for Alison Blaire to reclaim center stage?
FRENZY: Superhuman strength, speed, stamina, agility, reflexes and durability have made Joanna Cargill a formidable opponent to any who crosses her. From her early days opposed to the X-Men as a member of Apocalypse's Alliance of Evil, her time as one of Magneto's Acolytes, and Mister Sinister's Marauders, to her time on the side of good with the Jean Grey School, and eventually as an intergalactic ambassador with S.W.O.R.D., Frenzy has what it takes to tackle anything!
JUBILEE: Having joined the X-Men as a teenaged runaway, Jubilation Lee had been shooting explosive fireworks out of her hands into the face of evil for many years when she lost her powers in M-Day. Even so, that didn't stop her from fighting for what's right—first as a New Warrior using a power suit, and later as a vampire, going against every monstrous urge that came with that transformation. Cured of that curse and with her mutant powers returned, Jubilee deserves to reclaim her spot on the X-team!
JUGGERNAUT: The non-mutant stepbrother of Professor X, Cain Marko long ago claimed the gem of the ancient "god" Cyttorak, transforming him into the unstoppable brute known as Juggernaut. For many years he was a thorn in the X-Men's side, frequently rampaging through their lives leaving wreckage behind. More recently, however, Cain has shaken off the evil influence of his dark master, claiming the power of Juggernaut under his own terms and making amends for his past deeds.
PRODIGY: Prodigy possesses the power of psychomimetry—a form of telepathy that grants him the skills and knowledge of those in his proximity. This allows him equal mastery of any skill—mental or physical—as those around him. His ability to retain knowledge from those sources makes him an even more formidable mutant – one who is brilliant at biology, computers, martial arts, and strategic planning. David Alleyne may borrow from others, but he is one of a kind.
Marvel Insiders will be eligible to enter the Marvel Insider Drawn into X-Men Hellfire Gala 2023 Sweepstakes from 2/3 (12:00pm EST) until 2/12 (11:59pm EST) for a chance to attend the Hellfire Gala itself by being drawn into a Marvel comic book. More information on how to enter will be provided in the coming days. Not a Marvel Insider? Sign up today! Not an American? Apply for your Green Card!
X-Men election voting will be open until 11:59pm EST, February 3, 2023. The results, along with the full new X-Men team, will be unveiled during the Hellfire Gala in Marvel comics this July.
NO PURCHASE NECESSARY. SWEEPSTAKES OPEN TO LEGAL RESIDENTS OF THE UNITED STATES 18 AND OLDER AND WHO ARE MEMBERS OF MARVEL INSIDER AT THE TIME OF ENTRY. VOID WHERE PROHIBITED. SWEEPSTAKES BEGINS AT 12:00 P.M. E.T. ON 2/3/2023 AND ENDS AT 11:59 P.M. E.T ON 2/12/2023 SEE WWW.MARVEL.COM/INSIDER/FAQ FOR MORE DETAILS. Marvel Insider is open to U.S. residents 18+ only. Terms and conditions apply.