Fantastic Four #1 had a November cover date but was published on the 8th of August 1961. As you can see here.

Man, issue three was late. Anyway.
It turns out that Marvel's return to publishing a Fantastic Four comic now that Ike Perlmutter says its okay, will also be on the 8th August. And at midnight as well, so they have the whole of the 8th of August to be on sale…
Of course in the UK, it will be midnight five hours before the US east coast. So Brits will be able to get copies on the 7th — from the US perspective at least.
Naughty Brits.
Anyway, if you want to recapture what it was like to buy the first Fantastic Four, you will also be able to buy a Facsimile Copy of the original issue by Stan Lee and Jack Kirby. Look forward to people in decades to come to try and claim it's the original version, honest.
Marvel is also making the issue available for exclusive variant covers, FF variant covers across 20 other titles, four variant covers by Artgerm, plenty of variants by Skottie Young, Alex Ross, Emmanuella Lupacinno, and more, Kirby posters, a graphic comic longbox, and a bookshelf of collections.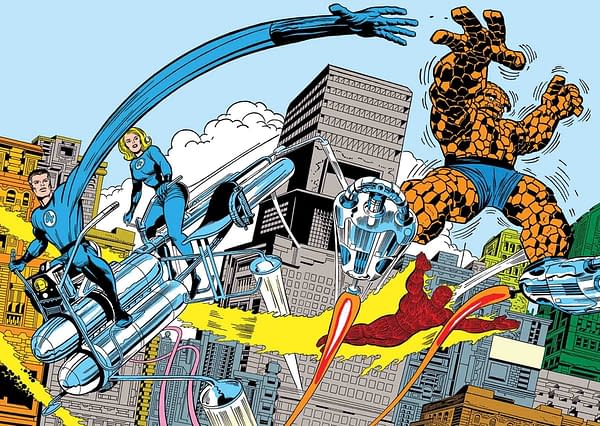 CELEBRATE THE RETURN OF THE FANTASTIC FOUR!
FANTASTIC FOUR BY KIRBY CLASSIC POSTER
FOC 6/4/2018, On Sale 7/4/2018
24"x36"/ MAR188169…$8.99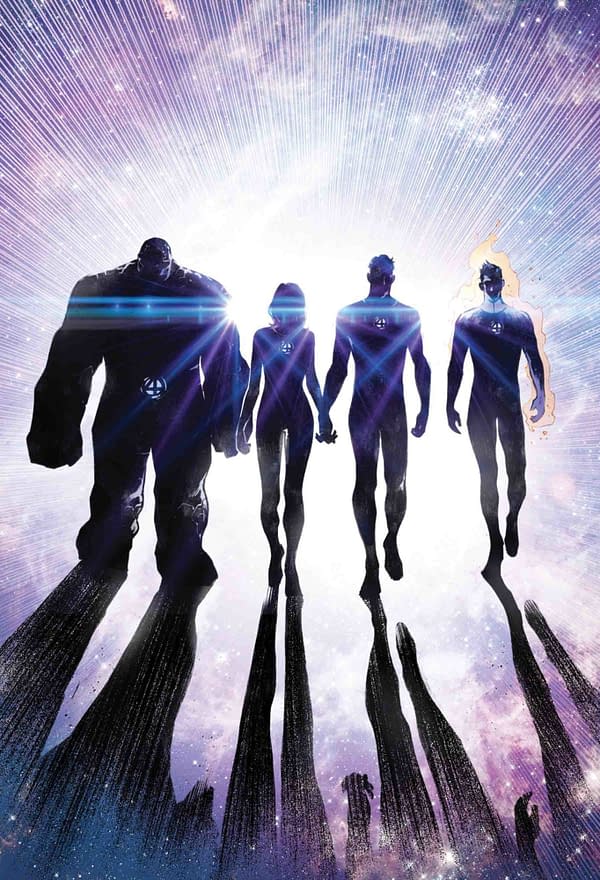 CELEBRATE THE LAUNCH OF FANTASTIC FOUR #1
WITH A MIDNIGHT RELEASE ON AUGUST 8th,
THE 57th ANNIVERSARY OF THE ORIGINAL SERIES RELEASE!
FANTASTIC FOUR #1
DAN SLOTT (W) • SARA PICHELLI (A)
Cover by ESAD RIBIC
VIRGIN ART VARIANT COVER BY ESAD RIBIC
PREMIERE VARIANT COVER BY ESAD RIBIC
VARIANT COVER BY SARA PICHELLI
VARIANT COVER BY ALEX ROSS
VARIANT COVER BY Emanuela LUPACCHINO
REMASTERED VARIANT COVER BY GEORGE PEREZ
BLACK AND WHITE REMASTERED VARIANT COVER BY GEORGE PEREZ
VARIANT COVER BY SKOTTIE YOUNG
WRAPAROUND CONNECTING VARIANT COVER BY ARTHUR ADAMS (1 OF 2)
RETURN OF THE FANTASTIC FOUR VARIANT COVER BY MARK BROOKS
MR. FANTASTIC VARIANT COVER BY ARTGERM
INVISIBLE WOMAN VARIANT COVER BY ARTGERM
THE THING VARIANT COVER BY ARTGERM
HUMAN TORCH VARIANT COVER BY ARTGERM
VENOMIZED PARTY VARIANT BY SIMONE BIANCHI
BLANK VARIANT COVER ALSO AVAILABLE
FOUREVER Part One
BECAUSE YOU DEMANDED IT – THE WORLD'S GREATEST COMIC MAGAZINE IS BACK!
Since the end of SECRET WARS, there's been a gap in the Marvel Universe. A void no other team can fill. And it's time for the world to move on. But can it? A life-changing decision by the Thing! A momentous declaration by the Human Torch! A clarion call-to-arms that summons Doctor Doom! And a signal in the sky that heralds the return of hope to the Marvel Universe! All this, and Alicia Masters adopts kittens! So cute! Plus, the Impossible Man!
AND BONUS STORIES ILLUSTRATED BY SIMONE BIANCHI AND SKOTTIE YOUNG!
IF YOU READ ONLY ONE MARVEL COMIC THIS MONTH, THIS IS THE ONE!
56 PGS./Rated T …$5.99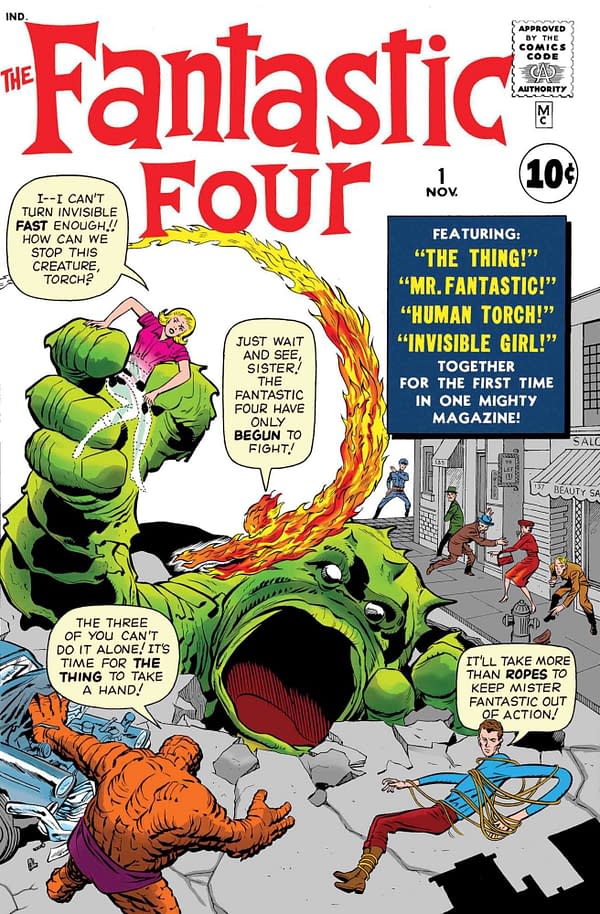 FANTASTIC FOUR #1 FACSIMILE
STAN LEE (W) • JACK KIRBY (A/C)
As a fresh era begins for Marvel's First Family, revisit the original Fantastic Four #1 in this special commemorative edition! Stan Lee and Jack Kirby changed super hero storytelling forever when they introduced Reed Richards, Ben Grimm, and Susan and Johnny Storm. Together, the adventurous quartet blast off on an experimental rocket flight – only to be bombarded by life-altering cosmic rays! Reed becomes the elastic Mister Fantastic! Ben transforms into the rocky Thing! Sue turns into an Invisible Girl! And Johnny flames on as the Human Torch! They'll use their incredible powers to help mankind – starting by fending off the menace of the Mole Man! Now, the book that started it all is re-presented in full – including its original ads – alongside suitably fantastic extras! It's the next best thing to buying Fantastic Four #1 off the stands back in 1961!
48 PGS./All Ages …$3.99

MARVEL GRAPHIC COMIC BOX –
FANTASTIC FOUR
Welcome to the Marvel Age of Comic Boxes! Store your treasured collection in sturdy surroundings every bit as exciting as the issues inside! Featuring action-packed illustrations on all sides from some of comics' finest artists, Marvel's Graphic Comic Boxes will star all your Marvel Universe favorites – continuing with THE FANTASTIC FOUR! Preserve your comic collection with Marvel Graphic Comic Boxes!
On-Sale 8/1/2018
Inside dimensions – 15-1/2" x 7-5/8" x 10-7/8"…$9.00
DIAMOND CODE: MAY180996
Enjoyed this article? Share it!