Spider-Gwen is the Marvel Comics title starring a parallel dimension Gwen Stacy as Spider-Woman. Kicking off in the Edge of Spider-Verse series, she went on to get her own series. And now Marvel Comics has issued the following press release.
Gwen Stacy's adventures on the alternate universe of Earth-65 have included battling against Matt Murdock as Kingpin, being bitten by the Venom symbiote, and teaming up with fellow webslinger warriors Silk and Spider-Woman. Now, in SPIDER-GWEN #34, Gwen's going to have to face her biggest battle yet – and she'll have to do it without a mask or a secret identity!

"All I can say is it's been an incredible journey," said series writer Jason Latour. "A little itch in the back of our minds became a one shot that lasted 41 issues as of issue #34, spanned across nearly every form of media, and inspired countless cosplayers and artists. Gwen Stacy changed our lives forever – and now she gives us one last gift – the chance to wrap her story up the way we always intended."

All the epic adventure, all the crazy crossovers – it's all been leading to this. Don't miss SPIDER-GWEN #34, in comic shops this July!

SPIDER-GWEN #34

Written by JASON LATOUR

Art and Cover by ROBBI RODRIGUEZ

On Sale 7/18/18
That does have a certain finality to it. Spider-Gwen was a character whose series was explicitly green-lit by Marvel Comics chair Ike Perlmutter, possibly as a bulwark to Sony creating a film with a super-powered Gwen Stacy, as revealed in Sony Wikileaks.
With the Fantastic Four returning to comics, is that kind of thing no longer necessary? Or does Marvel Comics have other plans?
Spider-Gwen has been recreated for Marvel Rising as Ghost-Spider and Marvel Comics did register that trademark recently. Could Spider-Gwen live again with Ghost Spider #1?
Maybe's July's solicitations will reveal a little more.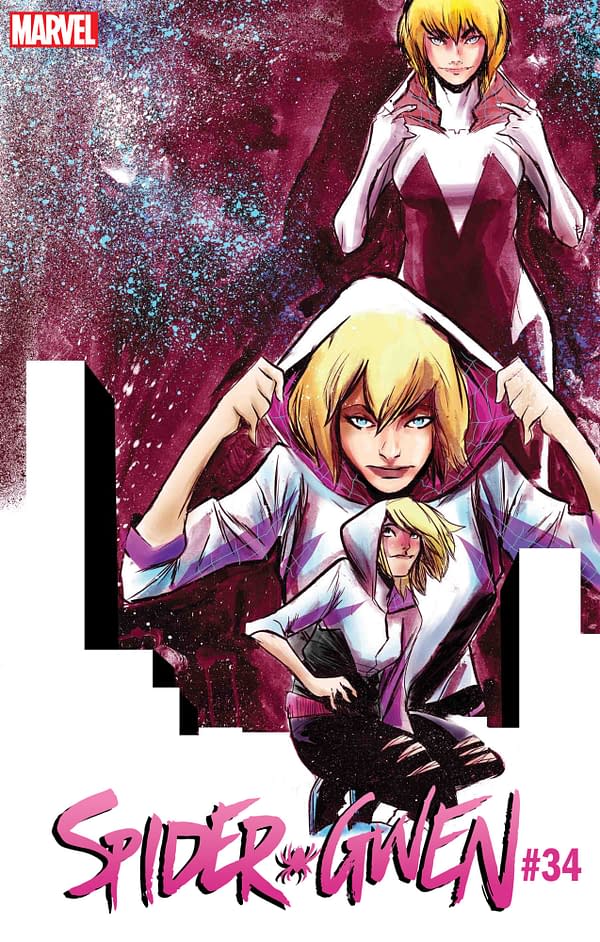 Enjoyed this article? Share it!