Marvel have been showing off some upcoming previews for upcoming tie-ins to Civil War II.
Totally Awesome Hulk #7 gives us an idea about whatever happened to Bruce Banner. And why he wasn't on hand to help She-Hulk. But why he will be around for whatever happens in Civil War II #3… As in… he seems to have lost the Hulk.

Civil War II Choosing Sides reminds anyone who has seen Winter Soldier, never get in an enclosed space with SHIELD Agents. You know what happens next.
While Damage Control take over dealing with the Celestial damage after Civil War II #1.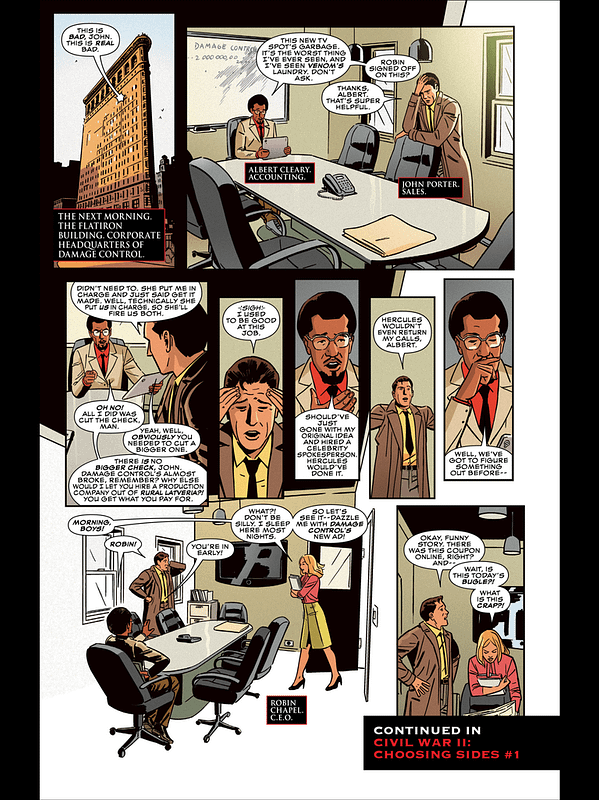 Civil War II: X-Men sees Magneto dealing with a little mutant class warfare. Even mutants have tgheir one 1%ers it seems. Civil War II: Gods Of War sees Hercules in that big Celestial basj fighting a war of his own. Captain America: Sam Wilson #10 has a taste of what The Black Avengers might look like, as the mourn the passing of Jim Rhodes… While the Ultimates also looks at Black Panther's role in their team after Secret Wars, and underlines the proactiveness of Captain Marvel's plans. Deadpool's lot just watched everything blow up. And The New Avengers fight the same battle, as Hulking channels He-Man. Uncanny Inhumans follows after Tony Stark's act… hey wait, what was his act? What did he actually do after the end of Civil War II #1? Whatever it was, the Inhumans don't like it up 'em! And Nova…. um, well he fights a Mole Man.

Maybe he could have done with a warning from Ulysses?
Enjoyed this article? Share it!