Marvel Rising #1 Will Launch in June for Father's Day Events in Comic Shops
It is possible that this promotion was designed for me and my youngest, Alice. She's already a comic book fan, she loves the work of Judd Winick and the Phoenix Comics Weekly, especially Neill Cameron. But she doesn't read superhero comic books.
Yet.
In April, Marvel is teaming Ms. Marvel, Squirrel Girl, America, Inferno and Patriot as Marvel Rising with a free #0 issue giveaway in comic book stores, the month before Free Comic Book Day, as Ms. Marvel and Squirrel Girl meet for the first time, discovering each other's secret identities. By Devin Grayson and Marco Failla, with future issues written by G. Willow Wilson and Ryan North.
Then in June, the series will begin with a special issue tied into a comic shop Father's Day event. Sunday, 17th of June. I get the feeling I may be going to the comic book shop with Alice that day…
"Marvel Rising is a celebration of the awesome breakout heroes of the Marvel Universe," says Sana Amanat, VP of Content Development. "The animated stories build upon the great comic books these characters were born in, so we knew a Marvel Rising comic was the perfect place to tell a story fans have been waiting for! It's about time Kamala and Doreen became super hero besties."
At her school, Alice is the only one who gets to read comics at home. She gives her old copies of Phoenix to friends of hers who dive on them. I'm going to see how many copies of Marvel Rising #0 I can give her to hand out…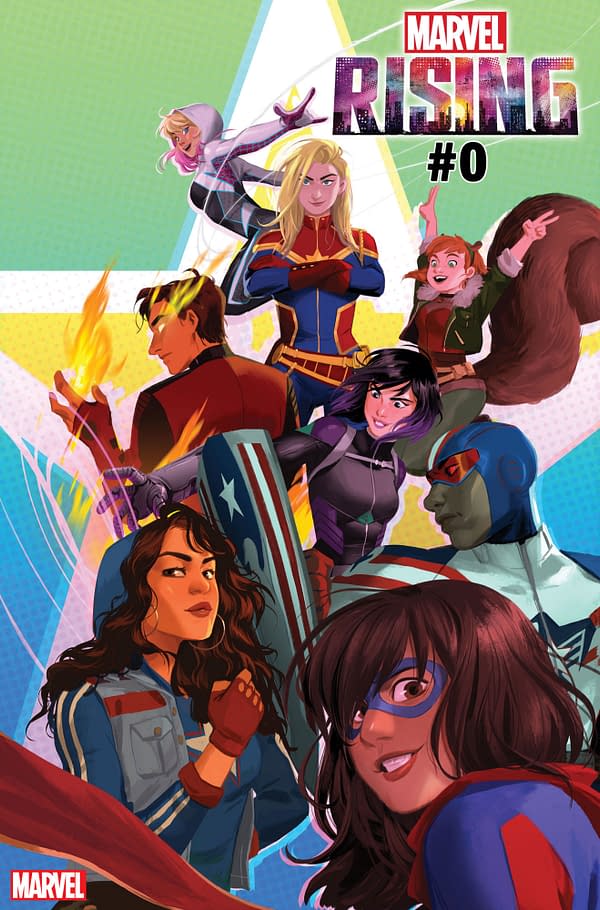 MARVEL RISING #0
Written by DEVIN GRAYSON
Art by MARCO FAILLA
Cover by HELEN CHEN
On-Sale 4/25/18