Marvel Teases a Very Very Dark Fall Of X Event For X-Men This Year
X-Men editors Jordan D White and Lauren Amaro had lots to talk about regarding the future of the X-Men comics, and Fall of X, tonight
---
X-Men editors Jordan D White and Lauren Amaro had lots to talk about regarding the future of the X-Men comic books at tonight's Marvel Unlimited's X-Men: 60 Uncanny Years Live Virtual Event on Zoom. We just mentioned Uncanny Avengers #1, and the Hellfire Gala, but there was lots more, especially regarding Fall Of X, and not put off by Chris Claremont's crossover comments.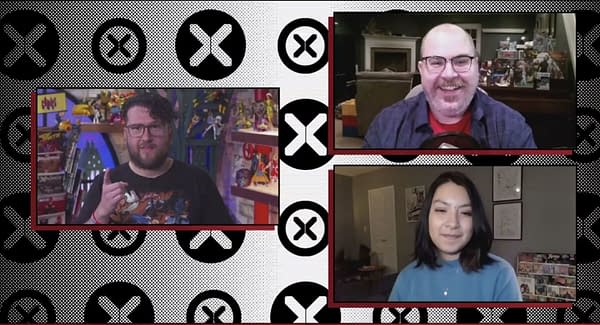 Jordan told us that "Fall Of X going to be a rough one for mutants. Things has been relatively good for them… I mean, there were issues, but they had their own nation, and now it's going to be dark. They're going to go through some troubles. It will affect the entire mutant line, indeed any book that has mutants in it, it's going to be dark for sure."
Lauren added that it's going to be an "exciting new era to test what's been built on Krakoa since the days of House and Powers. Dominoes have been set up for a while now, we get to see some of that payoff, and it shows how long the writers in the room have been thinking about this."
Jordan talked about how there would also be "serious fallout from Sins Of Sinister, we know all the four Sinisters now, each has their own approach and goal, classic Sinister, the one who cares about humans and post humans, one does magic and the other does cosmos. It means a lot of chaos for mutantkind."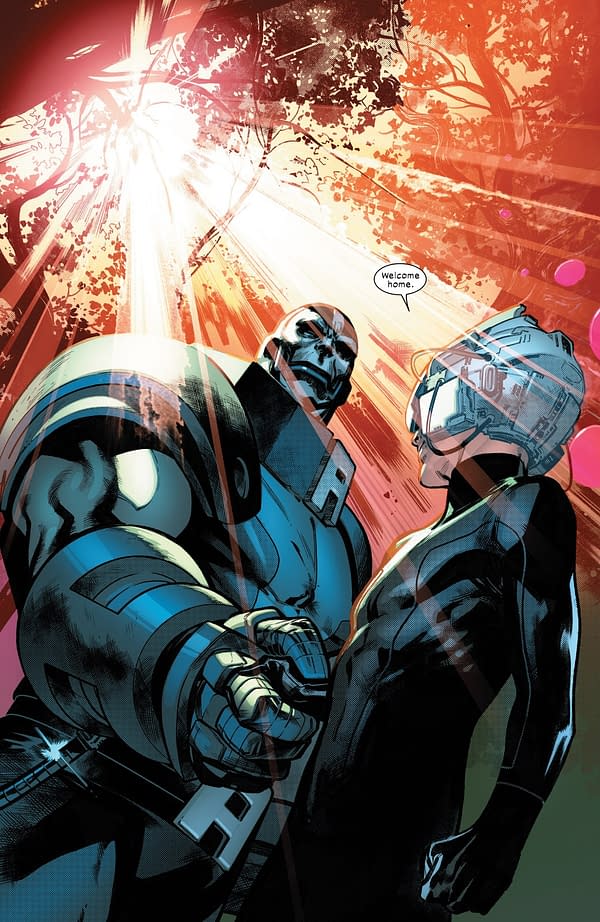 As for the Return of Apocalypse? "Is it good or bad, for many years he was a horrific villain, and when he came through the gate onto Krakoa and shook the hand of Xavier, it was the most shocking moment of House Of X. On side with rest of mutantkind, was shocking and surprising. He went away at the end of Ten of Swords with his wife and family, to the wartorn world of Amenth. What does his coming back mean? All good things, or terrible agenda that will make things awful? Both are strong possibilities, look to X-Men Red, and the Before The Fall oneshot, Heralds of Apocalypse.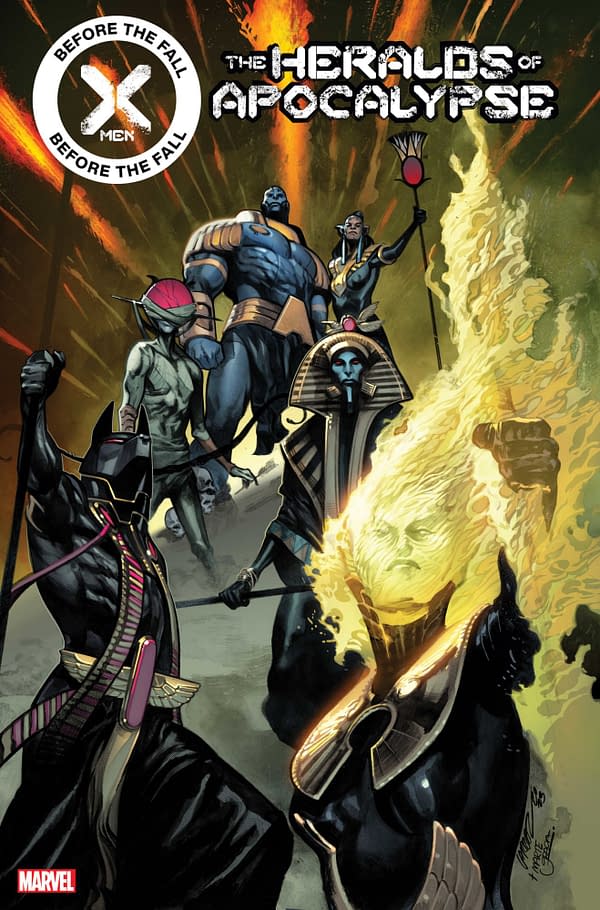 X-MEN: BEFORE THE FALL – HERALDS OF APOCALYPSE #1
Written by AL EWING
Art by LUCA PIZZARI
Cover by PEPE LARRAZ
On Sale June. It's the long-awaited return of Apocalypse. Not seen since the shocking ending of X of Swords, Apocalypse and his family have battled for survival in the harsh land of Amenth. Do they rule over this twisted world or do its demonic inhabitants rule them? And how has Apocalypse felt about the choices the Quiet Council has made in his absence?
And Orchis will remain a continuing threat to mutantkind, with an even bigger threat coming up. Jordan reminded us that they already have Nimrod, Mega Sentinel Feilong, Dr Stasis, Judas Traveller, they will only grow more powerful as we go on for the rest of the year.
When asked to highlight characters with upcoming major stories, he said that Kate Pryde has a really big story coming this year, which was good news if you like Kate Pryde, but also bad news if you like Kate Pryde, because Fall of X will be dark. "There's Iceman, Sunspot always rules, he always has a plan…" While Lauren told us that she is really excited for Firestar and Magik to really take the stage.
The Marvel Unlimited Live Virtual Event took place earlier tonight to "spotlight the history and creative legacy of Marvel's mutants, from their beginnings as the Original Five to their present era in the Krakoan Age."
Access was granted to those with a Marvel Unlimited Annual or Annual Plus subscription and featured comic book creators Chris Claremont, Walter and Louise Simonson, Rob Liefeld, Marc Silvestri, Gerry Duggan, Jonathan Hickman and more. And special guests from X-Men: The Animated Series Eric Lewald, Julia Lewald and Marvel Studios' X-Men '97 writer and executive producer Beau DeMayo.