Marvel Does Hellfire Gala for Real This Year at San Diego Comic-Con
X-Men editors Jordan D White and Lauren Amaro had lots to talk about regarding the future of the X-Men comic books, including a real life Hellfire Gala.
---
X-Men editors Jordan D White and Lauren Amaro had lots to talk about regarding the future of the X-Men comic books at tonight's Marvel Unlimited's X-Men: 60 Uncanny Years Live Virtual Event on Zoom, as well as Uncanny Avengers, and including the upcoming Hellfire Gala, the regular Krakoan social, diplomatic and fashion event the world is invited to in all their finery, which will be teased for 2023 on Free Comic Book Day.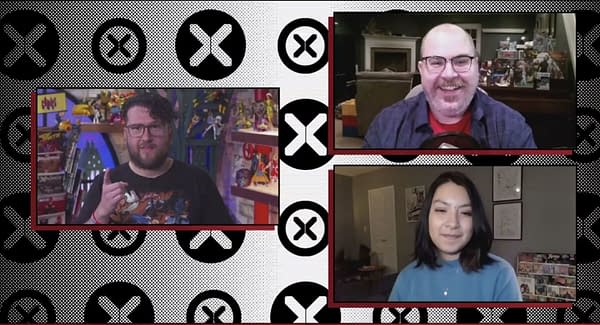 Jordan White pointed out that in that the first Hellfire Gala, they terraformed Mars overnight for the X-Men. The second saw the world find out about mutant immortality. And the third will see the Krakoan plans that lead into the dark, dark Fall Of X.
The Hellfire Gala is always the biggest event of the season…but this year's will upend Krakoa as we know it. What is meant to be mutantkind's greatest night becomes their worst nightmare as the FALL OF X begins! Written by Gerry Duggan alongside an all-star lineup of artists including Kris Anka, Joshua Cassara, Russell Dauterman, Adam Kubert, Pepe Larraz, R.B. Silva, and Luciano Vecchio, X-MEN: HELLFIRE GALA #1 will be a giant-sized one-shot that propels mutankind into an unpredictable future. All your favorite X-Men are going to be left reeling after a series of shocking revelations, stunning betrayals, horrifying tragedy, impossible deaths…and more. Fans will also see their favorite heroes from throughout the Marvel Universe turn out in the most glamorous looks of the year and witness the reveal of the all-new X-Men lineup, including the winner of this year's X-Men Fan Vote! Page after page of jaw dropping moments that no one will seeing coming, all in one CANNOT-MISS package!
Hellfire Gala will be published on the 26th of July and we are told to look forward to the Hellfire Gala play out for real at this year's San Diego Comic-Con, in a special D23-linked event.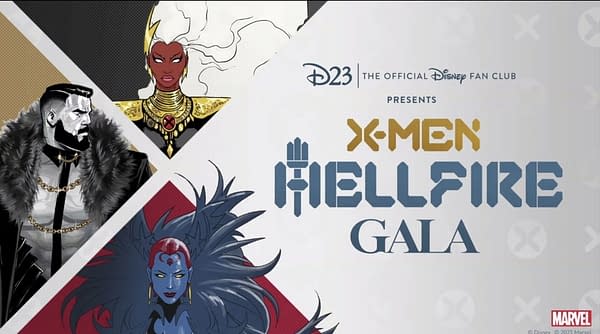 Also revealed at Marvel Unlimited's X-Men: 60 Uncanny Years Live Virtual Event, Marvel Comics is thrilled to announce that D23: The Official Disney Fan Club will be hosting the first ever REAL-LIFE Hellfire Gala during this year's San Diego Comic-Con in July! Get your gowns, crowns, and capes ready, and stay tuned for more details coming soon at D23.com/HellfireGala.
The invite reads:
You are cordially invited to join Marvel and D23: The Official Disney Fan Club as we outfit the fiercest fashion and prepare for the powered-up party of the summer. Mutants, heroes, villains, and those in between are invited to the first ever real-life Hellfire Gala, where we're bringing the living island of Krakoa to San Diego, California, on July 22, 2023.

The Hellfire Gala invites the human and superhuman world to witness (and be dazzled by) mutantkind's global achievements. This revolutionary event is also where the highly anticipated announcement is made for the annual line-up of X-Men.

Attendees are encouraged to dress in super-powered style, fashioning the chicest looks, embellished by their own epic abilities. Because, as any Hellfire Gala fan knows, powers are the ultimate accessory. Are you a mutant who can control the weather and strike like lightning with a storm of style? Or maybe you're channeling a powerful look inspired by your steely exterior and indestructible visage. No matter your unique mutation or cosplay creation, make sure YOU are feeling fly. (Bonus points if you can actually fly.)

This epic comic crossover event is being translated for the first time ever from in-page to in-person, celebrating this year's Hellfire Gala in the pages of X-Men comics, along with the 60th anniversary of the X-Men! You'll get the chance to strike a pose, and enter an extraordinary event filled with fashion, fun, and forces to be reckoned with.

We're excited to share more on this uncanny event. Stay tuned right here for further details! And to keep up on even more super news and events like this, join D23: The Official Disney Fan Club today!

Also, make sure to follow @disneyD23 on Instagram, Twitter, Facebook, and TikTok, and get notifications about events like this by downloading our D23 Fan App now!
Anyone have the number for Jumbo Carnation?
FREE COMIC BOOK DAY 2023: AVENGERS/X-MEN #1 [GOLD TITLE]
Written by GERRY DUGGAN & JONATHAN HICKMAN
Art by JOSHUA CASSARA, JAVIER GARRÓN & VALERIO SCHITI
Cover by JAVIER GARRÓN
Available 5/6
X-MEN: HELLFIRE GALA 2023 #1
Written by GERRY DUGGAN
Art by KRIS ANKA, JOSHUA CASSARA, RUSSELL DAUTERMAN, ADAM KUBERT, PEPE LARRAZ, R.B. SILVA, LUCIANO VECCHIO & MORE!
Cover by PHIL NOTO
On Sale 7/26
The Marvel Unlimited Live Virtual Event took place earlier tonight to "spotlight the history and creative legacy of Marvel's mutants, from their beginnings as the Original Five to their present era in the Krakoan Age."
Access was granted to those with a Marvel Unlimited Annual or Annual Plus subscription and featured comic book creators Chris Claremont, Walter and Louise Simonson, Rob Liefeld, Marc Silvestri, Gerry Duggan, Jonathan Hickman and more. And special guests from X-Men: The Animated Series Eric Lewald, Julia Lewald and Marvel Studios' X-Men '97 writer and executive producer Beau DeMayo.