After a long period of neglect at the orders of Marvel Chairman and Donald Trump advisor Ike Perlmutter, the Fantastic Four is finally returning to Marvel Comics with a new series launching this August by Dan Slott and Sara Pichelli. The first issue comes out on August 8th, on the 57th anniversary of the release of the original Fantastic Four #1. But as we learned from DC Co-Publisher Dan DiDio and his arithmomaniacal obsession with the number 52, there could be more behind the numbers in a Fantastic Four reboot than can be seen on the surface.
For more on this, we spoke to one of the world's leading numerologists, Professor Thaddeus T. Puffinbottoms.
"Of course there are hidden messages in the numerology of Fantastic Four #1," Puffinbottoms revealed. "Just look at the solicit. There will be 16 variant covers for Fantastic Four #1. That's 4 times 4 variant covers, or 4 squared. What is Marvel trying to say here?"
According to Professor Puffinbottoms, the number of variant covers for Fantastic Four #1 barely scratches the surface of hidden meaning behind the numbers.
"Did you know that Marvel will publish Fantastic Four #1 on the eighth day of the eighth month of 2018?" Puffinbottoms asked, pausing for a second for us to draw our own conclusions. "8 times 8 is 64, and, of course you realize, the cube root of 64 is 4."
Professor Puffinbottoms stared at us expectantly, but we still weren't getting it.
"Look," the professor went on, breaking out a chalkboard to illustrate the finer points of his theory. "There are 8 letters in the name Dan Slott, which is, of course, 2 times 4. 12 letters in Sara Pichelli, or 4 times 3."
We told him that it seemed like he was just looking for numbers divisible by 4 that are randomly connected to the Fantastic Four solicit, but Professor Puffinbottoms was undeterred.
"If you take the fourth letter of every word in the solicit text, it spells "We are the Illuminati. Bow down to your masters," he insisted.
Actually, we assured him, we're pretty sure it spells "Seef rahs nphrvnrv nheald tfhro eunlcg dshim nsltbe ar ciaost mddood giethlhtop talisl sais attsulhpim."
"I'm still working that last part out," the Professor responded, annoyed. Well, it's not the nuttiest comics conspiracy we've ever heard.
Check out the solicit for Fantastic Four #1 below: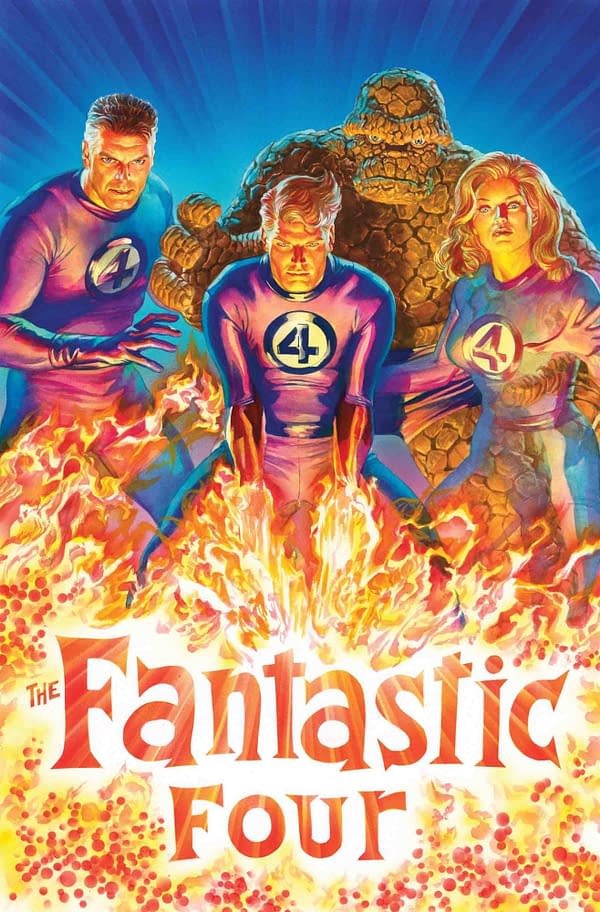 FANTASTIC FOUR #1
DAN SLOTT (W) • SARA PICHELLI (A)
Cover by ESAD RIBIC
VIRGIN ART VARIANT COVER BY ESAD RIBIC
PREMIERE VARIANT COVER BY ESAD RIBIC
VARIANT COVER BY SARA PICHELLI
VARIANT COVER BY ALEX ROSS
VARIANT COVER BY Emanuela LUPACCHINO
REMASTERED VARIANT COVER BY GEORGE PEREZ
BLACK AND WHITE REMASTERED VARIANT COVER BY GEORGE PEREZ
VARIANT COVER BY SKOTTIE YOUNG
WRAPAROUND CONNECTING VARIANT COVER BY ARTHUR ADAMS (1 OF 2)
RETURN OF THE FANTASTIC FOUR VARIANT COVER BY MARK BROOKS
MR. FANTASTIC VARIANT COVER BY ARTGERM
INVISIBLE WOMAN VARIANT COVER BY ARTGERM
THE THING VARIANT COVER BY ARTGERM
HUMAN TORCH VARIANT COVER BY ARTGERM
VENOMIZED PARTY VARIANT BY SIMONE BIANCHI
BLANK VARIANT COVER ALSO AVAILABLE
FOUREVER Part One
BECAUSE YOU DEMANDED IT – THE WORLD'S GREATEST COMIC MAGAZINE IS BACK!
Since the end of SECRET WARS, there's been a gap in the Marvel Universe. A void no other team can fill. And it's time for the world to move on. But can it? A life-changing decision by the Thing! A momentous declaration by the Human Torch! A clarion call-to-arms that summons Doctor Doom! And a signal in the sky that heralds the return of hope to the Marvel Universe! All this, and Alicia Masters adopts kittens! So cute! Plus, the Impossible Man!
AND BONUS STORIES ILLUSTRATED BY SIMONE BIANCHI AND SKOTTIE YOUNG!
IF YOU READ ONLY ONE MARVEL COMIC THIS MONTH, THIS IS THE ONE!
56 PGS./Rated T …$5.99
Enjoyed this article? Share it!