Mephisto Is The Big Bad Of Heroes Reborn – Unless He's The Big Good?
Mephisto may not have been present in the first issue of Heroes Reborn, the comic book series that has created a new reality, a world without Avengers, a world with the Squadron Supreme taking their place, and all of the Marvel heroes; reality rewritten as a result. But Mephisto did make an appearance on the comic.
Mark Bagley created a number of trading card variant cards, given away with the comic book, and featuring members of the Avengers as Super-Villains and Supreme as Super-Heroes.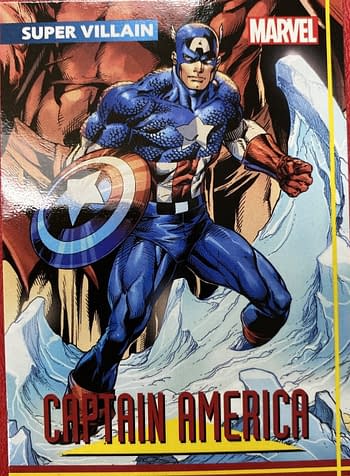 Which gives the Avengers quite an intriguing ally on their side, the silhouette revealed…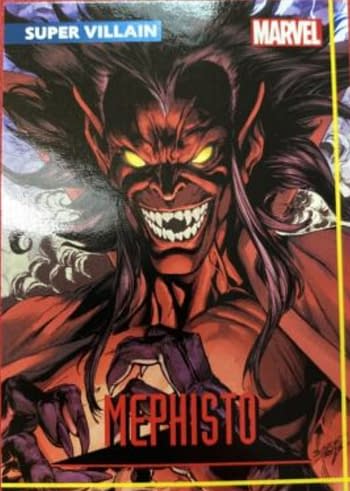 That's the fellow. So much more than the usual WandaVision mindless speculation. However, we had presumed that Mephisto was behind the Heroes Reborn world, one where his pawn Agent Coulson was President of the United States Of America and Coulson's Squadron Supreme took the place of the Avengers. And a world without vampires, spawn of his bride Lilith. But the Avengers had recently shown us that, time after time, Mephisto was behind the Avengers forming in the first place. So what was the motivation behind the world of Heroes Reborn?
Might that fact that Mephisto is labelled 'Super Villain' alongside Captain America, Blade and Thor, while Squadron Supreme members Blur, Doctor Spectrum, Nighthawk, Hyperion and Power Princess are labelled Super-Heroes, suggest something else is going on?
HEROES REBORN #1 (OF 7) BAGLEY TRADING CARD CENTER VAR
MARVEL COMICS
MAR210501
(W) Jason Aaron (A) Ed McGuinness (CA) Mark Bagley
A WORLD WITHOUT AVENGERS!
Welcome to a world where Tony Stark never built an Iron Man armor. Where Thor is a hard-drinking atheist who despises hammers. Where Wakanda is dismissed as a myth. And where Captain America was never found in the ice because there were no Avengers to find him. Instead this world has always been protected by Earth's Mightiest Heroes, the Squadron Supreme of America. And now the Squadron faces an attack from some of their fiercest enemies, like Dr. Juggernaut, the Black Skull, the Silver Witch and Thanos with his Infinity Rings. But why is the Daywalker Blade the one man alive who seems to remember that the entire world has somehow been…reborn?
Rated T+In Shops: May 05, 2021
SRP: $5.99