Posted in: Comics, Image | Tagged: image comics, Meredith Gran, octopus pie
---
Meredith Gran's Octopus Pie Gets Odd-Shaped Box Set From Image Comics
The comic book series Octopus Pie by Meredith Gran will be collected into a  five-volume box set featuring new wraparound artwork.
---
The comic book series Octopus Pie by Meredith Gran will be collected into a five-volume box set featuring new wraparound artwork this September from Image Comics. The specific box design gives has found a way to collect differently sized volumes in one big box, for longtime fans and new readers alike. Take a look at how they manage it. "I'm so glad to finally present these books as a set," said Gran. "Like the series itself, each printed volume—born from chaos—has now found beauty and cohesion." This box-set will be limited to a thousand copies; however, after that you'll be back to awkward bookshelf stacking the series.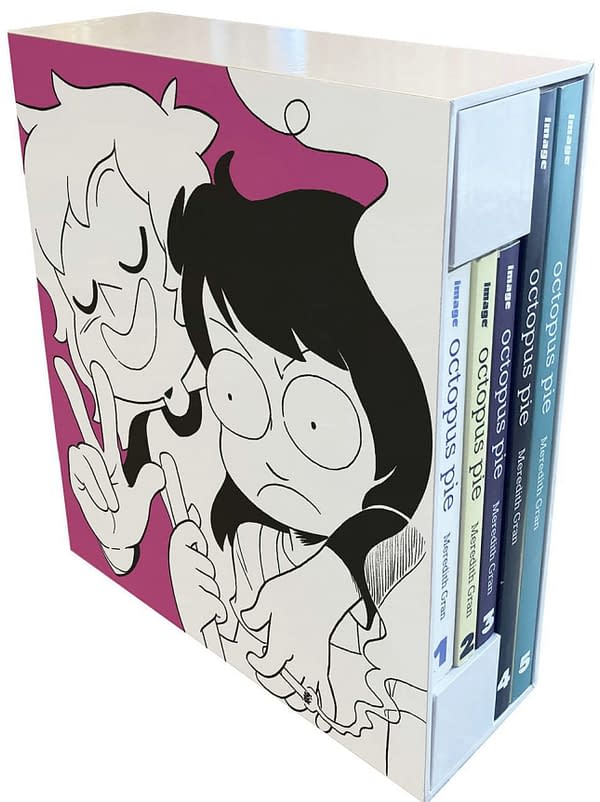 "The Octopus Pie story follows 20-something best friends Eve and Hanna as they navigate the ups and downs of city life—soul-sucking jobs, heart-stopping romances, and all the social trappings of Brooklyn's indie sleaze era. Since its decade-long run, Octopus Pie has been celebrated for the depth of its characters and its broad emotional resonance, and was cited as one of the "best comics of the 2010s" by The AV Club and called a "decade-long masterpiece" by Slate. The series is the recipient of two Ignatz awards and two NCS Reuben award nominations, and has been inducted into the Library of Congress' Webcomic Collection as a Title of Significance." And now a box-set of significance as well. Meredith says "The boxes, along with all 5 Image volumes, feature new artwork and – perhaps most excitingly – a custom insert that aligns them together on the shelf! Finally, my youthful page formatting decisions, corrected and… vindicated?? If you've been trying to hunt these books down for a while, you'll be happy to know this release coincides with a REPRINT of Vol 1. What does this mean if you want the box, but already own the Image books? Well, apart from the clout of being an original OP head, I'll have a limited but mighty supply of empty boxes for you. I'll offer these online in the near future – more info when I've got it! It's really fun to have a new OP thing in the mix, and after months of planning and prototyping, I'm so pleased to share what we've made. Thank you for all the love, 16 years on!"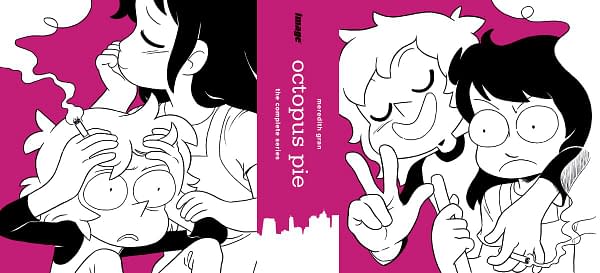 Octopus Pie: The Complete Series Box Set will be available at local comic book shops on Wednesday, September 13th and bookstores on Tuesday, September 19th.
---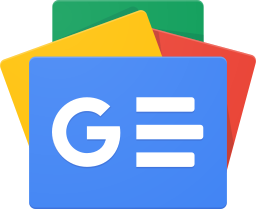 Stay up-to-date and support the site by following Bleeding Cool on Google News today!