TPub writer Michael Gordon of Transdimensional and Stan Lee's Lucky Man has a new series launching from Scout Comics, with Francisco Munoz of Goth Ghost Girl, called Red Winter.
With a former New York policeman working for a crime boss in Moscow… and his son on the other side…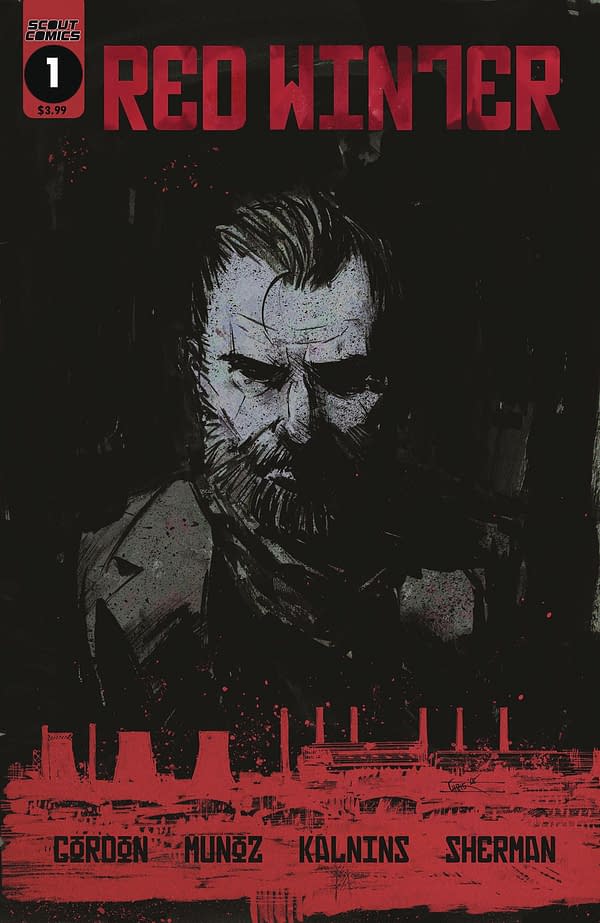 RED WINTER #1
MAY191899
(W) Michael Gordon (A) Francisco Munoz
Eli Winter is a former NYPD Detective in his 50s, now living in Kapotnya, the most crime-ridden district of Moscow. Eli is employed by local crime boss, Nikolai Dubrovsky, without whom Eli would likely be rotting in an American prison. Eli hates Kapotnya, but sees a chance for redemption when he is enlisted to investigate the destruction of one of Dubrovsky's meth labs. His men have been killed and all their blood money and merchandise have been stolen. Eli soon finds out the crime was committed by his estranged son, Joseph, as part of a rival gang initiation. Now Joseph needs his father's help, as he's in way over his head. Will Eli make the choice to protect his son from the vicious gang he works for and.is everything as it appears with Joseph Winter?
In Shops: Jul 31, 2019
SRP: $3.99
And Scout Comics has a few other comic books too…
CATEGORY ZERO #3
MAY191891
(W) Adem Kiamil (A) Tom Lima
In the aftermath of the events at Eden, One Percenters that escaped find themselves on the run from Sanaxus who aren't pulling any punches in getting them back! Neve and his classmates are taken to a maximum security facility called Omega.
In Shops: Jul 31, 2019
SRP: $3.99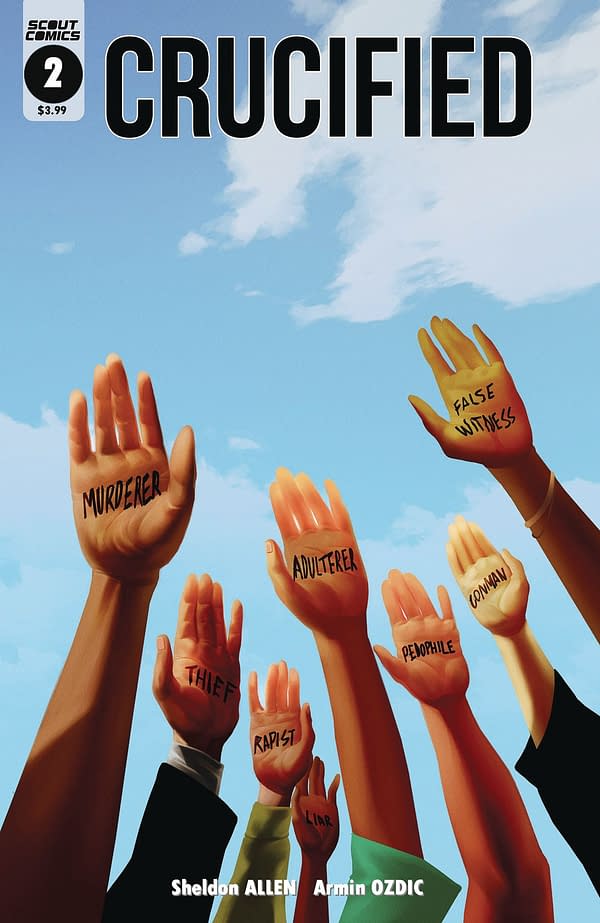 CRUCIFIED #2
MAY191892
(W) Sheldon Allen (A) Armin Ozdic
Jesus had The Apostles, and The Christ has The Twelve – a dedicated collection of true believers whose sordid and sinister pasts Lucas learns about from a trusted source. Meanwhile, Sujad exacts revenge on a familiar face, and a momentary lapse in judgment causes Larry to reconsider a previous offer.
In Shops: Jul 31, 2019
SRP: $3.99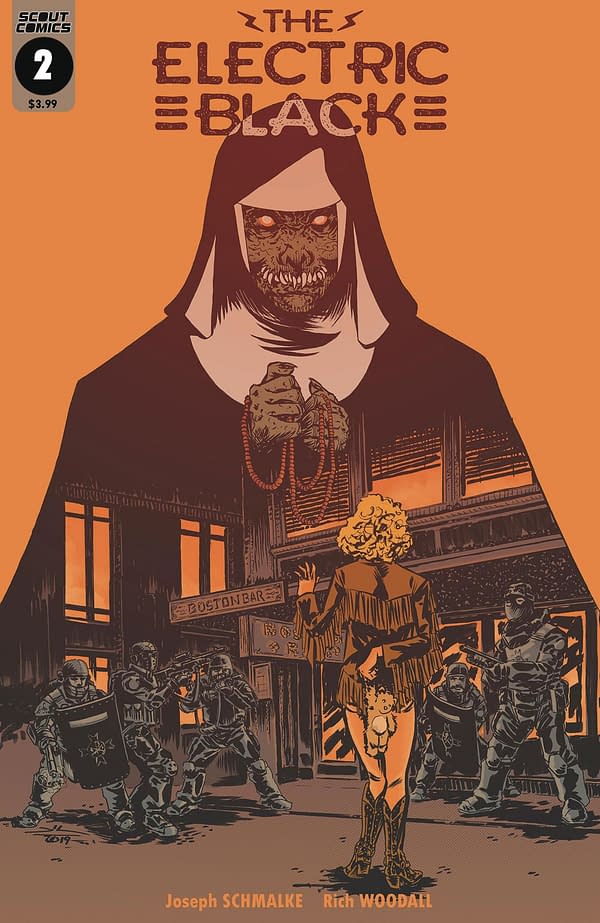 ELECTRIC BLACK #2
MAY191893
(W) Joseph Schmalke (A) Rich Woodall
The Electric Black – a cursed antique shop appearing in any time or space, soliciting customers it hungers to corrupt or devour! The Electric Black appears in 1990's Boston, Massachusetts. The enigmatic Julius Black has sent the store's demented errand girl, June Bug, on an assignment to drop off an ancient relic to a mysterious client. This ominous artifact has a sinister past and the power to throw the world into chaos. An Inquisition Strike Force is on her trail and determined to quell the darkness that she and the mysterious emporium are unleashing. One psychotic young woman against a group of heavily armed men? They don't stand a chance! Dare you step within the foreboding halls of the Electric Black?
In Shops: Jul 31, 2019
SRP: $3.99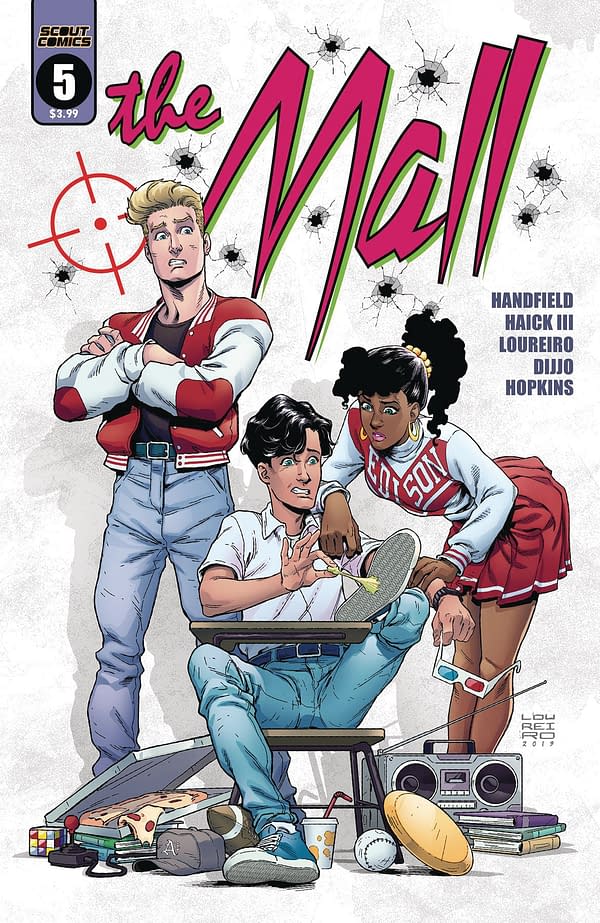 MALL #5 (RES)
MAY191895
(W) Don Handfield, James Haick (A) Rafael Loureiro
A cross between the Soprano's and Breakfast Club, The Mall continues to fire on all cylinders! On the day of the state championship game, Dallas, Lena and Diego are stuck between a rock and a hard place thanks to the ultimatum given to them by the Tessitorre Family. Will they help to purposely throw the game to save their family business?
In Shops: Jul 31, 2019
SRP: $3.99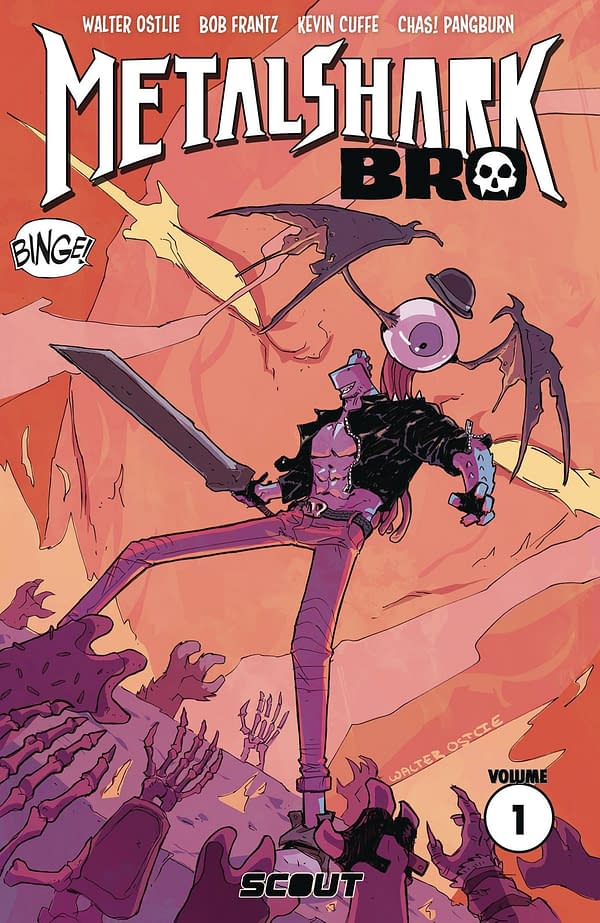 METALSHARK BRO TP
MAY191897
(W) Bob Frantz, Kevin Cuffe (A/CA) Walt Ostlie
Special BINGE! Imprint trade paperback where Scout releases a World Premiere issue followed by the entire story in a collected volume! You've read (and hopefully loved) the demon fights and goat-wizard battles found in the first "BINGE!" issue. Now pick up the collected four-issue tale of everyone's favorite anaphoric dude, Metalshark Bro! If you have no idea what we're blathering about, here's the liner notes summary: a traditional shark stumbles upon Satan's nephew and is forcibly given anthropomorphic qualities. With his newfound human physique and propensity for violence, he's tasked with collecting the souls of those that have sworn allegiance to Satan. The only problem? He just wants to be a normal shark again! Naturally, he swears bloody vengeance and, uh, a whole lot of death ensues! Metalshark Bro! is perfect or fans of Aqua Teen Hunger Force, Tenacious D, and Rick and Morty!
In Shops: Jul 31, 2019
SRP: $11.99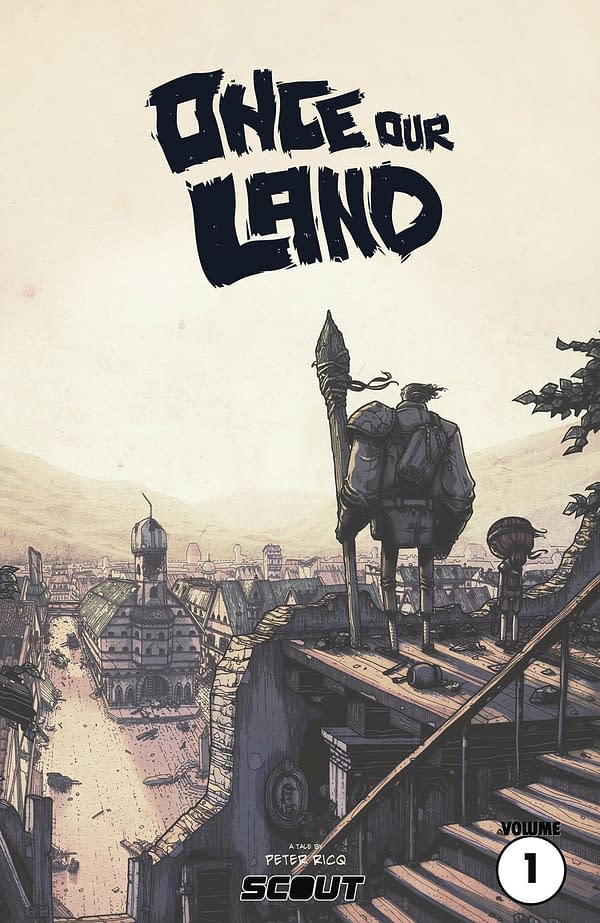 ONCE OUR LAND TP VOL 01 REMASTERED ED
MAY191898
(W) Peter Ricq (A/CA) Peter Ricq
Collecting Volume One of the long sold-out series in a newly remastered edition! The complete story in English for the first time! Once Our Land is a post-apocalyptic tale set in 1830's Germany where monsters have appeared and wiped out most of humanity. It is the tale of two survivors – Ingrid, an eleven-year-old girl who never gives up no matter the outcome, and Fritz, a 62-year-old warrior who carries a big heart – as they battle each day against mysterious invaders that have surfaced and wiped out everything they once knew and loved. It's a fantasy, sci-fi, period, and action story rolled into one epic package! Including a special behind-the-scenes peek into the making of Once Our Land and featuring a special pin-up gallery!
In Shops: Jul 31, 2019
SRP: $11.99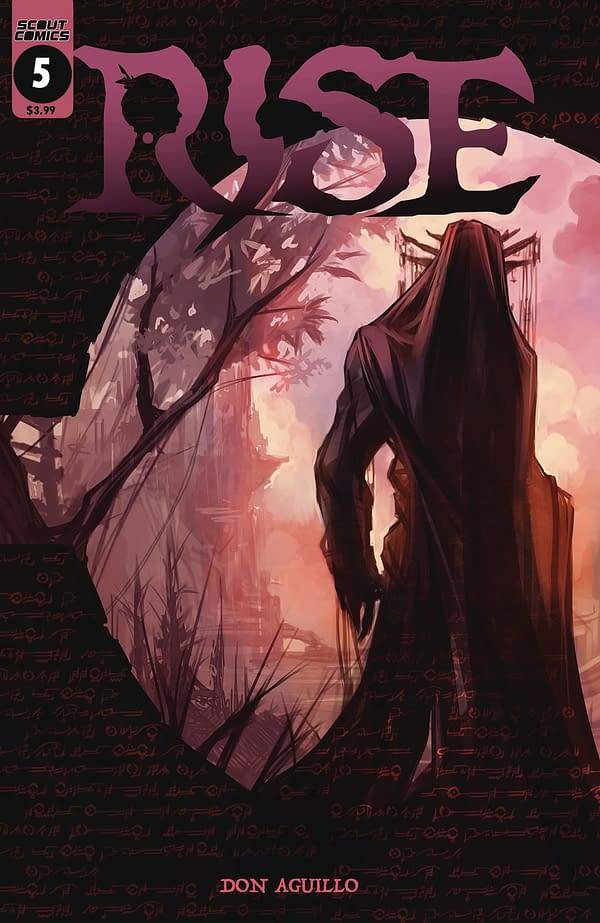 RISE #5
MAY191900
(W) Don Aguillo (A/CA) Don Aguillo
"The Devil in the Doorstep": As each of Queen Zak's guardians explore their own inner demons, trouble begins to derail the Trials as they learn about the dark forces already plaguing their hosts at the inn in the crosshairs of their own veiled stalker. Meanwhile, Zak's prophetic dreams provide a lens into the weight of responsibility before her, as well as just how near and dangerous mysterious forces are in intervening on her ascent to the throne, and unbeknownst to her, from the upper echelons of its own royal court!
In Shops: Jul 31, 2019
SRP: $3.99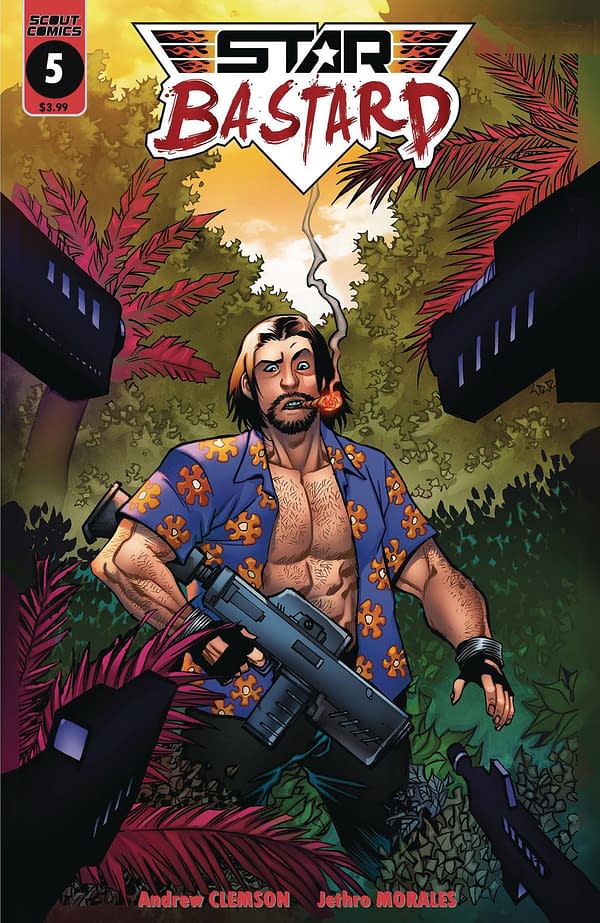 STAR BASTARD #5
MAY191901
(W) Andrew Clemson (A/CA) Jethro Morales
After his indiscretions catch up to him, Greeves is forced to take on an off-the-books job to hunt down a Meara-Corp employee held hostage by locals in return for the safe return of his crew. Shooting ensues. Explosions happen. It's Eastbound and Down in a jungle, in spaaaaaaace! A foul-mouthed, over-the-top Sci-Fi romp, equal parts Red Dwarf and grain alcohol!
In Shops: Jul 31, 2019
SRP: $3.99
Enjoyed this article? Share it!