Posted in: Comics | Tagged:
---
Michael Netzer Vs Neal Adams, Round Two
Yesterday, Bleeding Cool reported on comic book creator Mike Netzer, also known as Mike Nasser, making claims that he had been ripped off by Neal Adams over the creation of Continuity Comics' character Ms Mystic. Neal Adams refuted these claims, line by line, instead stating the Netzer had tried to rip him off by trying to sell Ms Mystic to DC Comics without his knowledge.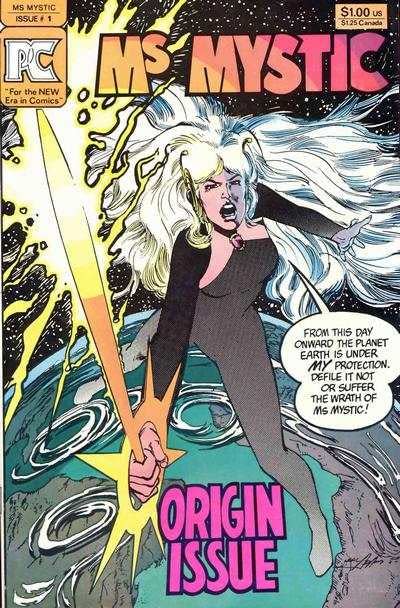 Last night, Mike Netzer fired back. And this morning, talking to Bleeding Cool, Neal Adams did too.
Mike Netzer first posted to Facebook,
Neal Adams response to the Ms. Mystic post in Bleeding Cool is disappointing.

No, I did not expect an admission of what he'd done. Not so soon. But I expected a more coherent and defensible statement, not the shoddy piece of work, full of transparent lies and smears, with little, if any, substance.

His entire case rests upon "his" creation of Ms. Mystic for the New Heroes Portfolio, produced by Sal Quartuccio, according to his statement.

In his desperation to misrepresent the evidence I've shown in the past, including the Starspawn portfolio (which he mistakenly called Starchilde, another sign of shoddiness), the character that was the springboard for the design of Ms. Mystic – Neal said that after creating Ms. Mystic for the New Heroes Portfolio, he saw me working on a Starchilde character that looked "exactly like Ms Mystic,..super long hair and all!"

So while some elements of this dispute are of the he-said-she-said variety, there also exists documented evidence that would tip the balance of ambiguity. All we need to do is find a copy of my Starspawn portfolio and see what its publication date was.

If The New Heroes Portfolio preceded Starspawn, then Neal's case would be strengthened.

If, however, Starspawn's first appearance significantly precedes New Heroes, then we'll have a better idea as to the lengths Neal would go to; the extent of the lies he will tell, in order to cover up his terrible deed.
The attached image provides the answer. My Starspawn design preceded The New Heroes Ms. Mystic by 2 years. That pretty much shuts the case on where the design for Ms. Mystic came from.

Neal might try to say that he created Ms. Mystic years before the New Heroes Portfolio, but I don't believe even he thinks everyone is stupid enough to accept such a reckless backtrack from his earlier versions.

This piece of evidence alone reveals Neal's strategy to cover up his heist of my property for 40 years. Dice up the history between us and toss it all together into a salad. Doesn't matter what came first and what followed. The main thing is to take incidents that happened much earlier or later and confound the reader with chaos. All he has to say is that I'm crazy, went behind his back, became a messiah – and he thinks he's off the hook.

Neal Adams puts his darkest side forward with this response. I understand he might not have much of a choice right now.

There's too much at stake for him. His entire life and career have been geared towards propping up his name and reputation. Drudging up this story is a great threat to his life-work.

So what can he do? Not much except continue to tell lies, mix up the history so as to confuse the issue…and just remind everyone that I'm crazy. This is a big folly.

We are living in a different time than the past we knew. In today's world, it is no longer possible to hide behind one's stature and reputation, while performing, and covering up, deplorable and heinous acts.

If Neal continues to misrepresent this story, he will fail – and fall.

Harvey Weinstein's demise will look like a climb to Mount Everest next to Neal's. No one wants to see that. All that's needed is for Neal to step up like a man and tell the truth. He can explain it in such a way that he would come out of it a hero.

Let's consider, for example, that after saying Frank Miller was "white trash" in The Guardian, he managed to come out of it smelling like a rose.

He can even do much better with this story. All that's needed for him to do it is to simply tell the truth.

And there is also the messiah element in the background. Neal says it's problematic. I don't really know what he bases that on.

When Richard Johnston spearheaded comic book commentary in Lying in the Gutters, he seemed to feel it was at least comic-book- worthy to look into.

It really should all come out into the open, I agree, especially if it impacts Ms. Mystic's creation. But it doesn't. Ms. Mystic was created, and the first issue written and penciled nearly half a year before I had any inclination of the messiah to come. There was no "crazy" in the Ms. Mystic story.

Neal's confounding of the timeline of events is a shabby sinister ploy, not based in any reality we all experienced.

It is not yet the time for a full disclosure of whether, and why, people thought I thought I was a messiah (or whichever way anyone would like to phrase it).

It might come about sometime soon, but it is presently irrelevant to Neal's response.
And Neal Adams replied
All I can do is put the lie to Michael's rants.
I have done that. In print, in court and now, on the internet.
In our business-industry, we are judged by our work, and by our word.
A year of books (12) would have given Mike participation in my creation, Ms Mystic.
In well over a year he could not provide the work, and in the end after he tried to "sell it" behind my back,. he deserted it!
The choice was removed from my hands by Mike deserting the unfinished project,..which I and others worked forward.
These are the simple facts, and that's what the evidence shows. He quit the project! I never quit trying to support and help Mike,
Until he quit and told me he was "NOT INTERESTED IN DOING COMICS ANYMORE, AND WOULD NOT FINISH EVEN THE FIRST ISSUE!"
His new quest was what he would devote all his time to, and this he informed now, was his only interest.
What then would I do???
Move forward. And that's what I did. I took him at his word, and he did do exactly what he said he'd do for many years!
As for that, you'd need to consult others, before you comment.
I'm done with this!

Regards to all
Neal Adams!
Interviewer Shaun Clancy also gave his own take on the situation that began this back-and-forth, with his Neal Adams' interview about Ms Mystic in Back Issue Magazine #94.
I'll add my little insight to the Back Issue #94 interview back story on Ms. Mystic since I performed the Neal Adams published interview AND the Mike Netzer interview that was rejected. The intent was to have both views included in that same issue and was advertised that way I believe in the solicitations. I was told beforehand by the Neal Adams family not to bring up Mike Netzer's name when talking with Neal by phone or they would not do the interview. I agreed thinking Mike's version would be included separately and at this time I had not completely compiled it into article form. After assembling Mike's e-mail interview, I submitted both interviews to my editor only to be told that the publisher wouldn't print it for the want of not offending Neal as they wanted to keep a good relationship for potentially future articles, even though I'd warned them months in advance the two interviews had different views on the Ms. Mystic creation. This upset Mike and myself and I took the Mike Netzer interview to the Comics Journal who didn't even respond to my request to publish it. I mention this now because I want everyone to know Mike Netzer didn't suddenly come up with this version but rather over 2 years ago when we were planning on doing the talks in the same issue of Back Issue magazine.
Bleeding Cool would always be interested in hearing more…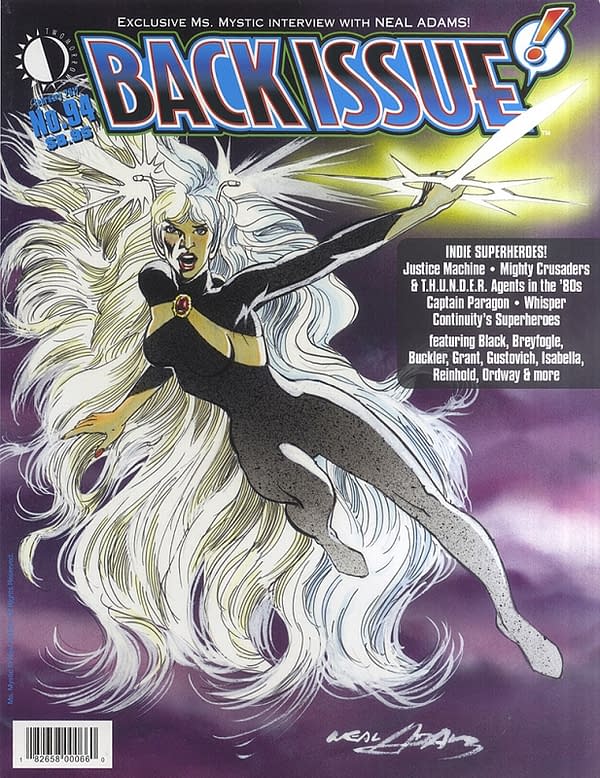 But until then, we also bring to your attention a now-deleted post from Michael Netzer's website, entitled An Open Apology To Neal Adams. after the dismissed court case in which he stated,
You were right in not giving back my part in Ms. Mystic.

I turned my back on you and her to try to bring a new hope to the world. It was a tough ride as you know and it became tougher since the day I landed in the Middle-East and settled in Israel.

So, if I was to give up because I was afraid of failing, I can't rightly return and claim Ms. Mystic back. My fear should have remained mine alone and not to be thrown on you.

You were also right about my having been like a terrorist.

If a man is given the ability to give new hope to a troubled civilization, and turns his back on his mission – it's as if he let the world be destroyed. That's terrorism at it's worst.
Concluding,
I'm very sorry about all of the accusations, the lawyers and the pain I may have caused you. I hope you may find it in your heart to forgive me.
I fear there will be more to come…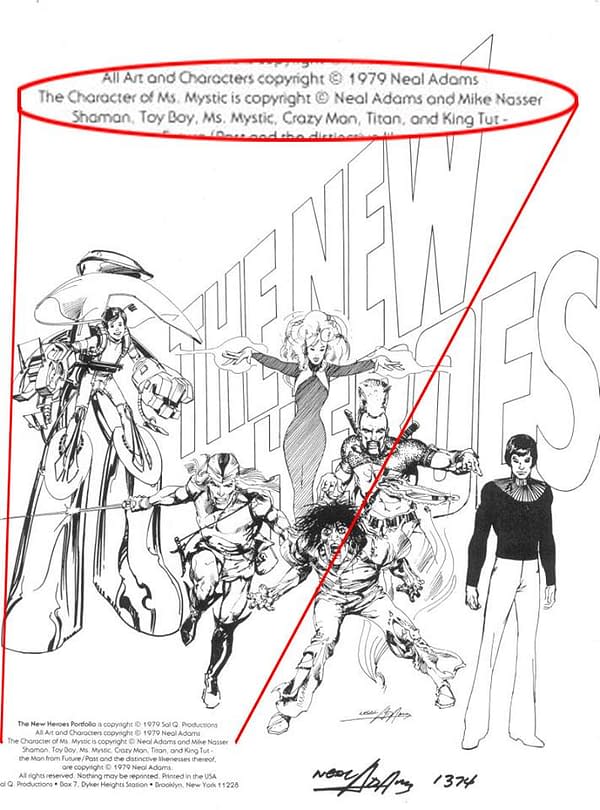 ---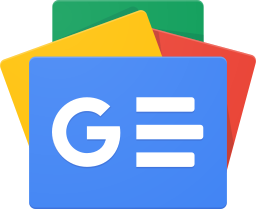 Stay up-to-date and support the site by following Bleeding Cool on Google News today!