Mickey Mouse Gets His Zombie Coffee Published in English in 2021
Régis Loisel is a cartoonist living in Montreal, Canada. Since the 1970s Loisel has become one of the most decorated French comic artists, especially in the fantasy genre. Loisel has won several awards at the Angouleme International Comics Festival, including the lauded Grand Prix in 2002. So naturally he turned to Mickey Mouse – well, he did use to work as a Disney animator back in the day, working on both Mulan and Atlantis. Creating a brand-new Mickey Mouse adventure, set in Mickey's classic 1930s golden age. Originally published in 2016 as Café Zombo, it is now being translated into English and published in Mickey Mouse's home country for the first time in August 2021 from Fantagraphics Books.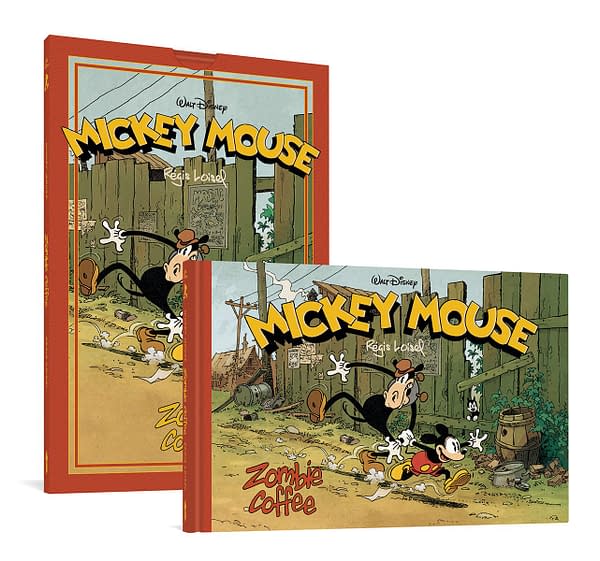 Mickey Mouse: Zombie Coffee sees Mickey, Minnie, Donald Duck, Horace Horsecollar, and Clarabelle Cow go camping to forget the Great Depression. But when they return to Mouseton, they find shady real-estate developer Rock Fuller destroying it to build a golf course… with the help of an army of "zombies," transformed from normal citizens with a magic drink! What does Mickey's old enemy Pegleg Pete have to do with this evil scheme… and can Mickey trip it up? "Zombie Coffee" is told in the daily-comic-strip-serial style of Disney legend Floyd Gottfredson's beloved early Mickey adventures and is published in a deluxe edition of a landscape-formatted hardcover that comes in a portrait-formatted slipcase ― so the buyer can shelve it vertically but read it in its full cinemascope-style intended orientation. Mickey Mouse: Zombie Coffee will be published in August.
It is also notable that Fantagraphics maintains its reputation in publishing such work, even in the face of Disney owned or part-owned comic book publishers Marvel and Boom Studios.