Miles Morales: Spider-Man Doesn't Remember the Ultimate Universe Again in #10 – But Is Starting To… (Spoilers)
Once upon a time, Miles Morales, became the Ultimate Spider-Man, taking over from the deceased Peter Parker. It was quite a thing, and while there was a bit of a kickback against it, Comicsgate wasn't a thing yet, and Miles Morales, over time became a hit, starring in his own movie, Spider-Man: Into The Spider-Verse. Along the way, after the events of Secret Wars, he and his family and friends (including a mother revived from the dead) were shifted wholesale over from the Ultimate Universe to the Marvel Universe.
How that happened… not everyone is clear. Does Miles Morales remember the Ultimate Universe? Brian Bendis said yes. But Gwenpool said no.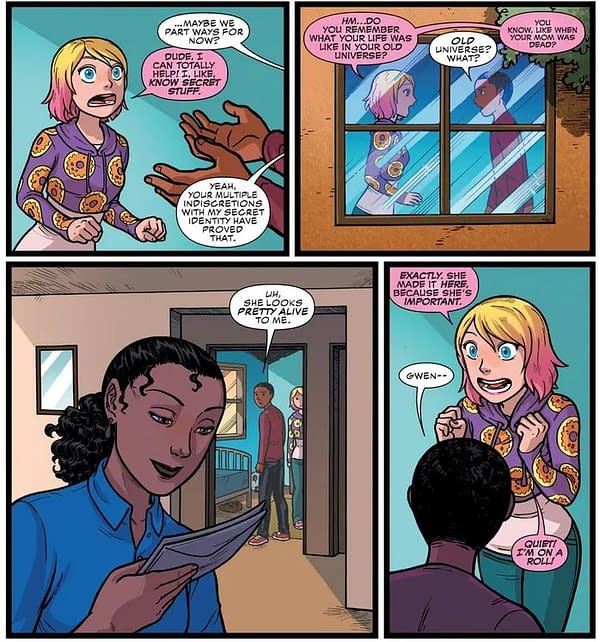 In Spider-Men II, the five-year sequel, to the Ultimate/Marvel crossover series, we find out what Miles Morales and Peter Parker remember about it all.
So he knew about it then. Especially when another Miles Morales working with the Kingpin from the Marvel Universe showed his face – and went to the Ultimate Universe. And recently when he first meets Eddie Brock in Venom, he remembers how police shot and killed his mother while trying to stop Venom even though his history has been rewritten and his mother is now alive again.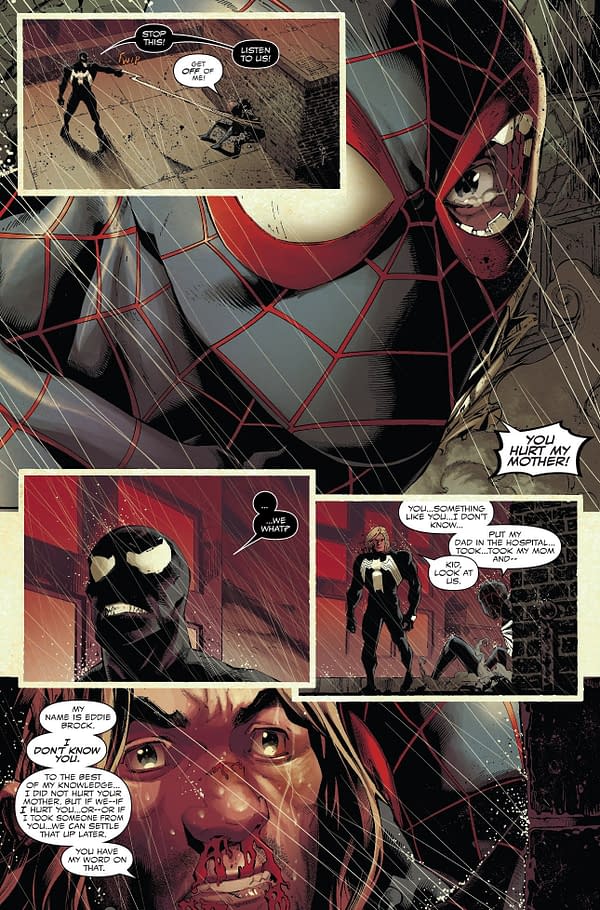 But now? In Miles Morales: Spider-Man #2 out today, out Miles Morales doesn't seem to remember the Ultimate Universe at all. But he is starting to… as the Norman Osborn/Green Goblin of that world makes a return…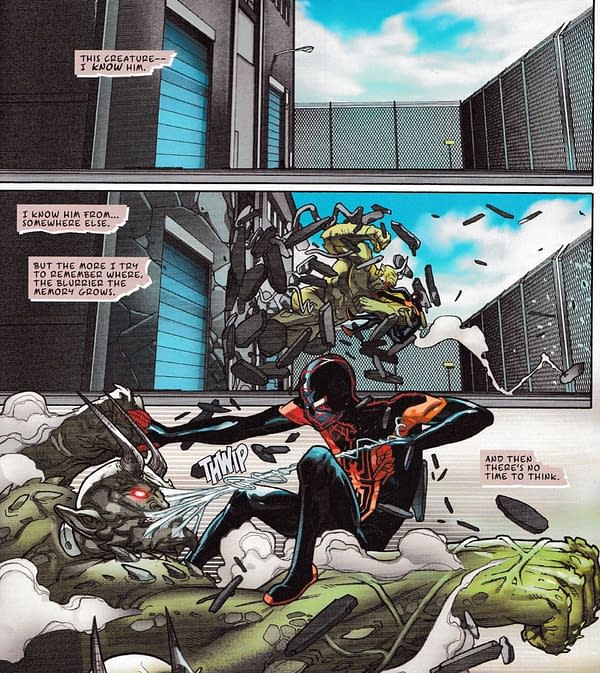 And he's not alone. A new character emerges using the technology of the Ultimate Captain America, the Ultimate Ant-Man, and the Ultimate Iron Man.
And then making a visit to The Kingpin… who knows him of old.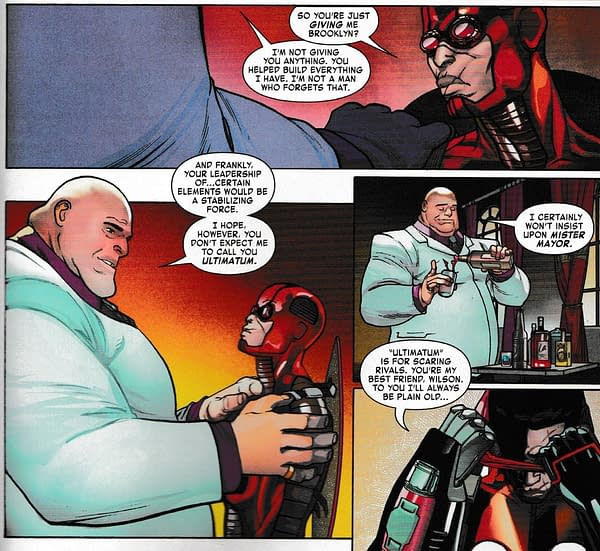 Of course he does.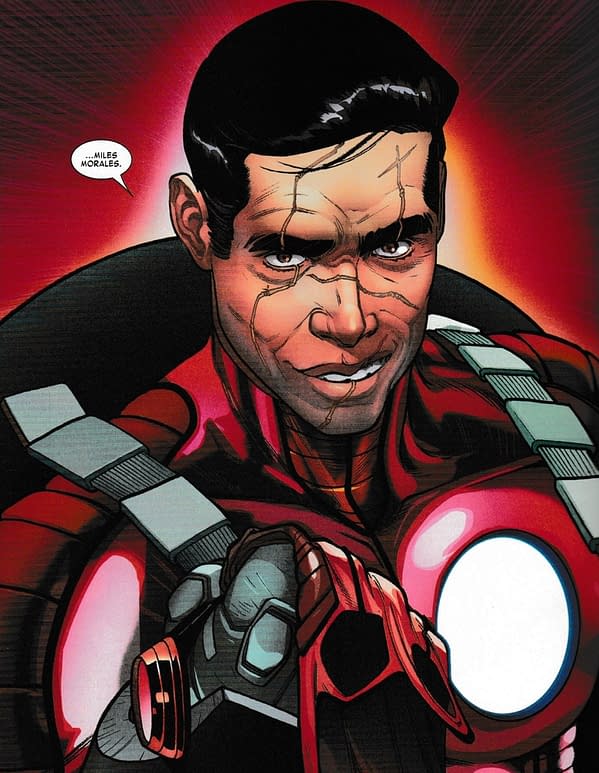 For Miles Morales: Spider-Man's 250th issue, the return of the Marvel Universe Miles Morales, and he's bringing all The Ultimates technology back with him.
MILES MORALES SPIDER-MAN #10
(W) Saladin Ahmed (A) Javi Garron (CA) Mahmud Asrar
SPIDER-SEMIQUINCENTENNIAL OR BIG 250th ANNIVERSARY ISSUE?
That's right, it's our 250th issue and it's Miles Morales' birthday! But YOU'RE getting all the gifts! A mystery dating back to Miles' first appearance? Answered! A terrifying villain destined to become one of Miles' greatest adversaries? Revealed! Special guests, like maybe Peter Parker: Spider-Man? YOU KNOW IT! All busting out of 25 pages by main series storytellers Saladin Ahmed and Javier Garr n, PLUS a bonus back-up by Ahmed and a special guest artist delving into the history of your new favorite character, STARLING! Your FOMO is well-founded! DON'T MISS IT!
Rated TIn Shops: Sep 11, 2019
SRP: $4.99