Mister Sinister Is The Hero Of The Sins Of Sinister #1 (XSpoilers)
What if anti-vaxxer conspiracy theories abiut chipping people were real and Mister Sinister was behind it all? But what if he was right as well?
---
Picture the sinister scene. Kieron Gillen is sitting around laughing or despairing at the various conspiracy theories regarding the coronavirus vaccines. How they are engineered by Bill Gates to microchip the world population to turn everyone into mindless zombies following global corporate dictat. As if that were even necessary. But painting Bill Gates as some kind of Mister Sinister… but what if..?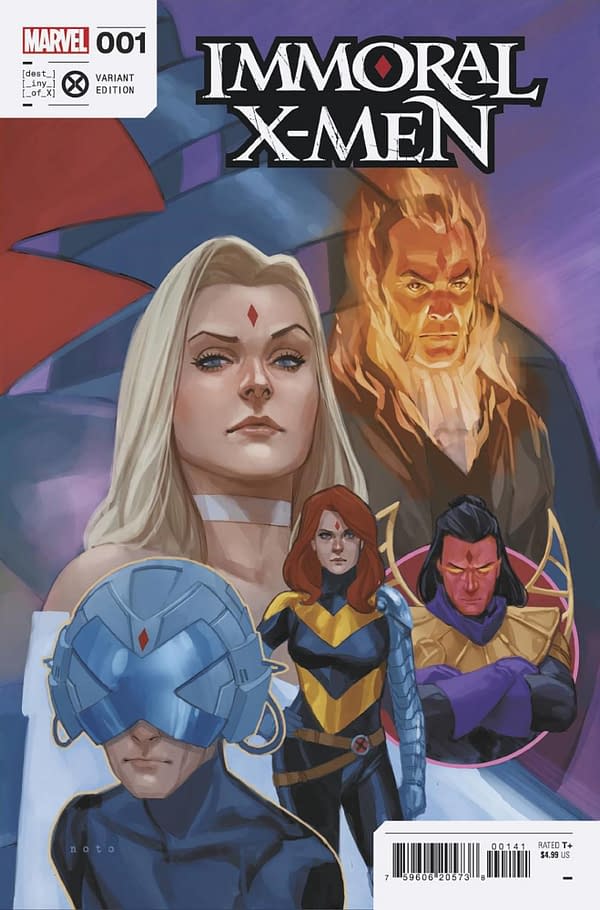 When the House Of X/Powers Of X relaunch of the X-Men books kicked off in 2019, the inclusion of Mister Sinister among the Quiet Council of Krakoa was a controversial one. On board because his genetic database enabled the mass resurrection of mutants, including the millions dead of Genosha, the future set in Powers Of X saw him creating chimaera of mutant strains, as well as slave pits on Mars. The future wasn't looking great.
In Sins Of Sinister #1, we see he's been playing an even longer game than previously presumed. Previously in Immortal X-Men #9, we saw Mister Sinister kill Hope Summers with Unus bullets.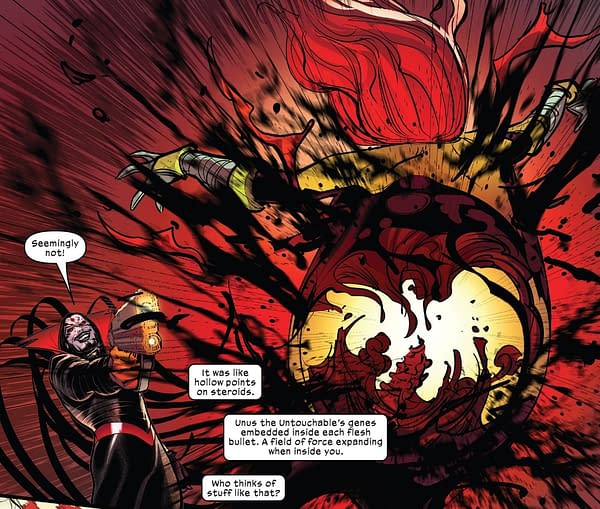 Immortal X-Men #10 has Synch in play, replicating Hope Summers where Mimic fails…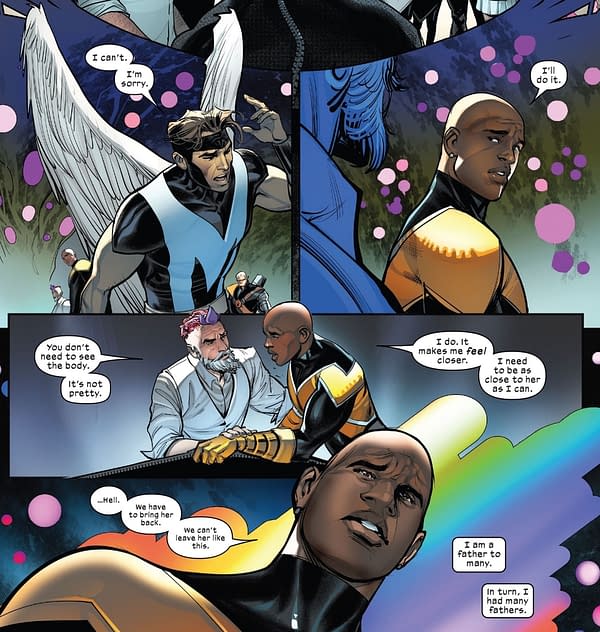 As part of The Five, the Krakoan resurrection that brings back Hope Summers for the first time, without Hope Summers being part of the mix.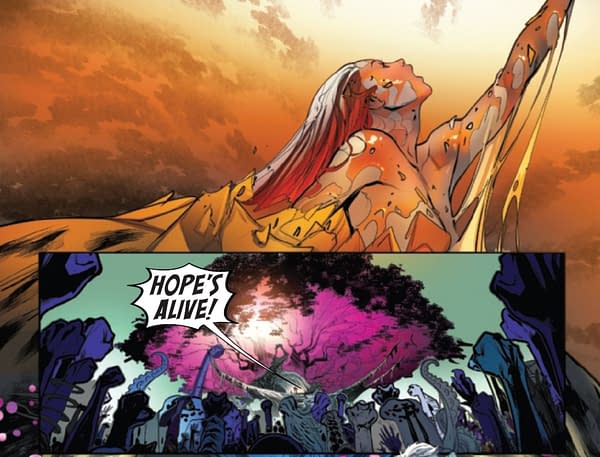 As well as a number of other dead, killed by Miuster Sinister before he was sent to the pit.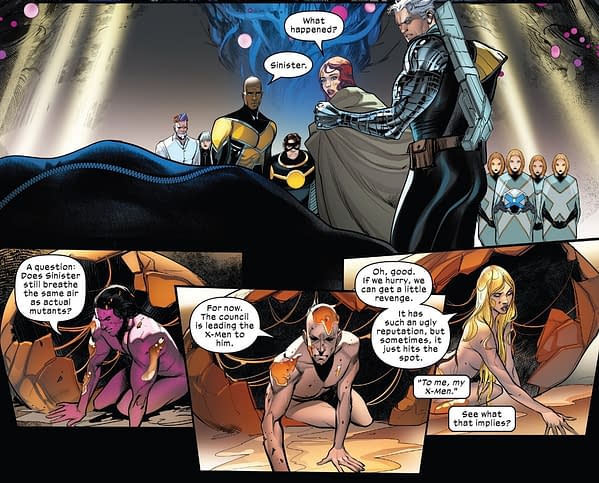 And that's where the fix was in. Mister Sinister using the old trope of relying on the standard or expected reaction to deal with an event, to actually facilitate the desired event. The FBI shutting down the power in Die Hard, that sort of thing…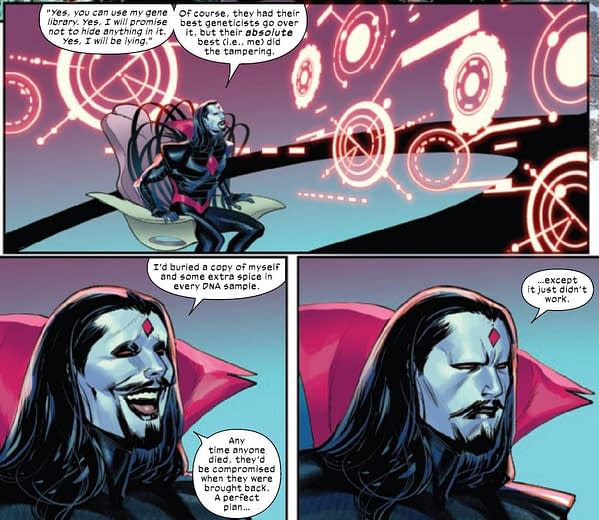 Because it turns out that right from the beginning, Mister Sinister only turned over his genetic farm to Krakoa, with an imprint in each of himself. So he could turn every resurrected mutant into one of his own.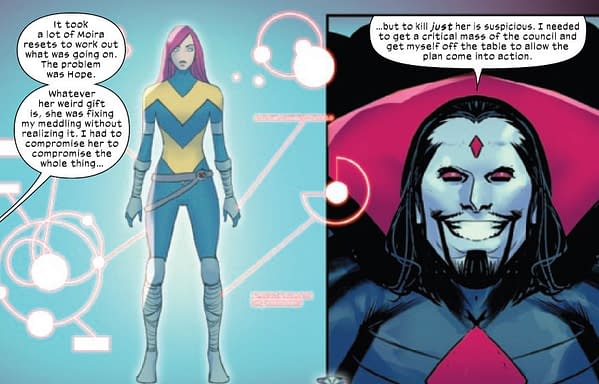 And it was only Hope's part of every resurrection that somehow stopped this from taking hold, each and every time. Without Hope as part of that mix, just for that one resurrection…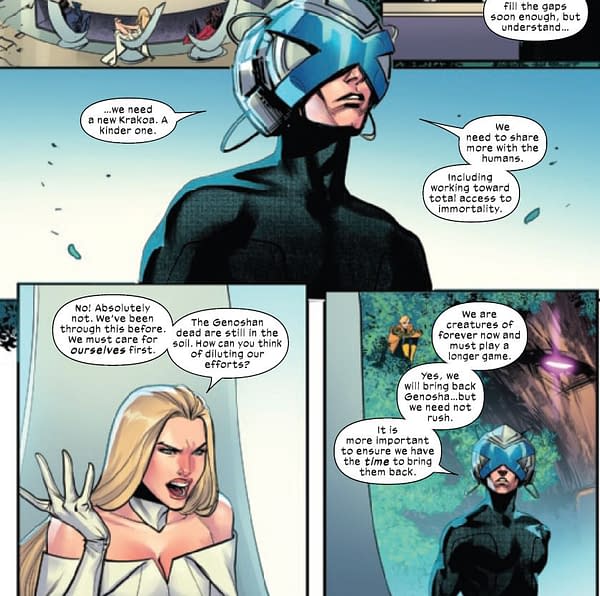 … everyone suddenly has a diamond on their forehead if they wish to choose it. And are part of the Mister Sinister collective. Any arguments are just play acting for the benefits of others. Previously, the extension of resurrection to humans was to be limited to the poorest, the most vulnerable. But what use are they to Sinister?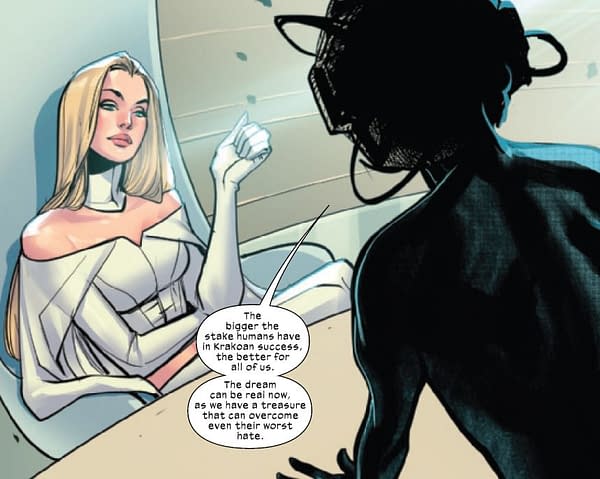 And if all of humanity can be resurrected, then all of humanity can be similarly affected.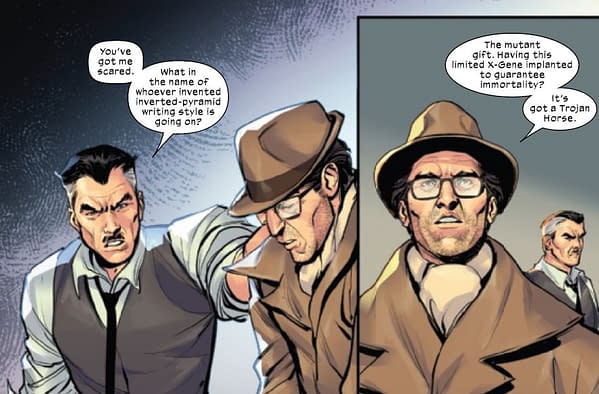 Especially with a pre-emptive injection which will save your life when you die, allowing you to be resurrected.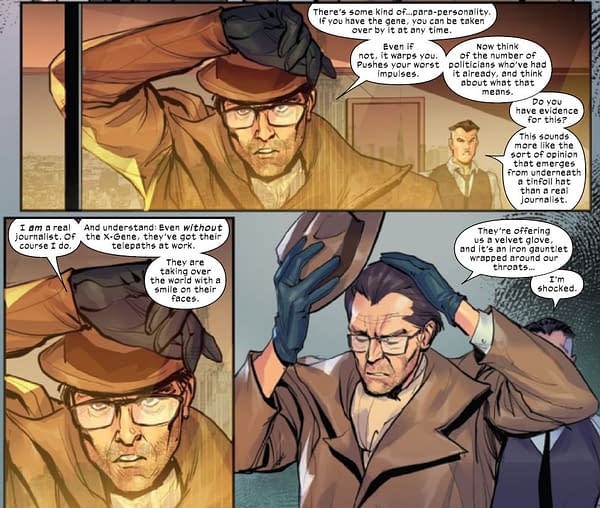 And suddenly everyone is a Sinister. And if anyone suspected, if anyone found the truth. Well, who would believe them? Well, apart from the kookiest of kooks?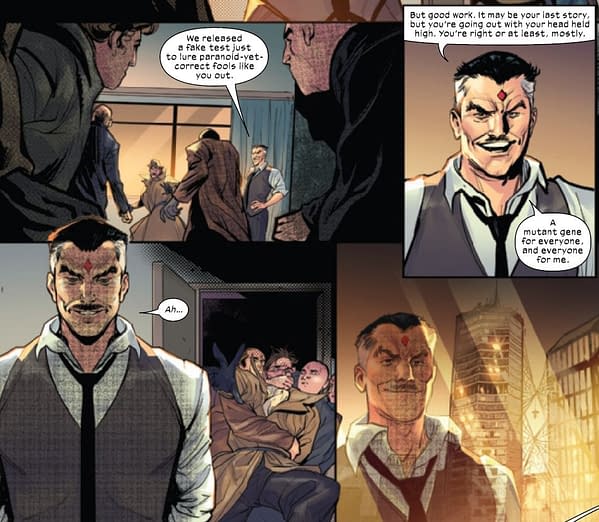 And so humanity – and mutantity – is replaced by Sinister. it's basically that episode of Doctor Who where the whole world becomes The Master. Even if some of these Sinisters seem to show a little more independence than Sinister may like.
But why is he doing any and all of this? Because, of course, Mister Sinister is the hero of his story. And he wants to stop the Dominions. In 2019's Powers Of X #5 we learned the true nature of black holes in the Marvel Universe.
That each black hole is formed by an incredible dense machine intelligence, the sum total of the civilisation that spawned it. And this happens all over the universe, time and time again.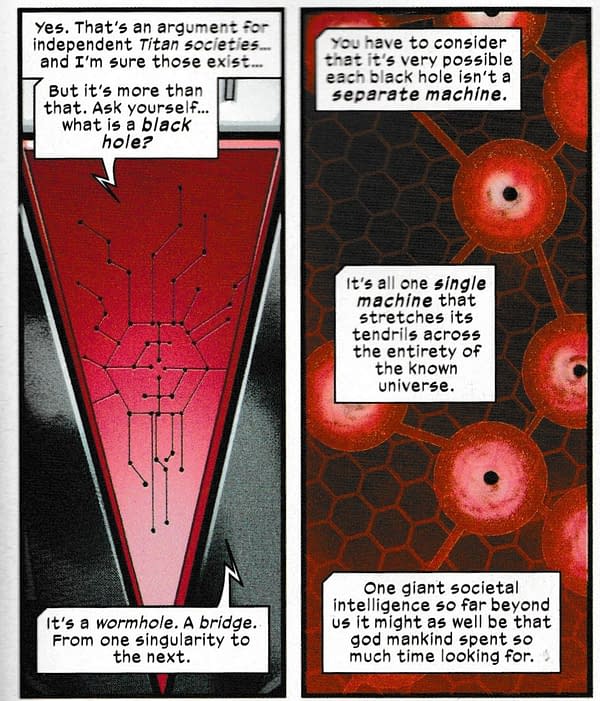 And that a "Titan is an interstellar society that has become so advanced that the density of its unified intelligence has collapsed space-time into a singularity. A Stronghold is a small network of connected Titans (five or fewer) typically confined to a galactic cluster or a dense collection of stacked galaxies. That Strongholds are warring factions seeking to actively destroy or absorb other Strongholds in order to achieve Dominion status and often challenge the sovereignty of Dominions themselves. And that a Dominion is a collective of ten or more Titans acting in unison to control a particular sector [or sectors] of space in both area and epochs of time. And while the minimum number of Titans needed to compose a Dominion is ten, the average number of Titans in a Dominion is much higher than that. For example, the local Dominion controlling the sector including Earth space is a collective numbering 112 Titans. The only primal threats that a Dominion fears are the World-Eater, Galactus, and the singular universal manifestation of life, the Phoenix."
We have seen a future in which a Dominion took over the Earth. We have seen a future in which the X-Men of Krakoa beat off a Titan threat with the Phoenix Force. And we have seen a future in which in a last-ditch attempt at survival, the machines of the future sent back Nimrod and Omega Prime Sentinel to create Orchis to combat mutants and Krakoa and prevent that very event.
And Sinister wants humanity and mutantity to elevate itself to Dominion nature before other Dominions visit. He wants to save the day.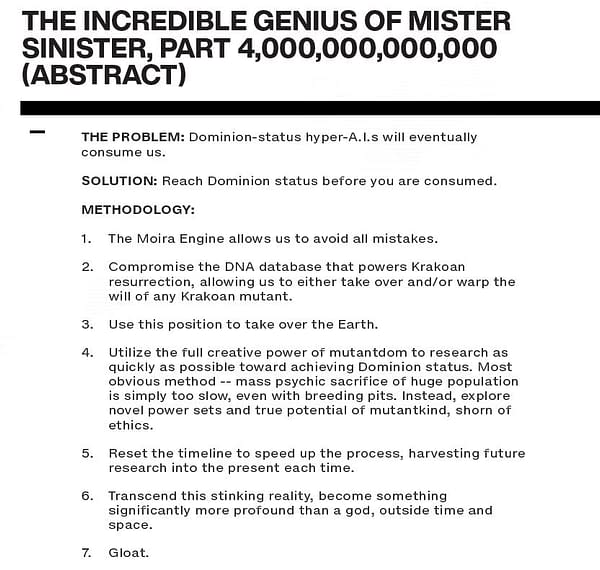 And everyone is a hero in their own story. Even Sinister. He's basically the high arch camp Ozymandias. Okay, camp-er Ozymandias. Sins Of Sinister #1 by Kieron Gillen and Lucas Werneck is published by Marvel Comics today.
SINS OF SINISTER #1
MARVEL COMICS
NOV220792
(W) Kieron Gillen (A) Lucas Werneck, Various (CA) Leinil Yu
POWERS OF ESSEX! It's the end of the world as we know it, and at least Sinister feels fine. For now. Can that last? Especially when we discover that he really is his own worst enemy… The universe-melting X-event begins here, in a horror timeline that makes Age of Apocalypse look like the X-Men Swimsuit Special. Join Kieron Gillen (IMMORTAL X-MEN, AXE: JUDGMENT DAY) as he kicks off the X-Men crossover Sinister has been planning since the beginning?and is going to have to see through to the bitter end.In Shops: Jan 25, 2023
SRP: $5.99