'Monstress' #22: Kippa Makes a Big New (Scary) Friend! (REVIEW)
[rwp_box_recap id="0"]
There is something so amazingly earnest about the way Marjorie Lie writes Monstress. Her characters all live and breath in this incredibly lush, fully realized fantasy world, yet they seem like people you might meet and interact with in the real world. Sure, Kippa is a little fox girl, but she has so much heart and compassion, and I know someone exactly like her (without the tail and ears) in my life.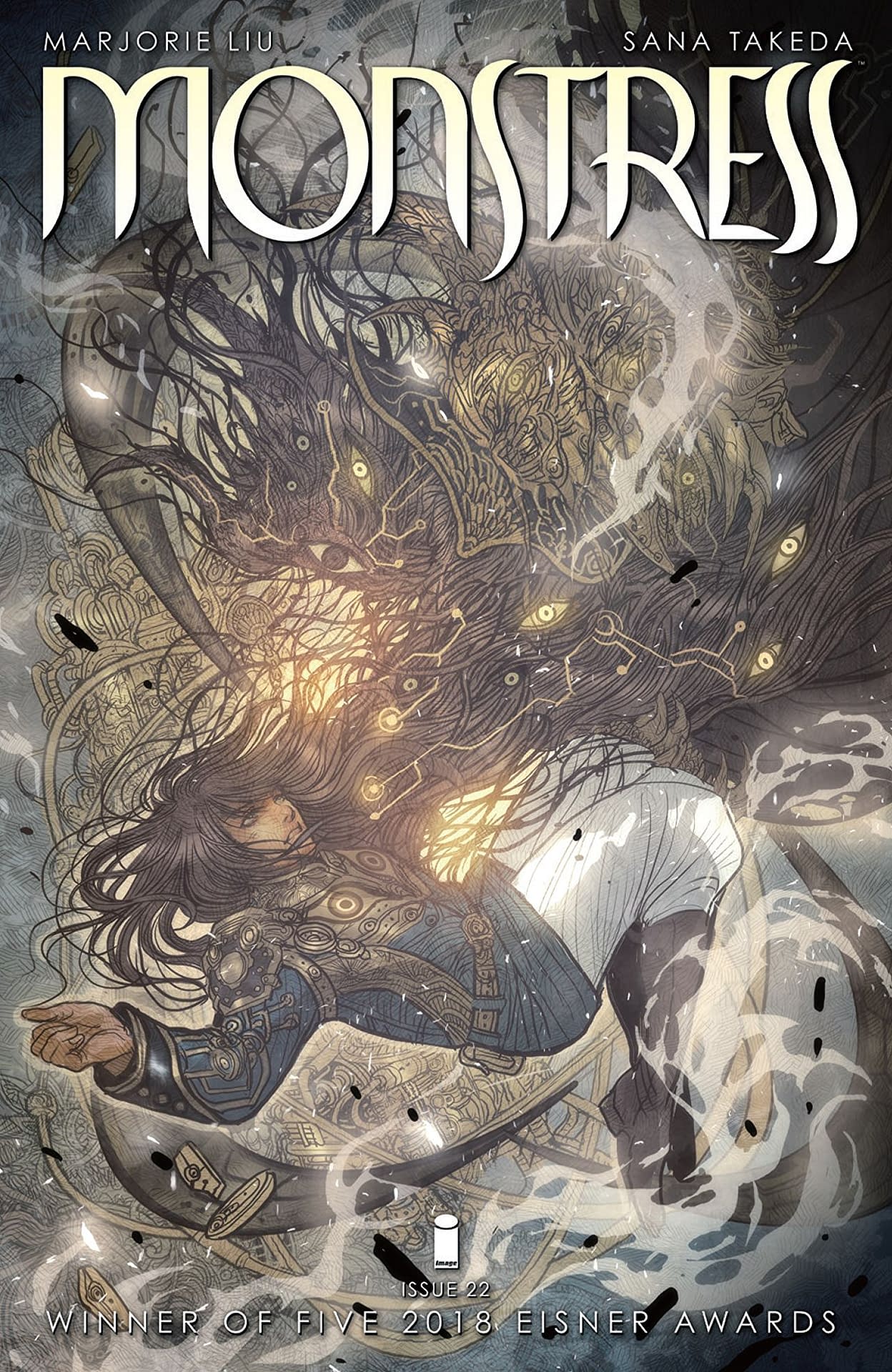 Maika finds herself at a meeting with some of the greatest military minds alive, all at the invitation of her father. She's not convinced that he has anything but malicious plans for her, but finds herself compelled by the machinations at play. She also learns that the Baroness has worked her way into the Dusk Court, which can't be good news for anyone.
Kippa has been kidnapped, but ran away from her abductors by leaping into a cave and ends up deep within the earth, where she meets (and kind of befriends) an ancient creature that she calls a Dracul. The Dracul finds itself struck with Kippa's kindness and sense of decency, and decides to let her leave its lair. The beast is huge and intimidating, but smart enough to know that everything on the surface of the world above is in imminent danger.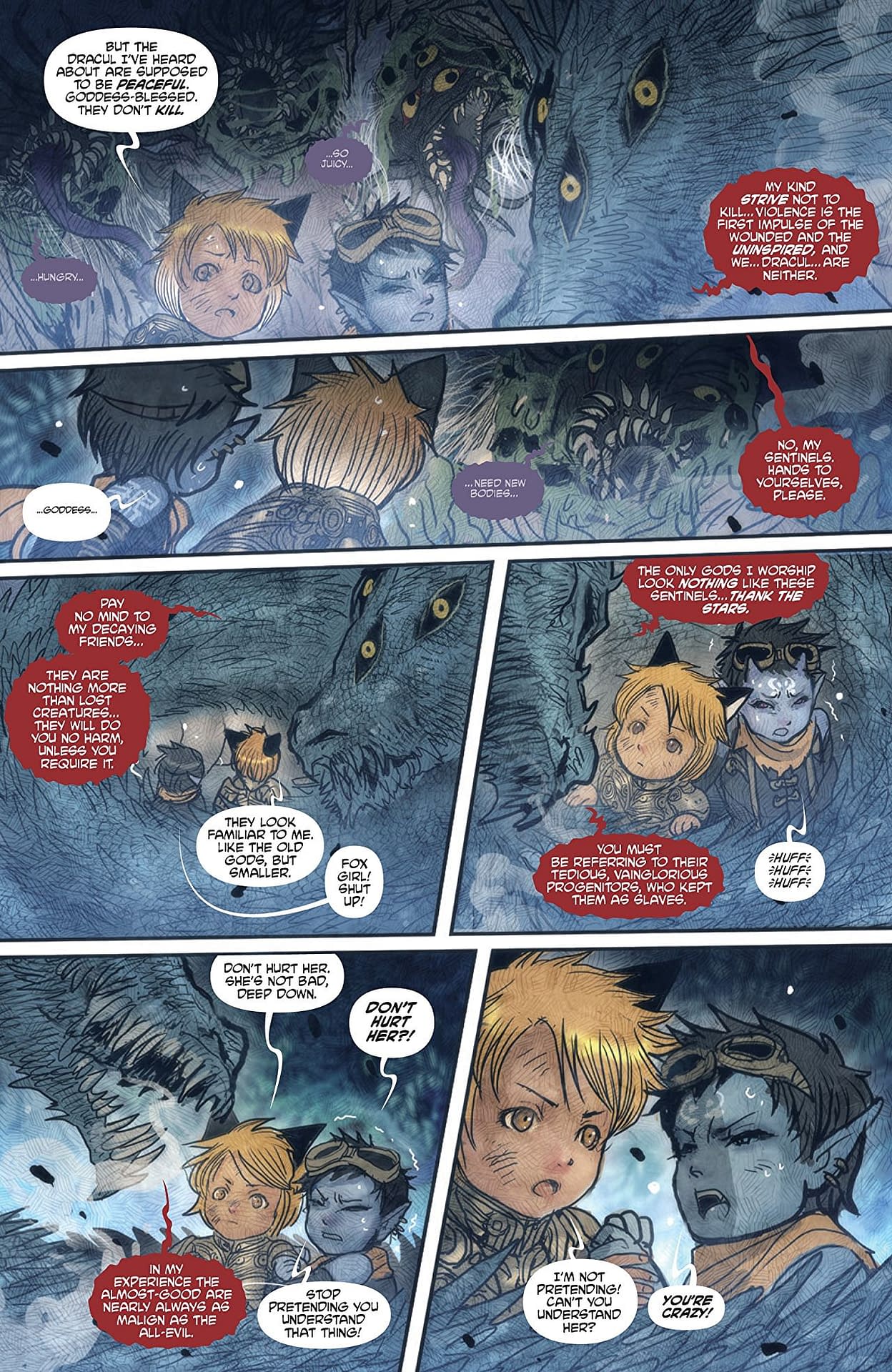 I am still completely captivated by Sana Takeda's art- there is so much to take in with every issue of Monstress, yet there is also a casual ease to every pencil stroke. Each and every palm frond in a jungle is rendered vibrantly, yet it looks like Takeda can throw these pages together effortlessly. I've said it before, and I'll probably say it long after this book wraps: Monstress is simply one of the best looking books on the market.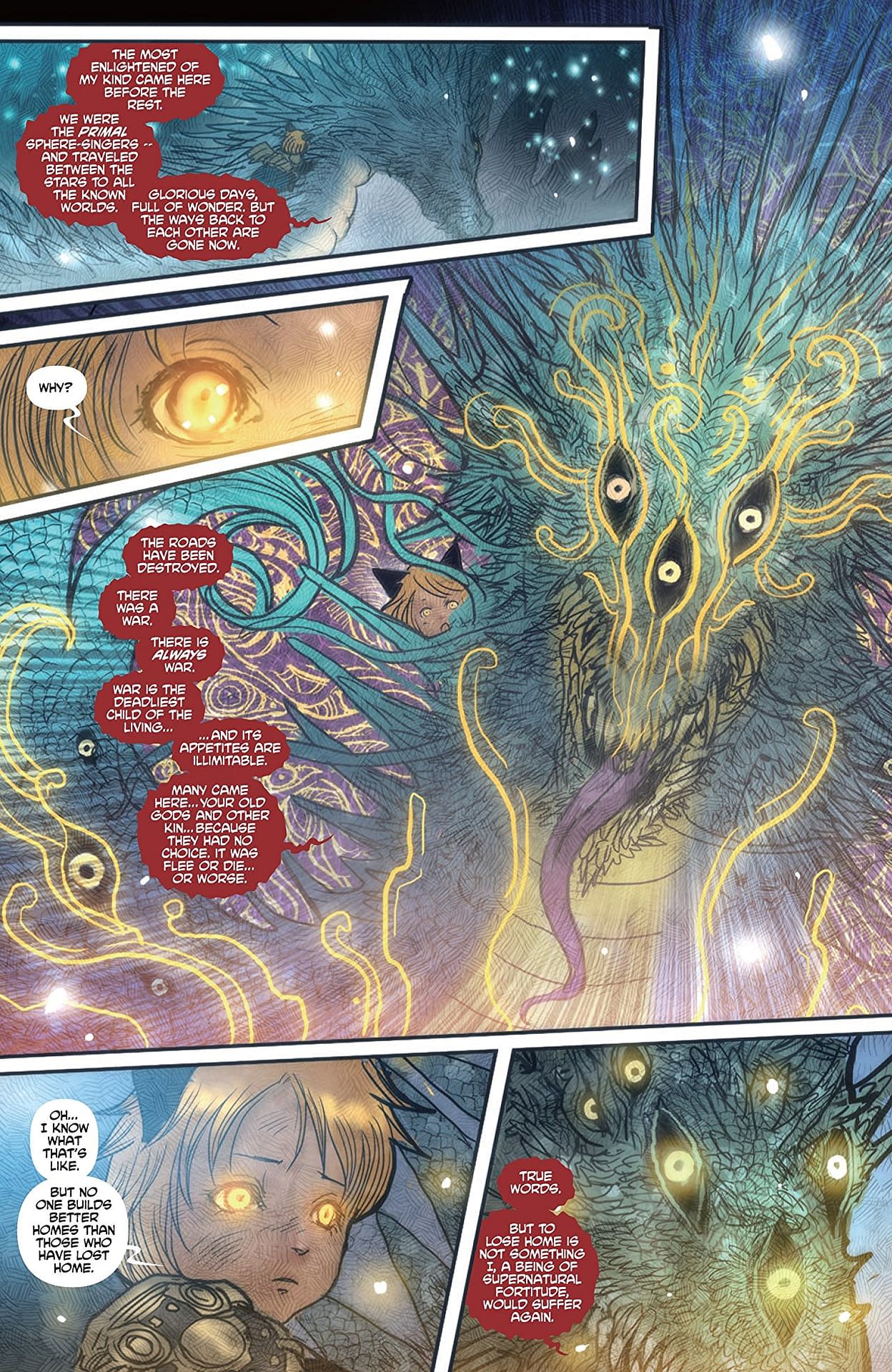 I can't say that Monstress is a manga, although it clearly carries some strong manga influences. The book is very much its own thing, and we're all the better for it.
There is a reason why Monstress won five Eisner Awards in 2018. It's just that good. Monstress is highly recommended for fans of high fantasy, epic monsters, beast people, and kick-ass female characters.
SUMMARY: Script: Marjorie Liu; Art: Sana Takeda; Letters: Rus Wooton; Editor: Jennifer M. Smith; Published By: Image Comics; Release Date: May 22, 2019; Cover Price: $3.99, 32 Pages.
[rwp-review-ratings id="0"]
[rwp-review-form id="0"]