Mutts Cartoonist Patrick McDonnell Creates Graphic Novel About Marvel
The Super Hero's Journey is a new graphic novel by Mutts cartoonist Patrick McDonnell to be published by Marvel Comics and Abram ComicArts this September, 
---
The Super Hero's Journey is a new graphic novel by Mutts cartoonist Patrick McDonnell to be published by Marvel Comics and Abram ComicArts this September,
"The Super Hero's Journey is my graphic novel love letter to the 1960s Marvel Super Heroes and their legendary creators. It was a childhood dream come true to have my art play along with the work of the great Stan Lee, Jack Kirby, and Steve Ditko. I tried my best to capture the magic, fun, and cosmic energy of those early comic book masterpieces in this arty mashup," says McDonnell.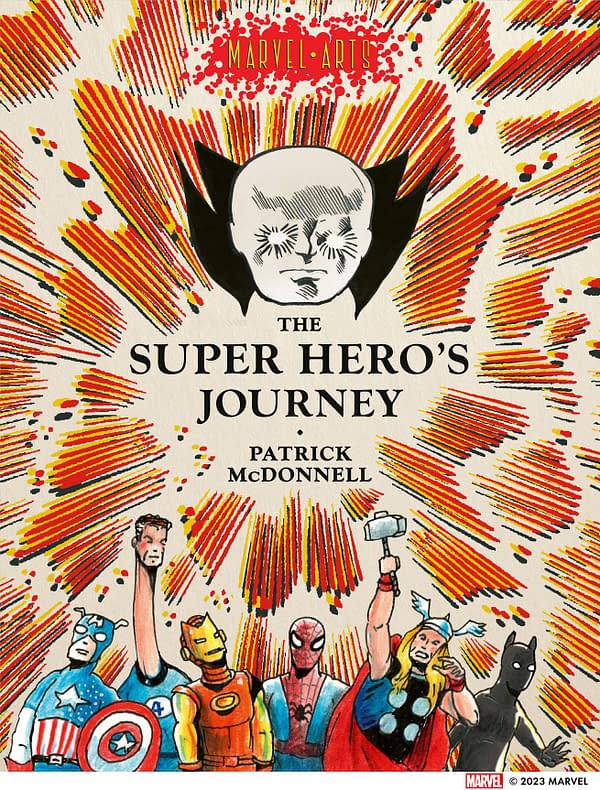 We begin with the Watcher—a being who exists outside the planes of space and time, who sees every moment that has happened, will happen, or is happening throughout the cosmos—as he observes Earth and the inner burdens of the Marvel Super Heroes. As the Watcher observes the villainous plans of Doctor Doom, who is harnessing the power of the Negative Zone and slowly spreading its negativity across our planet and destroying the human spirit, Mr. Fantastic is led on a meta journey that takes him through the pages of classic comic books and across scenes familiar and unexpected. Ultimately, our heroes discover a Zen solution in an unexpected fashion—one that aligns this book with the inspiring messages of McDonnell's other beloved and award-winning books—leaving readers with a renewed sense of love, hope, and redemption.
The Super Hero's Journey incorporates panels from classic 1960s Marvel comics written by Stan Lee and drawn by Jack Kirby, Steve Ditko, Don Heck, and Vince Colletta and" explores the need for connectivity, positivity, and even kindness while traveling through these classic scenes and situations. It offers an element of actualization and understanding through the lens of the globally recognized and beloved characters from the Silver Age of Comics. McDonnell's exciting and innovative entry into the Marvel landscape is a stunning and heartwarming new adventure for fans of classic Marvel comics, as well as fans of McDonnell's comic strip and all-ages picture books."
The book is the latest addition to the Marvel Arts series, a collaboration between Marvel Comics and Abrams ComicArts. The graphic novel features classic versions oif Marvel superheroes including the Fantastic Four, the Incredible Hulk, Captain America, Black Panther, and Spider-Man. Using the Marvel Universe as avatars, McDonnell attempts to brings together his inspirational and moral sensibilities from throughout his career and muses on how comics changed his life and set him on the course to become a cartoonist.
From Charles Kochman, Editorial Director of Abrams ComicArts: "When we released Fantastic Four: Full Circle by Alex Ross, we promised that Marvel Arts was a line 'where nothing is impossible and anything can happen.' With The Super Hero's Journey, Patrick McDonnell delivers on that promise, creating something truly unique."
"Patrick McDonnell's The Super Hero's Journey uses the Marvel characters and iconography in an idiosyncratic and individual manner to tell a story that is at once autobiographical, spiritual, and mythological. It's a unique and singular reading experience that pays homage to the great works of the Silver Age while at the same time using them to make a grander statement about the human condition. It will give you the eyes of a kid again," said Marvel VP of Publishing and Executive Editor Tom Brevoort.