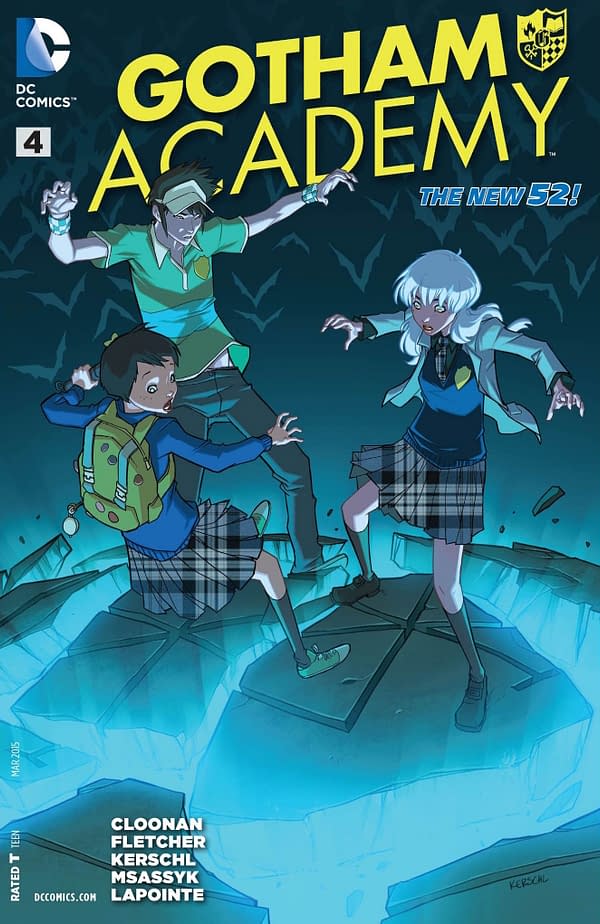 Gotham Academy #4 from DC Comics, written by Becky Cloonan and Brenden Fletcher, with art by Karl Kerschl continues the hunt for Millie Jane! Unlike the last issue, #4 brings Olive and Maps duo together once again to solve the mysteries of Gotham Academy. Most of this chapter focuses on an odd symbol that Olive continues to see in different places. Determined to figure out what it is, and what it means, Olive explores the campus for clues. What she ends up discovering is quite surprising!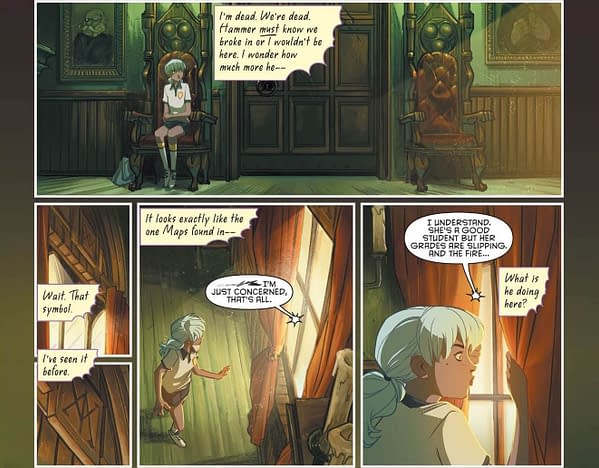 A couple of things about this issue intrigued me. Like I always say, Cloonan and Fletcher have a really great way of sprinkling clues to hook readers interest. They continue to successfully do that. Firstly, I must mention the small cameo that Bruce Wayne has, which tortures me as a reader because I want to know more! Secondly, who is this handsome man that catches Olive after she trips on a pile of leaves? The reason he intrigued me, is because he states that it's not the first time he's caught her. Before Olive can get an answer about what he's talking about, he walks away. The mystery of what happened to Olive over the summer continues to build and build. I hope that we get to discover more of what she's forgotten soon.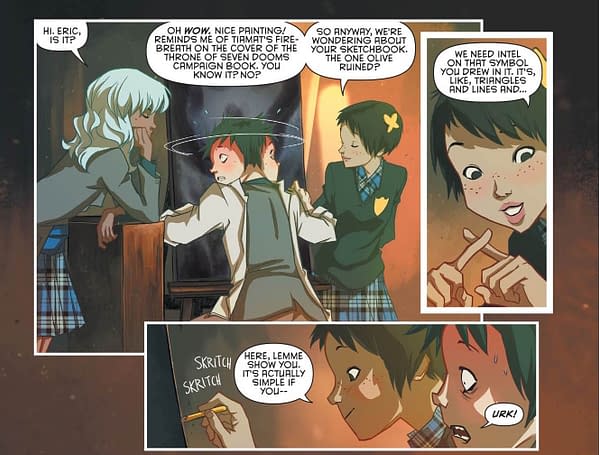 I continue to be a huge fan of Kerschl's art. Particularly in this issue, I recognized more of a mature appearance with Olive's character. She's growing in the academy, in the role that she has there, and that came across not only in the script but also in her illustrations. You can really feel the emotions on these characters faces as you read, so I applaud Kerschl for doing such a fantastic job. Gotham Academy is one of the best new comics on shelves today. The story has the ability to appeal to the masses and I cross my fingers that it's around for a long, long time.
Christine Marie is a Staff Writer at Bleeding Cool, and bibliomaniac with a love for all things creative. She hopes to one day be a Superhero/Disney Princess/Novelist. You can find her on Twitter and Instagram @AWritersWay or on her blog writerchristinemarie.wordpress.com.
Enjoyed this article? Share it!