Mikael Bergkvist and Neal Adams co-own a small company in Örnsköldsvik, Sweden which is creating a comic book tasked with saving the planet's wildlife, tigers, elephants, for coming generations. No biggie.
Working with the International Anti-Poaching Foundation, they have created a new character, Anky S, with stories based on real life.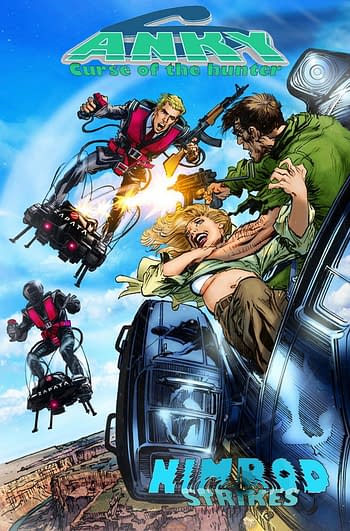 Mikael Bergkvist tells me that 'these stories easily match any big budget action story, and we know what to do with the material, and how to integrate it in a linear narrative, against the newly created supervillain Nimrod, who will function as a focal point to illustrate the greed driving this.'
Anky S, a young agent undertaking her first (super dangerous) mission to take down the greatest villain mankind has ever seen debuted this year's New York Comic Con. Published by Sourcepoint press, 3000 copies were distributed to the visitors of NYCC.
And as the cover shows, she does so atop a flyboard. The inventor of that device, Franky Zapata, who is a strong believer in environmental issues, plans to appear at San Diego Comic Con in 2019, to fly the device, to add further support to this new comic and its cause…
Anyone fancy putting a Dalek on one of them?
Enjoyed this article? Share it!