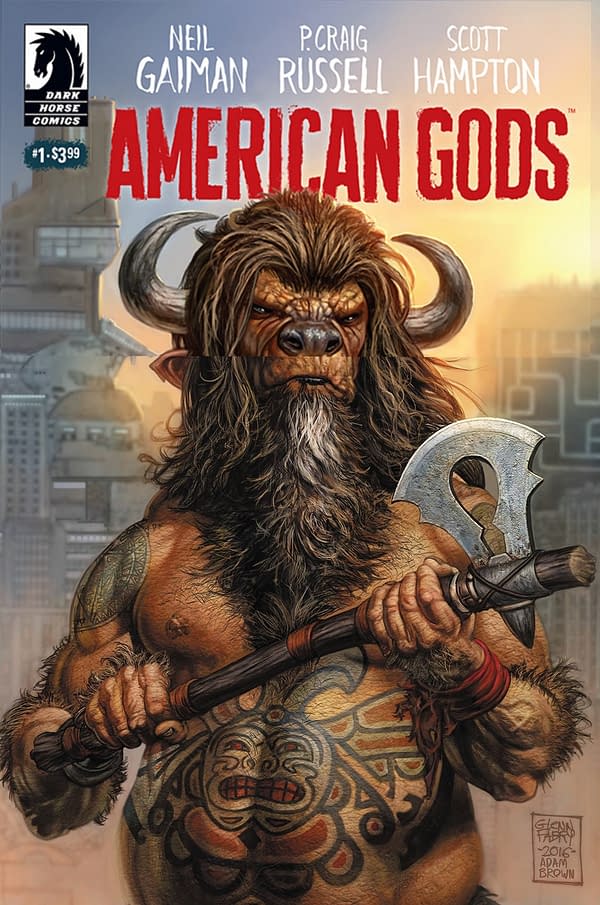 UPDATE: The piece below ran early UK time today, based on reports from UK retailers and senior management at chain stores, sourced from the UK side of the comics industry. Since then, I have been made aware that the US side may have a contradictory take. I am awaiting further clarification on this.
I'm not sure that this is actually a thing. It may just be @bleedingcool. It's news to us and to Dark Horse.

— Neil Gaiman (@neilhimself) January 17, 2017
@EnglishmanSDCC @neilhimself @bleedingcool no I can confirm that this is indeed correct, and I can also confirm Dark Horse do indeed know.

— Big Bang Comics (@TheBigBang_) January 17, 2017
It's true have been told so by @DarkHorseComics themselves

— Stephen Jewell (@stephenjewell) January 17, 2017
The original story runs below.
It may be on the cover of the new Diamond Previews. It may be written by one of Britain's best-selling modern fantasy authors. But the comic book adaptation of Neil Gaiman's American Gods by P Craig Russell and Scott Hampton being published by Dark Horse Comics that we previewed just the other day will not be officially distributed in British comic stores.
It appears that publishers Headline have the exclusive rights to sell Neil Gaiman graphic novels published by Dark Horse in the UK.
But that includes the serialised individual issues, later collected. Which Headline won't be publishing, waiting for the collection, expected towards the end of 2017. But that means Diamond and Dark Horse won't be selling the individual issues in the UK. Which, considering the considerable demand for Gaiman's work in the UK, probably greater per capita than in the US, will be a real shame.
So – look for a number of enterprising British comic book stores to engage in a little subdistribution with US stores. And then charge a whack on top for the extra shipping costs…
Enjoyed this article? Share it!