New Jersey Schools Change Policy That Kept Alison Bechdel's Fun Home in Libraries
A couple of months ago, after challenges on a local school level in New Jersey, Alison Bechdel's graphic novel Fun Home was returned to school libraries from which it had been removed. The graphic novel tells the utobiographical story of Bechdel growing up in the funeral home her family ran, while coming to terms with the her realisation that she is a lesbian. It's a multi-award winning book and has been very popular amongst younger readers as well as older ones.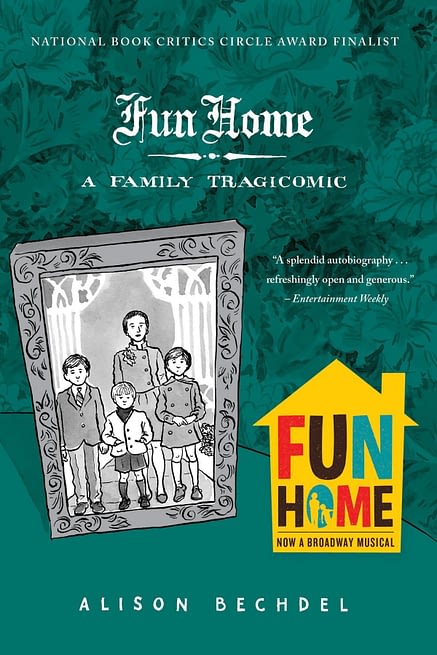 The National Coalition Against Censorship which included the Comic Book Legal Defense Fund reported the school administrators at the two high schools objected to one single page in Fun Home, deciding to ignore their own policies and limit circulation only to "students with explicit parental permission." A week later, things were very different. And suddenly Fun Home had been returned to the library shelves in North Hunterdon-Voorhees School District high schools.
But now the school procedures that the original removal of Fun Home flouted, have been amended, so as to avoid such future challenges to such removals.
Removal of criteria such as being 'relevant to today's world' of that which 'provide a stimulus to creativity' were used to defend Fun Home, and now are no longer, it seems, criteris for the school's library.
Other removals include the phrases 'North Hunterdon-Voorhees Regional High School District Board of Education supports principles of intellectual freedom inherent in the First Amendment' as well as 'In the event that materials are questioned, the principles of intellectual freedom, the right to access of materials and the integrity of the certified library/media personnel must be defended.'
The CBLDF have written to Superintendent Jeffrey Bender – who the new policy has given a lot more power to regarding such removals, rather than having it divided between other librarian positions.
We write to express our concern that recent changes to Policy 2530, which govern the selection of instructional materials in classrooms and libraries, will heighten the risk of censorship in North Hunterdon-Voorhees district. This concern is aggravated by the fact that the policy changes were adopted shortly after the graphic novel "Fun Home: A Family Tragicomic" was returned to library shelves over your personal objections. We urge you to adopt policies designed to bolster rather than undermine free expression protections in your District. We are writing to offer you guidance in the design of such policies.
More as it comes through…