New Mutants by Jonathan Hickman, Ed Brisson, Rod Reis Brings Back Recently Dead X-Men
Announcements from the Marvel Next Big Thing panel at San Diego Comic-Co of new X-Men titles to launch this Fall continue to drop. C.B. Cebulski, Jordan White, Nick Lowe, and Jonathan Hickman are onstage at the panel revealing the new books, creative teams, and rosters for six new X-Men series to launch after House of X and Powers of X end, all hand-selected by Hickman, who will work closely with the teams on each book.
So far, we've seen Marauders by Gerry Duggan and Matteo Lolli, featuring Bishop, Kitty Pryde, Iceman, Emma Frost, Pyro, and Storm, and launching in October, as well as Excalibur, by Tini Howard and Marcus To, starring Rogue, Apocalypse, Jubilee, Captain Britain (Betsy Braddock), Rictor, and Gambit, and also launching in October. Then there's X-Force, by Benjamin Percy and Joshua Cassara, launching in November, and starring Sage, Kid Omega, Marvel Girl (Jean Grey), Wolverine, Colossus, Black Tom, Domino, and Beast. Fallen Angels, by Bryan Hill and Szymon Kudranski, starring Cable, X-23, and a new Psylocke (Kwannon?).
And now, New Mutants, written by Hickman himself for the first arc, to then be taken over by Ed Brisson. Rod Reis is on art.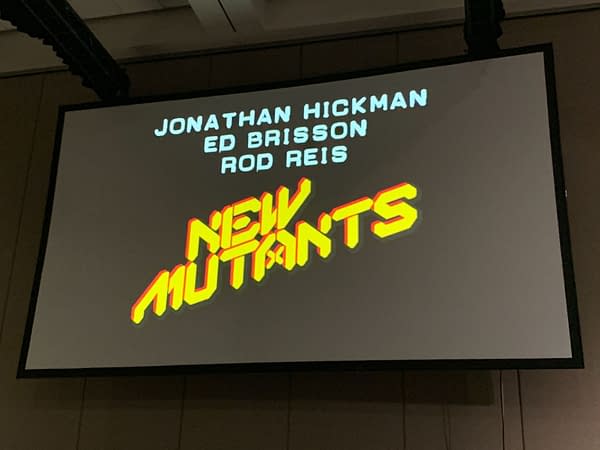 Not only are we getting a mixture of classic team members, but half of them are dead! Wolfsbane, Sunspot, and Chamber were all offed by Matthew Rosenberg in Uncanny X-Men, while Magik was reverted to pure demon form. They're back it seems, and joined by Karma, Cypher, Mondo, and Mirage.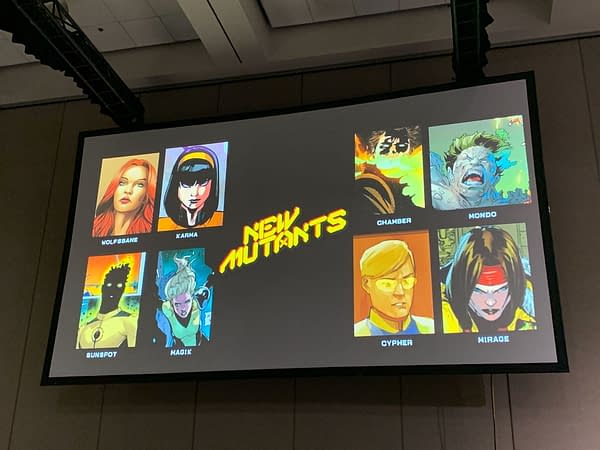 This one launches in November, and Hickman says it will be important (which must be why he's writing the first arc).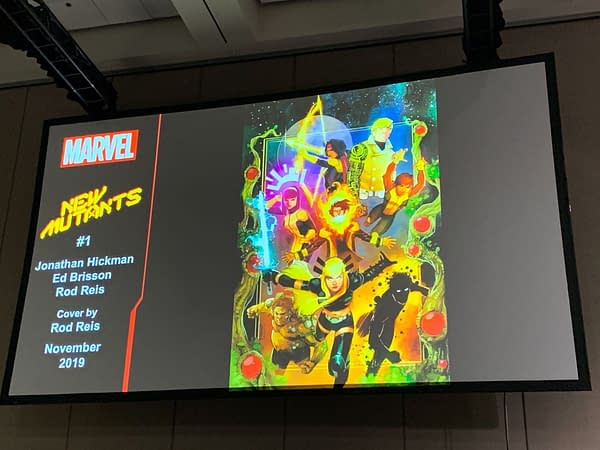 One left to go, which is the main X-Men book…
Find all the news about the X-Men relaunch from San Diego Comic-Con at our Dawn of X tag.