Next Year's DC Comics September Event Revealed? Five Years Later (UPDATE)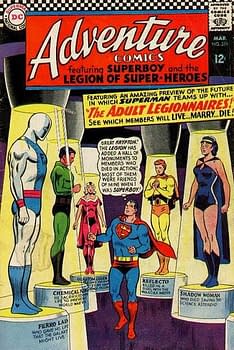 So, every September is going to be "sweeps week" for DC Comics now it seems. New 52 launch, Zero Month, Villains Month…
So what's for 2014?
The New 52 is meant to take place five years after Superman emerges.
Well, next September, according to comic professional chatter on the comics convention circuit which has just reached me, it is currently being planned that all books will skip forward, for a month, another five years into their future.
And just as One Year Later launched the weekly book 52, so Five Years Later will launch a DC weekly book, with creators that I'm told include Greg Rucka, Brian Azzarello, Dan Jurgens, Robert Venditti and more, set in that world. (UPDATE: Not Greg Rucka… though someone would really like him to be. But a current DC comics creator gets in touch to say "Not Rucka or Venditti. But you didn't hear it from me." I certainly didn't! But it it does seem to confirm that something of this order is occurring…)
Now this is just a plan. Plans gang aft agley. There have been planned weeklies before. I'm not sure when any of this will be announced, NYCC seems too early, but there could be teasers. Also watch for references in upcoming comic books to that date "it isn't ready yet, but it will in five years time", "you are to serve time in jail, five years, no parole", that kind of thing.
(UPDATE: It's been pointed out that in Forever Evil #2, when triggering the Bizarro clone, Lex Luthor said it would have been ready in five years…)
The Legion Of Superheroes went through this same thing a few years ago. Say, does that mean Justice League 3000 is going to skip forward to Justice League 3005 for a month? And just how much will the five year future resemble that of Twilight Of The Superheroes?
Welcome to the future, New 52…