Nick Spencer and Marguerite Sauvage Take Over Archie with Archie #700 for "Bold New Era"
As Archie hits its milestone 700th issue this November, the series will be returning to legacy numbering and getting a brand-new creative team. Can you guess who it is? We'll give you a hint…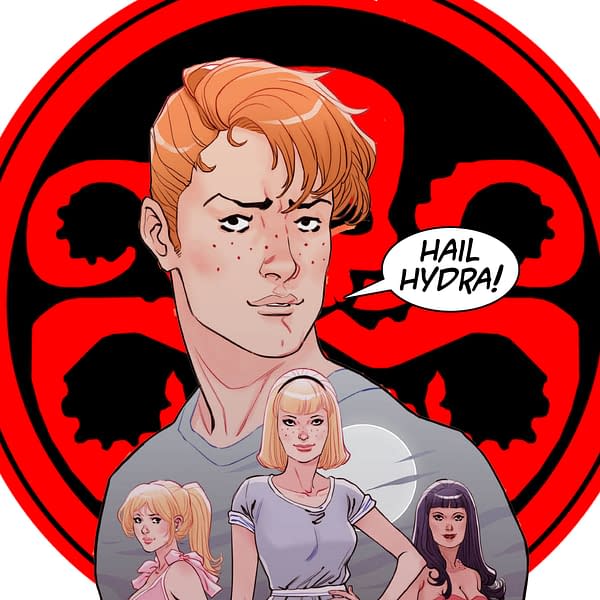 That's right, Secret Empire writer Nick Spencer is taking over as writer, while Marguerite Sauvage will provide art. As expected, the press release teases a "bold new era" for the series, and we're afraid to imagine exactly what that will consist of. Probably someone getting turned into a Nazi though. Definitely.
"Getting to write ARCHIE is more than a dream come true for me," said Spencer in the press release. "I've loved reading the exploits of the whole Riverdale gang my entire life, and getting to now tell their stories myself is a real honor. And launching with a milestone 700th issue! It doesn't get better than that."
"Well, it does actually — I'm working with Marguerite Sauvage, one of the best artists in comics!" he added. "Everyone involved in this project has such a passion for these characters, and it's our sincere hope to honor the legacy of what's come before while moving boldly into the future with twists and surprises like you've never seen before!"
"ARCHIE #700 is a legendary milestone in comics, and it was one we could not ignore at Archie," said Archie CEO Jon Goldwater. "Having Nick Spencer and Marguerite Sauvage onboard to herald this new direction for Archie and his friends will help kick off a new, legendary era for the characters, and follows in the footsteps of other iconic Archie moments, including Archie's Wedding, the Death of Archie, Archie #1 and Afterlife with Archie, to name a few. If you're a fan of Riverdale, now is the time to jump to the comics and see what started it all."
The new Archie comic also teases a secret "bombshell romance" to be revealed in the coming issues. It all kicks off with a special $1 recap issue, Archie #699, in October, and Archie #700 hits stores in November.